JMM to name Speaker, Congress gives up claim
The new Assembly will elect its Speaker on January 7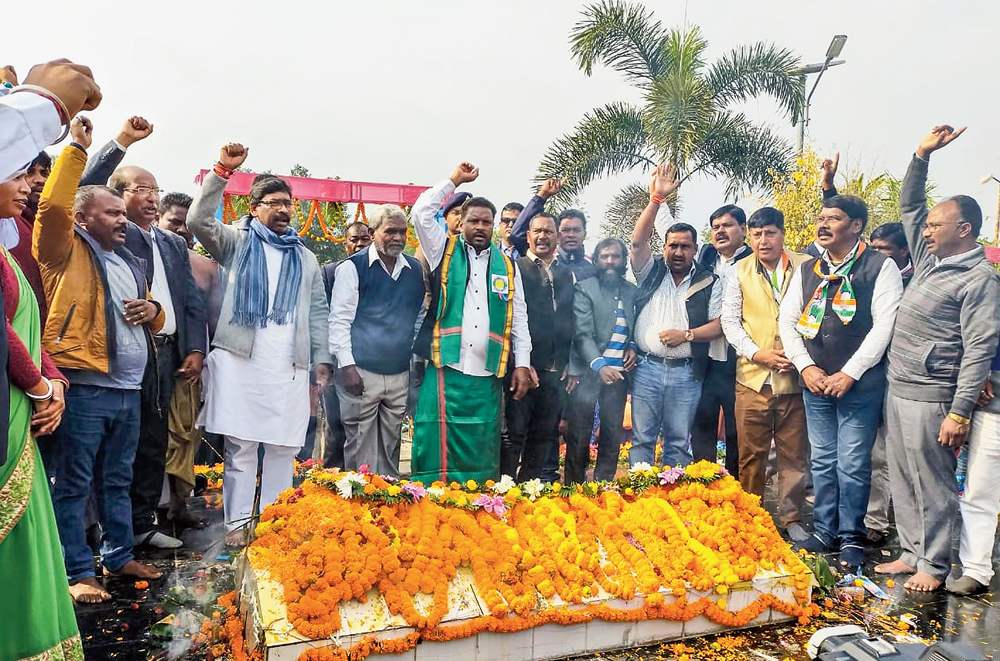 ---
|
Ranchi
|
Published 01.01.20, 10:09 PM
---
Chief minister Hemant Soren is learnt to be mulling on three names from his party, the JMM, for the Speaker's post, now that ally Congress has amicably relinquished claim to the post.
The new Assembly will elect its Speaker on January 7, the second day of three-day winter Assembly session.
The Congress, part of the alliance that overthrew the BJP in Jharkhand, has withdrawn its claim for the Speaker's post, confirmed state Congress chief and minister in the Hemant government, Rameshwar Oraon, on Wednesday, negating speculations that his party ever insisted on it.
"The JMM is the single-largest party and the chief minister also belongs to the JMM, so this is very natural that the Speaker will be from the JMM. We never insisted on this post," said Oraon.
Congress insiders said the party during initial discussions had demanded the Speaker's post that the JMM strategists firmly denied. With the Congress in a conciliatory mood, there does not seem to be any room for further controversy.
Right now, within the JMM circles, names of three veteran MLAs are being discussed — former minister Stephen Marandi who will convene as Pro-tem Speaker in this session, former minister Mathura Mahto and Sarfaraz Ahmed.
"All the three leaders are seniors and have decades of experience as MLAs. According to protocol, senior elected MLAs are preferred for this post. But the final word depends on CM Hemant Soren and we don't know if he has some other choices," said a senior JMM MLA.
The JMM emerged as the single largest party by winning 30 seats. The Congress won 16 seats and the RJD one.
Sources in the JMM and the Congress said that after assembly session is over alliance partners will sit together to discuss cabinet expansion.
Hemant Soren took oath along with new ministers Rameshwar Oraon and Alamgir Alam of the Congress and Satyanand Bhokta of the RJD on December 29, six days after the results of the Assembly election on December 23.
"I believe that the second cabinet expansion will be held only after January 14. Our leaders are expected to visit Delhi to consult the central leadership as to who else to be inducted in the ministry," said a Congress MLA.