JMM serious about Bihar, switching to poll mode by August
Party hits back at local BJP leaders for critical comments on PM Anna Yojana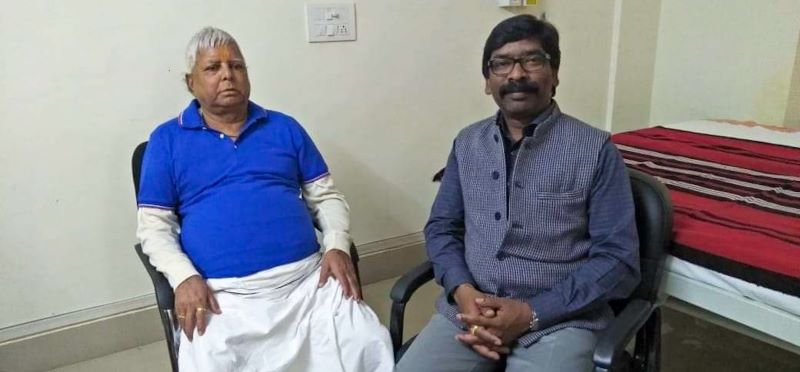 ---
|
Ranchi
|
Published 02.07.20, 08:49 PM
---
Jharkhand Mukti Morcha (JMM), the driving force behind the Hemant Soren-led alliance government of the state, has begun preparations for the coming elections in Bihar and will be sending out leaders to the neighbouring state for an on-the-spot recce from August.
"We have decided to press our central leaders—MLAs, ministers, and other key leaders - for political spadework in Bihar from August. Most of the central leadership will shift to different pockets of Bihar and fan out in different constituencies to begin poll related work on the ground," JMM general secretary Supriyo Bhattacharjee told the media on Thursday.
Bhattacharjee said a decision in this regard was taken following a meeting with party committees in Bihar over the last two days. "Our people came to Ranchi on Wednesday and we held detailed meetings on various aspects. We are meeting chief minister Hemant Soren too. Broadly, we are hitting the ground from next month," he said.
The JMM leader said that Hemant and party patriarch Shibu Soren, who is now a Rajya Sabha MP, would also join the campaign for elections to the 243-member Bihar assembly slated for later this year.
JMM is looking to contest 12 seats by forging an alliance under the RJD and other likeminded parties, Bhattacharjee had said two days ago. "We will be open for negotiations. In Jharkhand too, we were ready to contest on all 81 seats but when an alliance was forged, we accommodated all who agreed to fight under our leadership. Similarly, in Bihar polls, since RJD will be leading the alliance, we will be open for negotiations," he said.
The JMM contested Bihar elections in 2005 when it won one seat (Chakai).
Reacting to Jharkhand BJP's criticism of the Hemant Soren government for its handling of the Covid-19 pandemic and shoddy PDS operations during the lockdown, JMM asked them to refrain from spreading lies.
The JMM dared the BJP to question Prime Minister Narendra Modi's prolonged silence on key issues troubling the country, including on the India-China border standoff.
At a hurriedly called press conference, hours of one held by state BJP president Deepak Prakash, Bhattacharjee questioned him about his government's performance in the state.
"We are just six months in power of which four months have been spent fighting the pandemic. What did their five year-long government in the state do? Or what has PM Narendra Modi's government at the Centre done in six years done except pushing the country into distress?" he said.
Prakash described the Hemant Soren government as a total failure. He said the public distribution system (PDS) had been derailed in the state. He also asked the JMM-led government to properly implement the PM Anna Yojana scheme was extended till November by the Prime Minister two days back.
Hitting back, Bhattacharjee said, "Even before Modi's announcement, our CM had written to the Centre (last month) demanding extension of free ration scheme till December. Also, Modi cited a host of festivals, targeting Bihar polls. BJP is rattled because what chief minister Hemant Soren thinks today, India (Modi) thinks tomorrow."