JMM seeks probe into urban development projects
Jharkhand Urban Infrastructure Development Company should be answerable for lapses and unfinished works'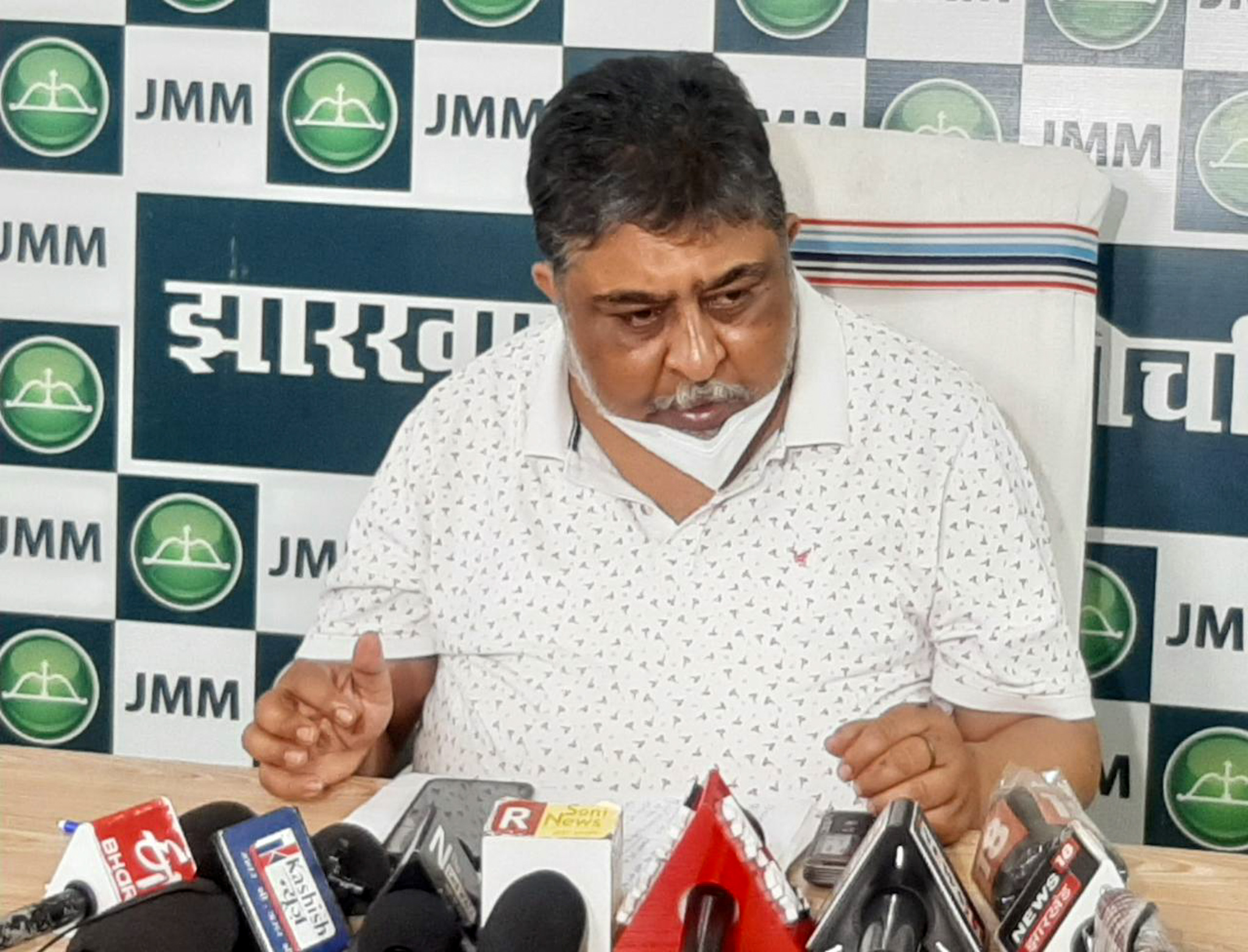 JMM leader Supriyo Bhattacharya addressing a press conference at his office in Ranchi on Tuesday.
Manob Chowdhary
---
Ranchi
|
Published 23.06.20, 08:46 PM
|
---
The ruling Jharkhand Mukti Morcha (JMM) on Tuesday demanded a probe on the activities of the urban development department under the former BJP-led state government during the past five years alleging misappropriation of funds and foul play in passing projects.
Addressing the media in Ranchi, JMM general secretary Supriyo Bhattacharya said that the former government outsourced urban development works to Jharkhand Urban Infrastructure Development Company Limited (JUIDCO), which should be answerable for all the unfinished projects and lapses in the ones that were completed.
"If we set up a probe on the utilisation of funds by municipal corporations and the urban development department in the past five years, then I am sure that many officials will land in jail," said Bhattacharya.
A UPA alliance led by JMM dethroned the former BJP-led government in Jharkhand this year. However, BJP is still in power in most of the urban civic bodies in Jharkhand. The state has a total of nine municipal corporations.
"Two years ago, JUIDCO started a development project in Kantatoli which rendered many Muslim families homeless during the month of Ramadan," said Bhattacharya. "Now the entire project is cancelled. Who will take the responsibility of the people who lost their homes?" he asked.
The senior JMM leader also took a jibe at the Narendra Modi-led Centre claiming that the Statue of Unity in Gujarat was made by a Chinese company. He said that on one hand, the BJP was asking people to boycott Chinese products, and on the other hand, they were outsourcing major projects to China.
"Instead of asking common people to boycott Chinese products, why don't they (BJP) boycott the Indian industrialists who are relying on China for business? The centre will get complete support of JMM if they identify such industrialists and boycott their companies," he said.
Bhattacharya on Tuesday said that the BJP was infuriated by JMM's move of knocking at the court's door against auction of coal mines by private players because the latter stood as a hurdle in BJP's target of selling off all mineral reserves to select industrialists at a throwaway price.