JMM manifesto dubs BJP 'liars'
The 20-page manifesto supported the Congress's promised minimum income guarantee scheme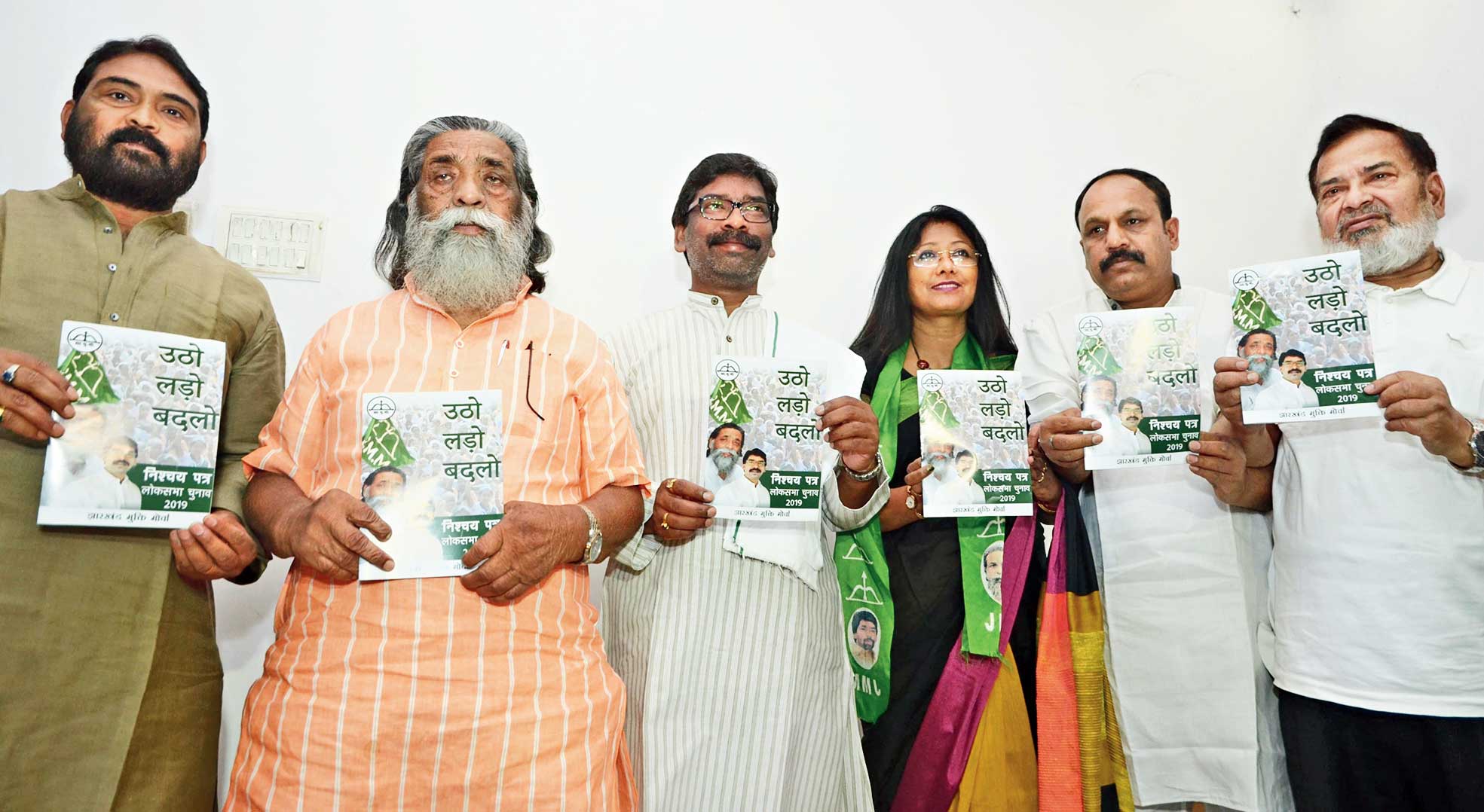 ---
|
Ranchi
|
Published 27.04.19, 06:36 PM
---
JMM on Saturday released its election manifesto, Nischay Patra, at the residence of party chief Shibu Soren in Morabadi.
The 20-page manifesto, which begins with the party's view on the current state of affairs in the country, has referred to the BJP as a group of liars and supported the Congress's promised minimum income guarantee scheme.
The party has promised to abolish the Land Acquisition (Jharkhand) Amendment Act, 2018, land bank policy and review "anti-Jharkhand" irrigation projects such as Icha Kharkai and Mandal Dam project.
Other promises include cancellation of Forest Conservation Act 1927, reservation in private sector jobs and the empowerment of The Scheduled Castes and Tribes (Prevention of Atrocities) Act.
The manifesto was released around 11.30am by JMM president Shibu Soren and executive president Hemant in the presence of chief of JMM's intellectual cell Javed Ahmed, general secretary Vindo Pandey and spokesperson Manoj Kumar Pandey.
The manifesto carries a picture of Shibu and Hemant Soren on its first page and a party flag on the last page.
On the second page is a picture of Shibu Soren with the party symbol bow and arrow and a message "Antim sans tak sangharsh ka sankalp (resolution for struggle till last breath)". The manifesto also has a picture of Hemant interacting with villagers, giving autographs to school children and attending to the poor in hospitals.
The party said in the BJP regime, the word nationalism had become a weapon to hide administrative failures and the BJP parliamentarians had become parrots who spoke the language of their bosses in Delhi.
The party observed that self-centralised and divisive forces were dominating the country and the poor, farmers, youths, tribals and minority community were being marginalised. The manifesto mentions that 10,000 farmers had committed suicide during the BJP rule and 2 crore people lost their jobs.
Hemant said the JMM was committed to protecting tribal land, forest and water.
"The party has always fought for the development of tribals and local residents by protecting their forest, land and water. The struggle will continue in the future," he said.