JMM drops hint of support to Saryu
Raghubar Das represents Jamshedpur East in the Assembly, and Saryu Roy is the Jamshedpur West MLA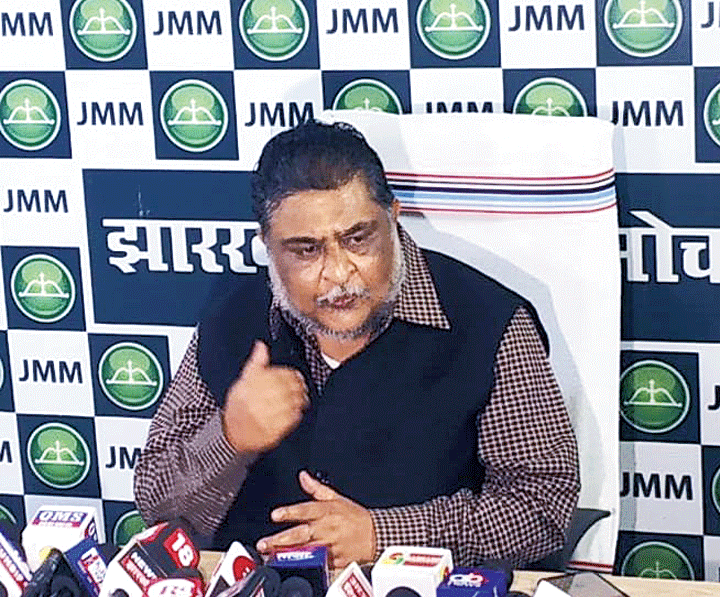 JMM leader Supriyo Bhattacharya
Picture by Manob Chowdhary
---
Ranchi
|
Published 16.11.19, 06:52 PM
|
---
The JMM on Saturday hinted that it would extend support to food and civil supplies minister Saryu Roy if he knocks on the door of the party.
The senior BJP leader's name was conspicuous by its absence in the list of BJP candidates released on Saturday. Roy on Saturday expressed anguish over the BJP sidelining him and said he had purchased nomination form for both Jamshedpur West and East seats and that he would announce his decision on Sunday.
Chief minister Raghubar Das represents Jamshedpur East in the Assembly, and Roy is the Jamshedpur West MLA.
"Politics is all about circumstances. Just wait, there are many in touch with us who are very much concerned about the atrocities being perpetuated in the BJP. We will extend all support them to fight against that," JMM general secretary and spokesperson Supriyo Bhattacharya said while replying to a query during news meet at the party office in Bariatu here.
Asked what would be the stand of JMM in case Roy contests the election chief minister Das, Bhattacharya said: "Jamshedpur East and West seats have been given to the Congress (under the Congress-JMM-RJD alliance). Thus the party will have to take a decision."
Bhattacharya also claimed that there was a crisis of leadership in the BJP.
"The BJP is the biggest party of the country. It has maximum number of workers but the party does not have a leader. This reflected in the 2014 Assembly election and 2019 parliamentary election. The crisis continues till date and this is the reason the party is luring struggling leaders with mass base of other parties to field as candidates," Bhattacharya said.
He also called chief minister Das "corrupt".
"Seizure of Rs 2 crore by the anti-corruption bureau from the possession of a junior engineer before election is a burning example though it is the tip of the iceberg of corruption," Bhattacharya said.
The BJP, he claimed, sidelines party workers who talk about corruption — be it a leader like K.N. Govindacharya or any senior national leader.
Training his guns on Das, Bhattacharya said: "He (Das) sometimes flies elephants and sometimes recognises Dhoni as a national football player. I pray to god that he does not speak anything during the election which confuses the people."