JMM cries tax terror
Tax hike on essentials leading to more inflation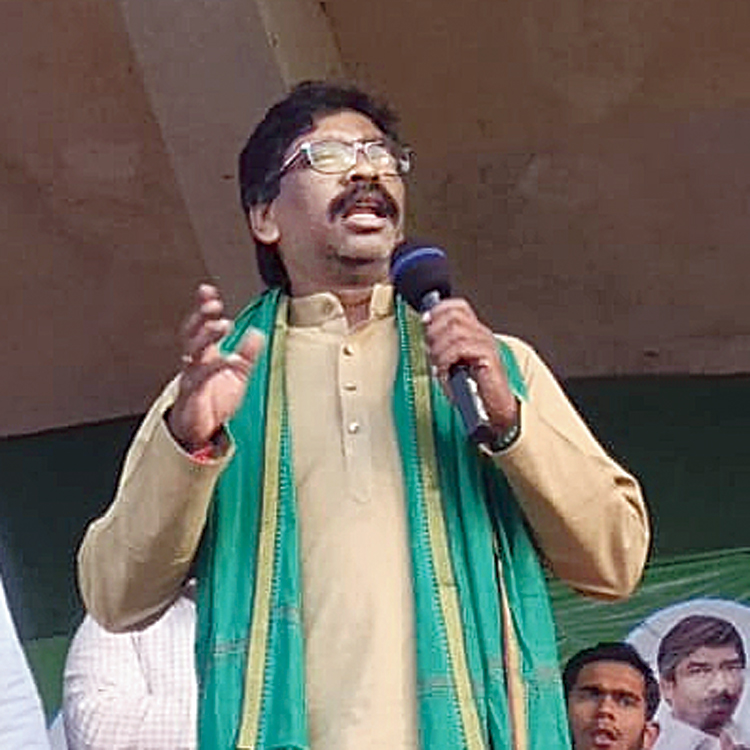 ---
|
Dhanbad
|
Published 11.12.19, 08:07 PM
---
The BJP-led central government will hike taxes on essentials leading to more inflation, claimed JMM president Hemant Soren, who addressed an election rally at Tundi (Dhanbad) and another at Chandankyari (Bokaro) on Wednesday.
Voting for Tundi and Chandankyari seats will be held on December 16.
At Tundi, Soren said he had shared a lot of information about the BJP's anti-poor policies but this was a "fresh one". "The BJP government will hike GST on various items after a meeting in Delhi on December 18. It will be implemented immediately after Jharkhand polls end on December 20," he said.
"The present GST of items that are 5 per cent will be 6-8 per cent. The 12 per cent GST on items will be hiked to 15 per cent. This will herald a new era of price rise and make the lives of the masses more difficult," Soren alleged.
Soren claimed that the BJP government had announced tax cuts for selected capitalists during this budget, which drained the exchequer and caused a loss of around Rs 1.5 lakh crore. "To fill this, the government decided to impose heavy tax on various items to further crush ordinary people reeling under taxes and inflation."
He asked the 5,000-plus crowd: "What is the price of onions today?"
When some people shouted "Rs 120 per kilo", Soren said: "After new GST rates kick in, onion will cost Rs 300 per kilo."
"Not only increased GST, the government will also bring back heavy traffic fines to lash out people. It shelved or hid the steep traffic fine rule to avoid alienating people before polls," Soren told around 4,000 people at Shivmandir grounds of Mohal, Chandankyari.
On former allies BJP and Ajsu Party who are fighting elections independently, Soren said: "That's to confuse people and divide votes. But they are like the cow and calf, and will come back together. People should only vote for Mahagatbandhan candidates (JMM-Congress-RJD) to come out of the oppressive grip of the Raghubar Das-led government."