JMM asks Centre, state to probe Godda MP's 'benami assets'
BJP accuses state government of 'misusing' CID to target Nishikant Dubey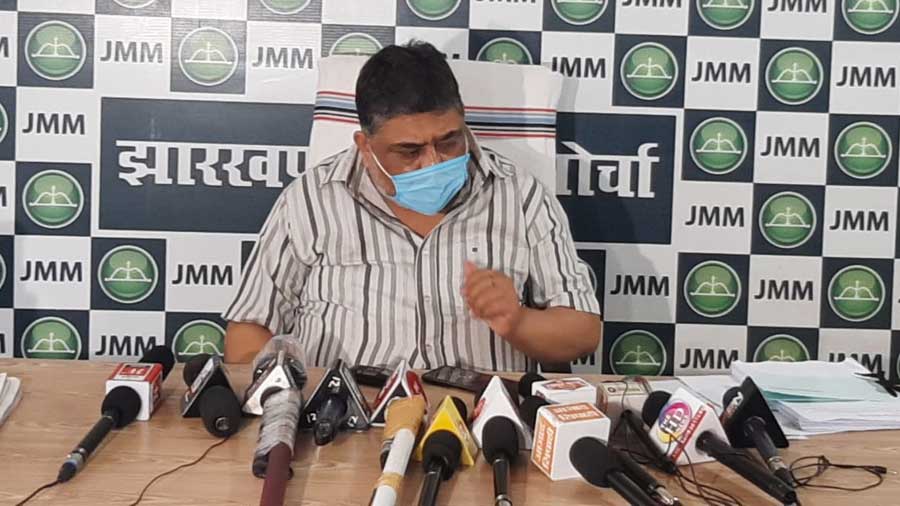 JMM general secretary Supriyo Bhattacharya talking to the media at the party office in Ranchi on Wednesday
Telegraph picture
---
Ranchi
|
Published 29.07.20, 10:07 PM
|
---
A bitter battle of words between a three-time BJP MP and the JMM, till now limited to typical political one-upmanship over charges of corruption and inefficiency, has, of late, turned downright ugly with multiple allegations centred around a rape complaint and dubious academic qualifications.
On Wednesday, the JMM, the lead partner in the ruling coalition government, warned Godda MP Nishikant Dubey and the BJP against playing "cheap and below-the-belt politics", calling for a thorough probe into the assets of the legislator, accusing him of amassing "benami" property by misusing his office.
JMM's warning, in the form of a press conference, came a day after Dubey wrote a letter to the Maharashtra government demanding reinvestigation into a 2013 rape case filed against chief minister Hemant Soren before a court of the metropolitan magistrate.
Tweeting about it, and tagging Union home minister Amit Shah, PMO and others on Tuesday, Dubey alleged Hemant had used his influence as chief minister then to force the complainant to withdraw the case.
आदरणीय भारत के गृहमंत्री @AmitShah जी व भारत के वर्तमान राजनीति के वरिष्ठतम नेता@PawarSpeaks जी,एक बेटी की जान ख़तरे में है,पॉवर,पैसा,पुलिस,गुंडे,माफिया मिलकर मुम्बई में उसकी हत्या कर सकते हैं।आपलोगों ने बेटी की हमेशा रक्षा की है,इसकी रक्षा कीजीए@AnilDeshmukhNCP @supriya_sule pic.twitter.com/UeJZHHy4wk

— Dr Nishikant Dubey (@nishikant_dubey) July 29, 2020
Hemant responded to Dubey's allegations. "The honourable MP has levelled serious allegations against me. He shall be given befitting reply legally within the next 48 hours. Stop duping the nation and people, which is 'your trademark'," Hemant tweeted form his official handle.
माननीय सांसद @nishikant_dubey जी ने मुझ पर कुछ आरोप लगायें हैं।

माननीय सांसद जी इसका जवाब आपको अगले 48 घंटे में कानूनी रूप से दिया जायेगा।

देश और राज्यवासियों को 'अपने आचरण के अनुरूप' गुमराह करना बंद करें।

— Hemant Soren (घर में रहें - सुरक्षित रहें) (@HemantSorenJMM) July 28, 2020
Addressing the press on Wednesday evening, JMM general secretary Supriyo Bhattacharya said, "Doing below-the-belt politics isn't our (JMM's) culture. But if that is what the opponents are reducing themselves to, then we are also ready. We have enough ammo to give a befitting reply."
Bhattacharya said the issue which was being raked up by Dubey was a fake matter. "We don't want to comment on such fake matters. Our leader (Hemant) has already spoken about the legal action against him (Dubey) for his misadventures," the general secretary said.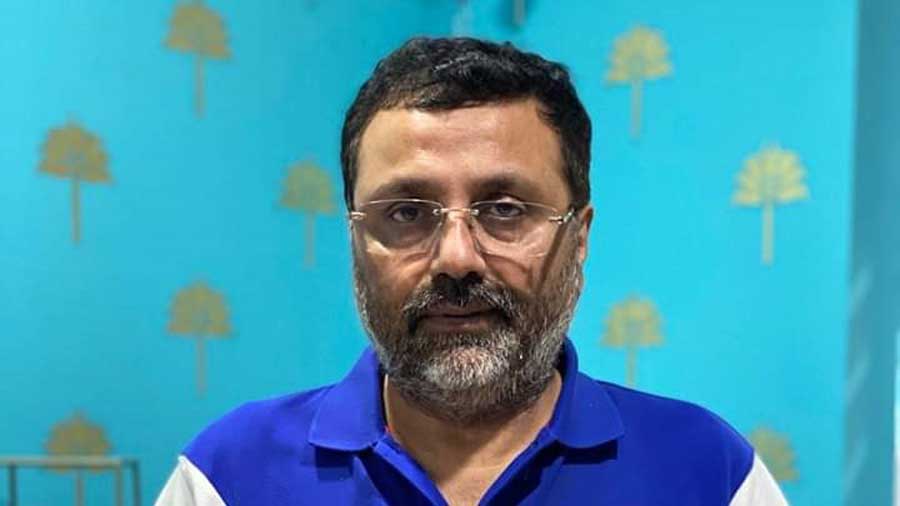 Bhattacharya, however, demanded that both the Union and state governments probe "benami assets" of Dubey and his "dubious educational qualifications", referring to the JMM's letter written to Election Commission of India (ECI).
"We have furnished detailed proof of Dubey's dubious educational qualification to ECI and the government. On Tuesday, dean of faculty of management studies, Delhi University, has also officially sent a note to CID-Jharkhand, denying that anyone by the name of Nishikant Dubey had cleared MBA in 1993 from their university, as furnished by him (Dubey) in poll affidavits," he said.
Unleashing a series of tweets, Dubey dared the Hemant Soren government to go ahead with the probe, saying he was ready to take everything head-on. The state BJP, which has so far stayed out of the row, stepped in on Wednesday to say that the state government was misusing the CID and other state agencies to target its leaders.
"Anyone is free to lodge an FIR against our MP if they have proof about his educational qualifications. But even without a formal case, the state government is illegally using CID against Dubey. Under what capacity has CID sought details from Delhi University without even an FIR," asked party spokesperson Saroj Singh.