Jharkhand's industrialists' banner reminder of industry SOS
The reality for businesses is in stark contrast to expectations of industrial growth claimed in Momentum Jharkhand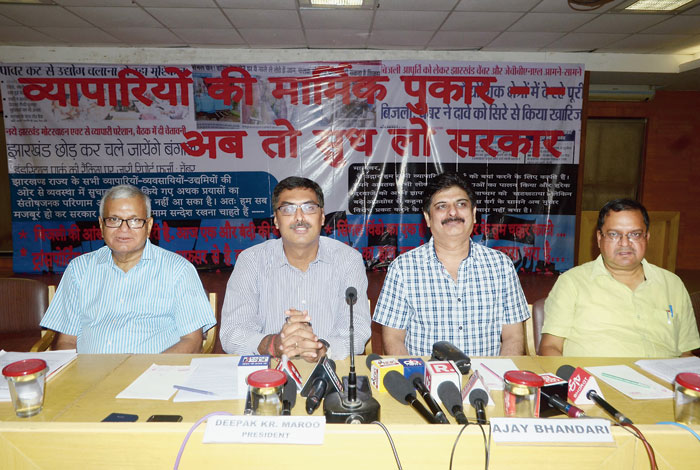 FJCCI president Deepak Kumar Maroo (second from left) addresses the media in Ranchi on Wednesday and (right) one of the hoardings put up near the official residence of chief minister Raghubar Das on Kanke Road to remind him of the problems faced by industrialists of the state.
Pictures by Prashant
---
Jamshedpur
|
Published 21.08.19, 08:20 PM
|
---
Jharkhand's industrialists are angry over what they say is the state's insensitivity to a dire situation for businesses, and they plan to remind the Raghubar Das-led government about the harsh ground reality through hoardings at strategic locations, including in front of the chief minister's residence in Ranchi.
The reality for businesses, the Federation of Jharkhand Chamber of Commerce and Industries (FJCCI) said at a news meet held in the state capital, was in stark contrast to expectations of industrial growth claimed during Momentum Jharkhand in 2017.
The FJCCI is the coordinating body for more than 10,000 industrial units operating across the state.
"The hopes generated during Momentum Jharkhand are completely dashed with industrialists fighting for survival and nearly 1,000 big and small industries downing shutters in the last few months due to the insensitivity of the state government," FJCCI president Deepak Maroo said during the news meet held at Chamber Bhavan in Ranchi on Wednesday.
"We tried presenting our stands before every responsible persons including ministers, chief minister and bureaucrats but so far we have not received any solution to our woes and had no option but to display our sentiments through hoardings, beginning with a hoarding near the CM residence at Kanke," he added.
The FJCCI hoardings will be put up at eight locations in Ranchi, and similar billboards will be sent to industries and trade bodies for display at strategic locations across all 24 districts.
"We would like nearly four-five such hoardings put up at strategic locations like near the district collectorate and near the residence and office of ministers and MLAs across the districts — to make them aware about the problems faced by us," Maroo said.
The hoardings declare: "Vyapariyo ki marmik pukar — ab to sudh lo sarkar" (Poignant call of traders — at least remember us now, government).
They highlight problems faced due to frequent power cuts, complete failure of the single-window system of clearances for business, harassment of transporters by police officials, unhygienic condition and poor infrastructure in industrial areas, rising cases of theft and crime, and rampant licence raj and red tape.
"Industries in the last one year have suffered losses to the tune of Rs 1,000 crore due to poor policies of the government. The claims of hassle-free clearance through single-window system and ease of doing business is simply an eyewash. Momentum Jharkhand has failed to generate any revival for industries," Maroo said.
During the Momentum Jharkhand 2017, nearly 210 MoUs were inked with Jharkhand government, promising investment of more than Rs 3 lakh crore.
FJCCI industry sub-committee chairman Ajay Bhandari blamed lack of coordination between the legislature and bureaucracy for the sorry state of affairs. FJCCI electricity sub-committee chairperson Vinod Tulsiyan criticised the government for allowing hike in power tariff from April this year despite no significant improvement in supply. This, he said, has led to economic
burden on industrialists and several ingots units have closed down.
Bus transport association official Arun Budhiya said that tax policies on the transport sector have resulted in heavy losses for transporters, specially those in the heavy vehicles segment.
"We want the government to talk to us and sort out our problems and this is the reason we have resorted to the hoarding campaign to draw their attention," Maroo said. "If they do not relent, then we will have to go for mass agitation."