Water supply disrupted in Kendua Katras as pipeline damaged in Kendua
Though digging was launched by JMADA since early morning , it may take two to three days to complete repair work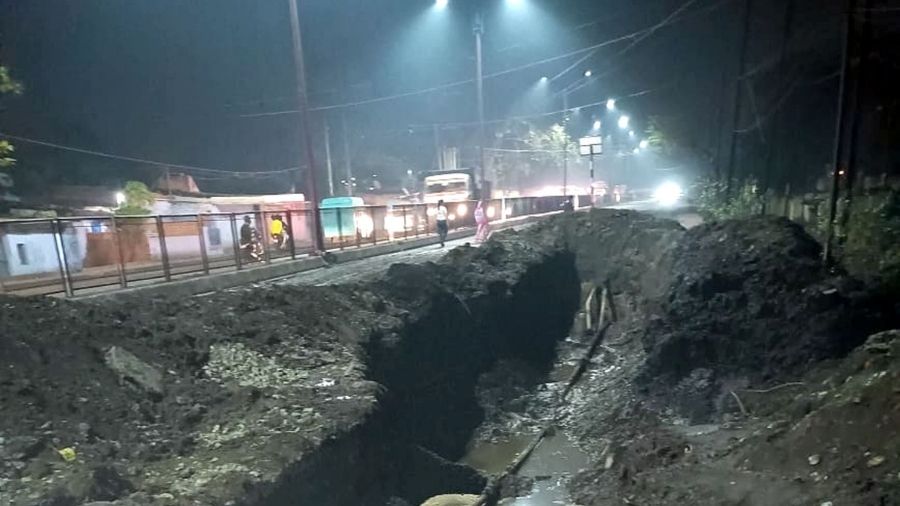 The damage pipeline of JMADA due to subsidence at Kendua in Dhanbad
Gautam Dey
---
Dhanbad
|
Published 27.02.22, 07:35 PM
|
---
Water supply has been disrupted in different localities of Kendua, Putki, Katras, Moonidih area since last night as 18 inch diameter main water supply pipeline of civic body Jharkhand Mineral Area Development Authority (JMADA) has been damaged due to land subsidence that took near NH-32 in underground fire affected Gansadih area of Kendua last night.
Though digging work has been launched by JMADA since the early morning for carrying out the repair work, it may take two to three days to complete the repair work.
Talking to The Telegraph Online, Indresh Shukla, Executive Engineer of JMADA, said "the pipeline has been damaged due to subsidence and we have already launched the repair work which will take one or two days to resume the water supply"
Notably, water supply is carried out to around 5 lakh residents of Kendua, Putki, Moodih, Sijua and Katras through the 9 million gallon per day (mgd) capacity water treatment plant of JMADA situated on bank of river Damodar in Jamadoba based water treatment plant complex.
The Jamadoba based water treatment plant of JMADA comprises two water treatment plants, including one of 12 million gallon per day capacity plant meant to supply water to different parts of Jharia while another plant of 9 mgd supplies water to Kendua, Putki, Moonidih, Sijua and Katras.
Md  Aslam, in charge of JMADA's Putki based water supply network said, "Repeated incidents of damage of water supply pipeline are taking place in the area due to two main reasons, including the damage of galleries of the abandoned mines in the area and also due to the non shifting of the pipeline during the road broadening work."
"Actually, during the broadening work of Govindpur Chas road carried out three years ago by State Highway Authority of India we have demanded fund from the agency for the shifting of pipeline from the road but due to lack of provision of fund for shifting of pipeline the shifting had not been carried out and resultantly repeated incidents of pipeline damage is taking place leading to disruption of water supply" said Aslam.
He however expressed hope that water supply will be restored in a day to two as the repair work of the damaged pipeline has been launched since this morning on a war footing.