JVM protests Jharkhand Speaker's 'compromise' verdict
Over 50 workers burnt effigies of Raghubar Das, Speaker Oraon and 6 turncoat MLAs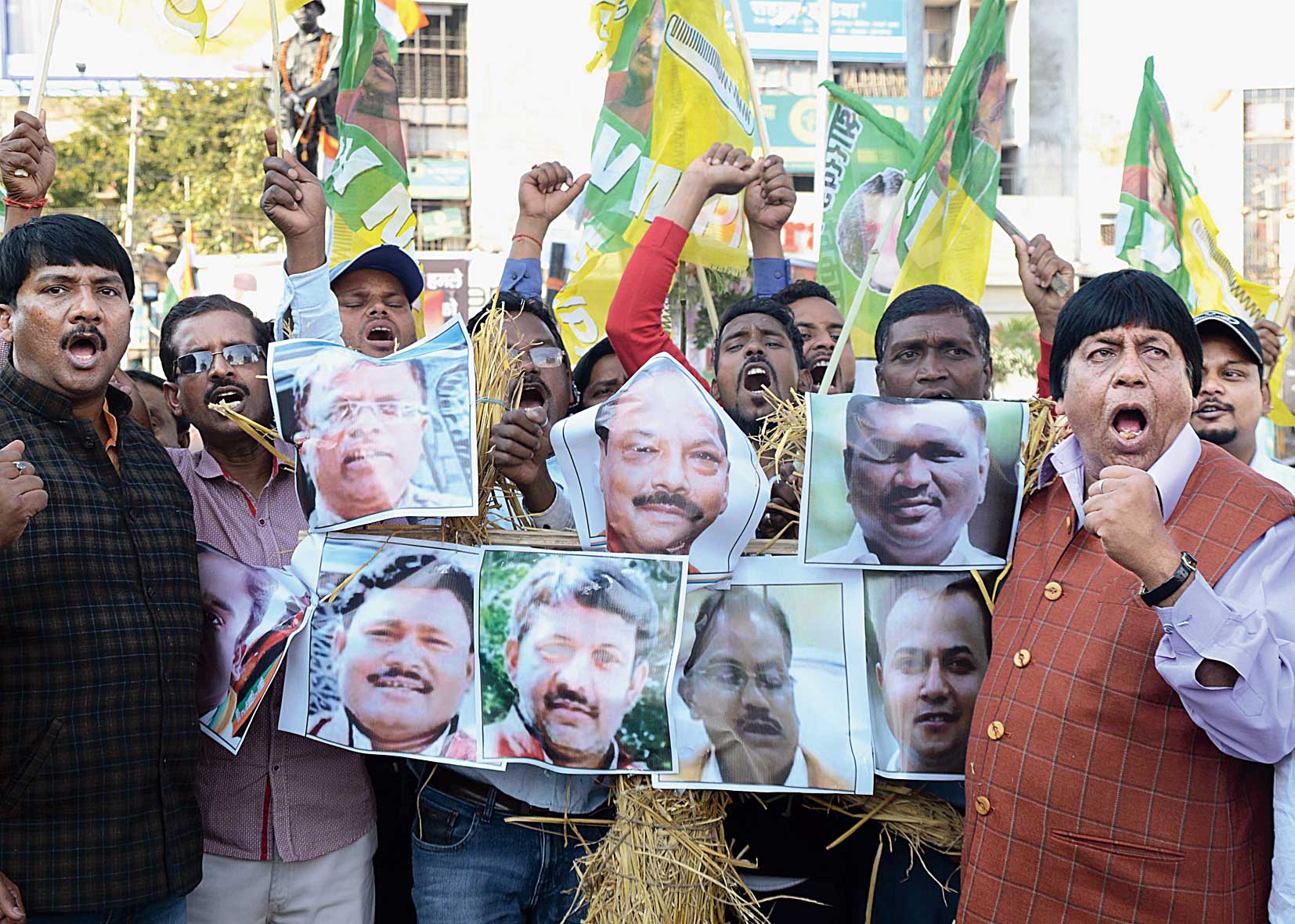 JVM workers protest against Assembly Speaker Dinesh Oraon's judgement on MLA defection at Albert Ekka Chowk in Ranchi on Thursday.
Picture by Manob Chowdhary
---
Ranchi
|
Published 21.02.19, 06:51 PM
|
---
The JVM on Thursday afternoon protested at Albert Ekka Chowk here against Wednesday's judgment delivered by Assembly Speaker Dinesh Oraon where he upheld as legal the merger of six JVM MLAs with the BJP in February 2015, rejecting party president Babulal Marandi's petition that they be disqualified as MLAs under anti-defection law.
Over 50 workers burnt effigies of CM Raghubar Das, Speaker Oraon and the six turncoat MLAs Randhir Kumar Singh, Amar Kumar Bauri, Janki Prasad Yadav, Ganesh Ganjhu, Alok Kumar Chourasia and Navin Jaiswal. The party is likely to move Jharkhand High Court early next week to challenge the Speaker's decision.
Speaking to this paper, JVM MLA Pradeep Yadav said Speaker Oraon acted under pressure from the BJP and the government to rule out disqualifying these MLAs.
"Otherwise, the Das government would have collapsed. I know the Speaker had a sleepless night because he was forced to compromise with his conscience. We are planning to launch state-wide mass protest against the Speaker for promoting horse-trading," he said.
He added, "We will procure a copy of the judgment to file a petition before high court seeking this order be quashed. A number of similar cases have been reported from across the country where courts quashed the decision given by respective Assembly Speakers."
Senior JVM leaders on Thursday held a closed-door meeting with senior lawyer R.N. Sahay on how to challenge the Speaker's judgment.
Alluding to BJP state president Laxman Gilua's claim on Wednesday after the Speaker's verdict that they would approach the Election Commission of India to derecognise JVM and scrap its poll symbol (comb), lawyer Sahay told the media later that the JVM continued to exist. Under the 10th Schedule of the
Constitution (popularly called anti-defection law), two-thirds division of the party's organisational fold was required for it to merge with another party, he said.
"These (six) MLAs forged a paper that a meeting of the party was held which 400 JVM workers and office-bearers attended. They are saying that in that meeting a decision was taken to merge the JVM in the BJP. But, none from JVM's central working committee were present in that meeting. If the merger was valid, why did these MLAs not inform the Election Commission of India?" Sahay asked.
A senior Assembly official associated with Speaker's court proceedings said the merger of individual MLAs with the BJP and that of the JVM party were two different things.
Contrary to BJP's claims, he said the JVM as a party did exist. "The law says that even if a single officer bearer of a party rejects the merger and stays back in the original party, it would exist," he said.
"The Speaker has power over legislative matters.
Six JVM MLAs submitted in writing their merger with the BJP. This split in the legislative fold fulfilled the (two-thirds) criteria. But, the Speaker has nothing to do with any division in the JVM's organisation fold. Merger and dissolution of a political party don't come under his purview," the official said.
The official said in February 2015 when these MLAs joined the BJP, Speaker took suo motu cognisance. "Later, the BJP gave in writing that these MLAs had joined the party. Meanwhile, JVM chief (Marandi) sought their MLA memberships be scrapped on grounds of anti-party activities. But the Speaker has no control over internal disciplinary matters."