Jharkhand to harness power from its waterfalls
Hydroelectric plants planned at Dasham, Jonha, Hundru and Sita in state push for green energy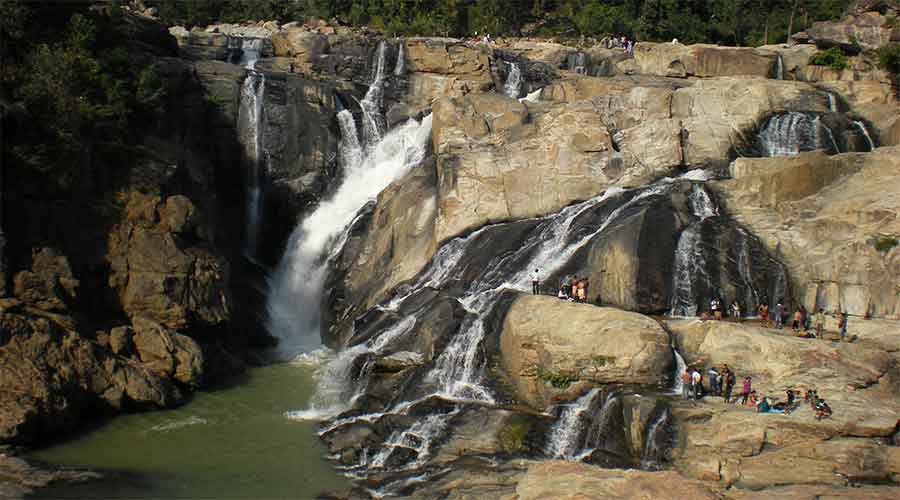 Dasham Falls in Ranchi
Wikipedia
---
Ranchi
|
Published 11.09.21, 07:54 PM
|
---
Jharkhand has identified about a dozen waterbodies, including four waterfalls in Ranchi, for setting up hydroelectric power plants as a part of a green initiative to rely more on renewable sources of energy for meeting the power demands within the state, officials said on Saturday.
The four waterfalls in Ranchi – Dasham, Jonha, Hundru and Sita – will be included in this initiative, said sources in Jharkhand Renewable Energy Development Agency (JREDA), adding that generation from each of the hydroelectric power plants will be in the range of 1 MegaWatt to 20 MegaWatt, depending on the current and nature of the waterbody.
State energy secretary Avinash Kumar said the department of energy has been on the lookout for water bodies for setting up hydroelectric power plants. "We have been identifying water bodies across the state for instaling hydroelectric power plants. Increasing our dependability on renewable sources of energy has always been a priority," said Kumar.
An official from JREDA, requesting anonymity, said that besides the four waterfalls in Ranchi, hydroelectric power plants will also be installed at Torpa, Manoharpur, Basia, Arki, Sugabandh and Raidih.
JREDA has prepared the DPR for some of these projects. Setting up hydroelectric power plants at the four waterfalls in Ranchi is likely to cost about Rs 100 crore, sources in the energy department said.
Ranchi, also known as the city of waterfalls, is yet to utilise most of its natural waterfalls for generation of energy. This initiative, officials said, will ensure that the waterfalls in the state capital are not just known for their beauty but also for their utility in production of energy.
During the recently held investors' summit in New Delhi, Chief Minister Hemant Soren had stressed on the government's push for renewable energy and invited investors to set up plants in the state.
The hydroelectric power plants may also be run in private public partnership (PPP) mode, sources in the energy department said. The government, however, will provide all possible infrastructural facilities to investors.  
JREDA has already floated tenders for installation of solar panels at five airports, including the Birsa Munda Airport in Ranchi, for generating solar power that can not only light up the airports but also provide electricity to some residential localities.