Jharkhand to get 2 lakh Covaxin doses on Thursday
7 more die of Covid, 4 of them in Ranchi; 1312 fresh cases reported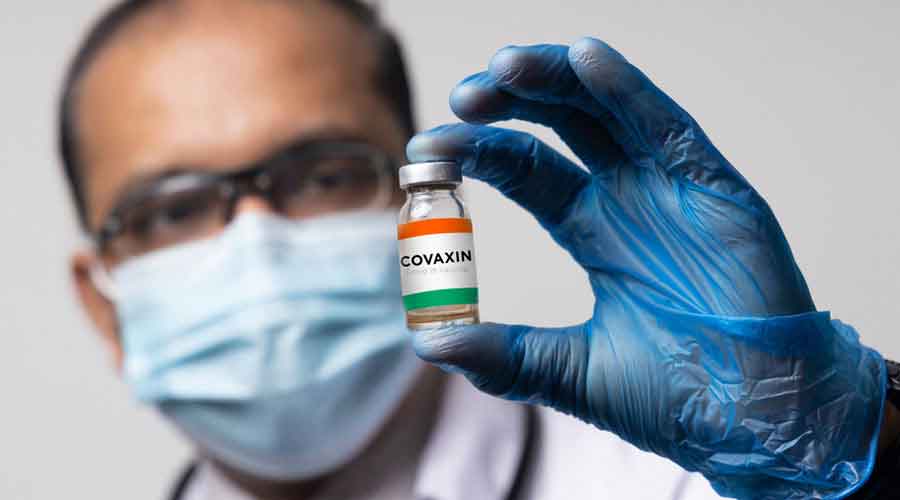 ---
Ranchi
|
Published 08.04.21, 12:56 PM
|
---
Jharkhand will receive 2 lakh doses of Covaxin on Thursday to meet  demands until the Centre provides 10 lakh more vaccine doses by April 9, an official communique from the health department stated on Wednesday.
As per data provided by the state health department, Jharkhand had 97,037 doses of Covishield vaccine and 20,124 doses of Covaxin in stock at 7pm on Wednesday. The health department in its communique stated that the 2 lakh additional Covaxin doses provided by the Centre will ensure sufficient availability of Covaxin as well as Covishield vaccines in the state for the time being.
Meanwhile, the state reported seven more Covid deaths, including four in Ranchi alone, on Wednesday, taking the Covid toll in the state to 1,151 and that in Ranchi to 276, a bulletin released by the National Health Mission (NHM) stated. 
At least 1,312 fresh cases cases against only 277 Covid recoveries, also took the active caseload in the Jharkhand to 7,872.
The active caseload in Ranchi crossed the 4,000 mark on Wednesday as the district alone reported 562 cases against 113 recoveries. As per government data, as many as 4,112 people were battling the viral infection in Ranchi by Wednesday night. 
Only Ranchi and East Singhbhum reported a triple-digit-spike on the day.With 149 fresh cases and 40 recoveries reported in the past 24 hours, East Singhbhum's active caseload stood at 913.
As per figures with the NHM, the growth rate of Covid in Jharkhand further increased to 0.67 per cent against the national average of 0.57 per cent on the day. The doubling rate of cases in the state was also lower than the national average _ it would take 103.11 days for cases to double in the state against the national doubling rate of 122.12 days.
So far, over 1.3 lakh people have been infected by the virus in Jharkhand, and 93.10 per cent of them have recovered. The recovery rate in the state has shot up from close to 99 per cent in mid-March to a shade above 93 per cent in the first week of April.
A report released by the NHM on Wednesday highlighted that as many as 86,594 Jharkhand residents, 72 per cent of those registered, were administered the first dose of vaccine against Covid-19 on the day. On the other hand, the second dose was administered to only 4,199 beneficiaries, hardly 3 per cent of the 1.61 lakh people registered for the second jab on the day.
As per government data, Jharkhand has so far administered the first dose of the vaccine to 18,27,886 people, including nearly 14 lakh people above the age of 45 years. The second jab has been administered to as many as 2,78,989 people in the state so far.