Jharkhand teenagers line-up for jabs enthusiastically
Around 24 lakh beneficiaries in the 15-18 category in state, rush for vaccines in Dhanbad, Jamshedpur too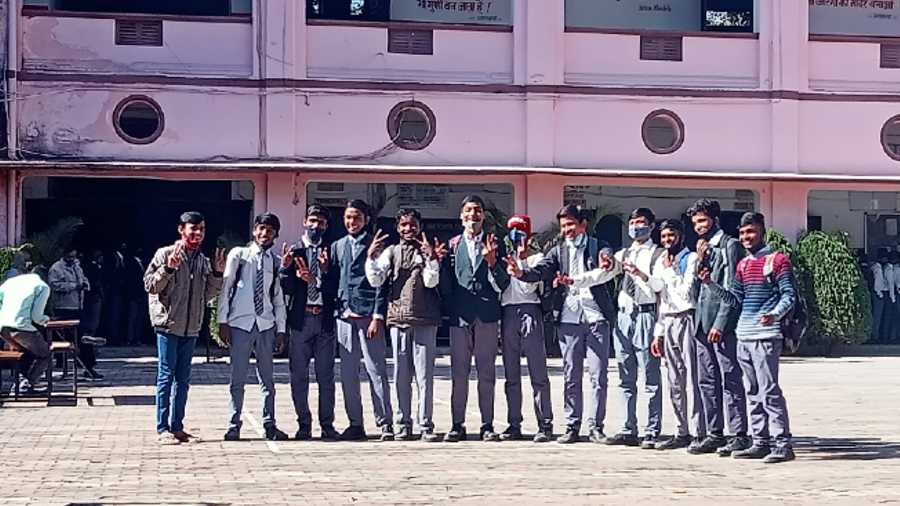 Enthusiastic students of Marwari School, Ranchi pose for The Telegraph before getting jabbed.
The Telegraph
---
Ranchi, Jamshedpur, Dhanbad
|
Published 03.01.22, 06:43 PM
|
---
The state capital of Ranchi began administering Covid-19 vaccines to those between 15-18 years on a positive note on Monday with close to half a dozen schools chosen as jab sites, and reports through the day indicated visible enthusiasm among youngsters and none of the hestitancy experienced by health officials during the first and second waves of the pandemic. 
Near Ranchi's Zila School, there was a heavy rush of students from 8am. Rahul Gope (16) and three of his classmates queued up outside to be among the first few to get inoculated. They got their shots after waiting for about 45 minutes at the centre.
A school official said that by noon, over 100 beneficiaries were successfully vaccinated. "We kept both options--walk-in as well as those who had registered themselves via the Co-WIN portal. We had received about 400 doses for today. But given the rush, many will have to return," said the official around noon.
Ranchi civil surgeon Vinod Kumar estimates 2 lakh beneficiaries in this age group in the district. Across the state, there are 23.98 lakh eligible beneficiaries in this age bracket. All of them are being given the Bharat Biotech's Covaxin, as per the Centre's directive.
At Marwari School, out of around 1,600 students on its rolls, 1,200 are eligible for the vaccine. "Today, we will vaccinate only 400 boys and girls. Our target is to complete the process in our school in three days. All want to take the vaccine. Elders who haven't taken jabs must learn from these youngsters," said the vaccinator.
Rakesh Kumar, a class 11 student who was busy clicking selfies after his jab, said, "I didn't feel a pinch of pain. Everything was smooth."
Other schools where vaccines were given are DAV Hehal, Government Gauri Dutt Mandeliya School (Ratu Road) and the Government Plus Two High School (Kanke). On Tuesday (January 4), the drive will also be held in three other schools, namely, Government Girls School (Bariatu), SS Plus Two High School (Doranda) and Gurunanak Public School (Pee Pee compound).
In Jamshedpur, over 2,000 teenagers who had registered on the CoWIN platform, got their jabs at various centres on Monday. As per official estimates, Jamshedpur and its adjoining areas have around 1.66 lakh beneficiairies in the 15-18 age group. State health minister Banna Gupta inaugurated the vaccination drive at Karim City College. He was accompanied by East Singhbhum deputy commissioner Suraj Kumar, Dhalbhum sub- divisional officer S. K. Meena and senior health department officials. The drive began at 10.30am at Tata auditorium on the XLRI campus, Karim City College, Loyola School, Balichela High School, Hill Top School, Sakchi High School and Vidya Bharati Chinmaya Vidyalaya in Telco. It went on till 5 pm.
Most eligible teenagers were enthusiastic. Surbhi Singh, a 15-year-old Class-X student who had come to take her vaccine at the XLRI auditorium, said, " I am happy ... We can now feel safe and go out and attend school. We haven't been informed about the particulars of the second dose yet."
Covid cases are seeing a sharp spike in steel city. During the past 24 hours, 179 people tested positive. In Dhanbad, vaccines were given on Monday at 24 schools of the district, including seven schools of Dhanbad sadar area, three each of Govindpur, Jharia & Nirsa, and two each at Bahmara, Baliapur, Topchanchi and Tundi.
Siddharth Das (17), a class XII student of DAV Public School (Koyla Nagar), who took the first dose of vaccine at his school along with around 150 other students, said, "I was a bit nervous, but not afraid. I am fully aware that vaccination is the only way by which we can save ourselves and prevent the spread of Covid."