Jharkhand state digest: RJD workers stage massive demonstration against fuel price hike and unemployment in Dhanbad
Elsewhere in the state: Police seize medicines like 4000 Nitrosun-10 tablets and 190 Onerex syrup bottles from a medical store in Bokaro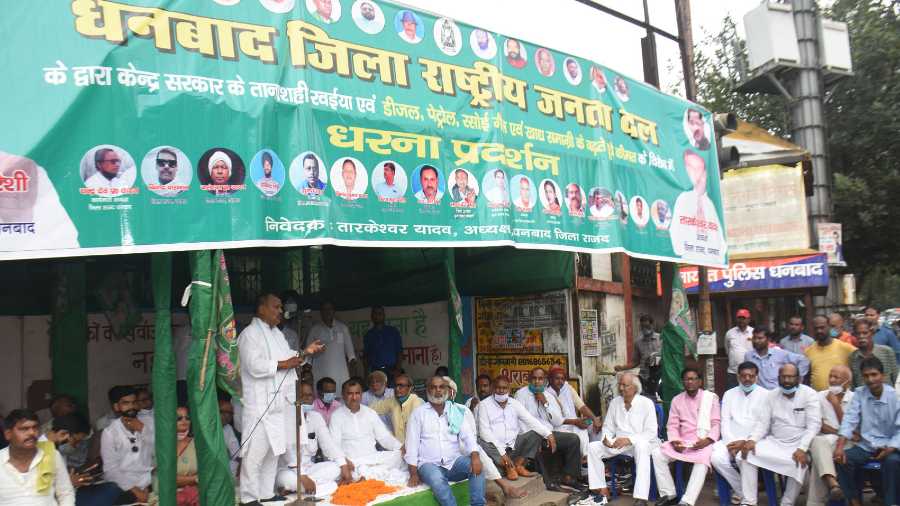 RJD activists of Dhanbad staging dharna in at Randhir Verma Chowk, Dhanbad on Tuesday.
Gautam Dey
---
Published 03.08.21, 06:35 PM
|
---
Over 100 workers affiliated with the district unit of Rashtriya Janata Dal besides its youth and women's wing today staged a day-long dharna and demonstration near Dhanbad district headquarters. They were protesting against anti-people policies of the central government that have led to steep price rise, unemployment and poverty.
The protesters congregated at Randhir Verma Chowk at around 10 am under the chairmanship of district president of RJD later also had a memorandum addressed to President Ram Nath Kovind demanding sacking of the central government.
Talking to media, Hatim Ansari, state Vice President of RJD said, "When LPG cylinders were available at Rs 400 during the UPA II period these BJP leaders including, Hema Malini and Smriti Irani used to protest holding LPG cylinders and we would like to know where they are now when the same LPG cylinder price now costs Rs 862."
"The same BJP leaders used to send bangles to the then Prime Minister, Manmohan Singh when diesel was available at Rs 40 per litre. We want to know why they are not protesting when fuel price has crossed Rs 100 per litre mark," he said.
Ansari further added, "The Narendra Modi government has lost all moral right to remain in power under the present circumstances and we would request the President to sack the government and hold fresh elections."
District president of RJD, Tarkeshwar Yadav, added, "We will intensify our protest if the government fails to take any step to provide relief to common people by decreasing the fuel, LPG and even food prices."
(Praduman Choubey)
Police recover 4000 Nitrosun-10 tablets and 190 Onerex syrup bottles in Bokaro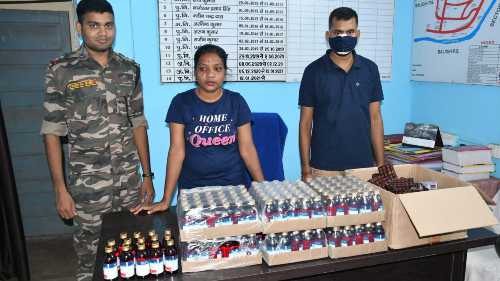 Bokaro police has sped up its drive against sale of medicines without prescription to youths. The move comes to deter youngsters who have been using medicines made to relieve pain and allergies for intoxication.
On Tuesday Bokaro police raided Sunita Medical Store in Jhopdi Colony and recovered around 4000 Nitrosun-10 tablets and 190 Onerex syrup bottles. Many used syrup bottles were also recovered. The owner of the medical store, Hareram Sharma has been detained by the police for questioning.
Drug inspector is also probing the matter.
OC said, "Acting on a tip-off, the police team raided and recovered a huge stock of medicines which was being sold to youths for intoxication. Investigation is on."
In addition to cigarettes, marijuana and alcohol, demand for easily available over the counter drugs (syrups and tablets) has shot up among the youths as they are cheaper. Medical stores are selling these drugs illegally without seeing a doctor's prescription for their little benefit, despite the government having banned the open sale of such drugs.
According to health experts, Nitrosun-10 is mainly used to treat anxiety disorders, insomnia and prevention of seizures (fits) due to epilepsy. And, Onerex cough syrup has high alcohol content and hence is being used by youth for drug addiction.
(Our Correspondent)