Jharkhand State Digest: Decks cleared for cancer hospital in Dhanbad
Elsewhere in the state: Cops launch battle against Maoist leader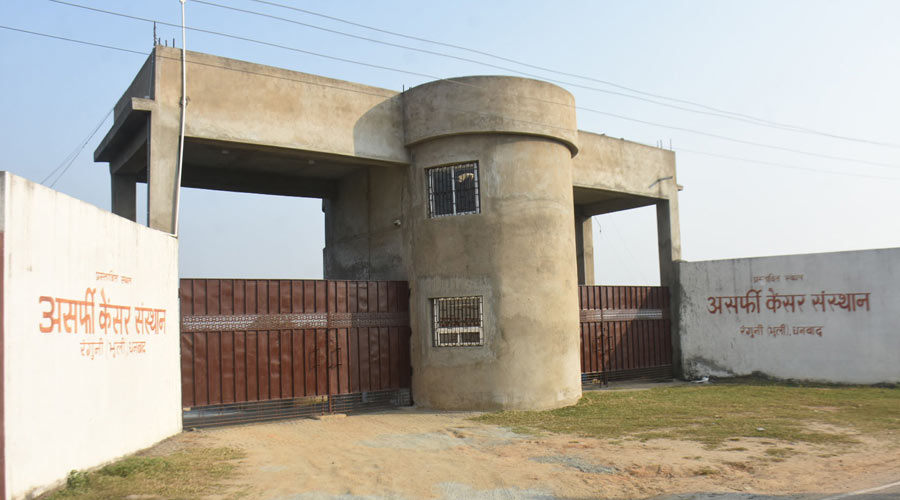 The proposed site of the Asarfi Cancer Institute where the 50 Bedded Hospital is to be developed at Ranguni in Bhuli, Dhanbad on Saturday.
Gautam Dey
---
Published 27.11.21, 08:52 PM
|
---
Dhanbad: Decks have been cleared for the launch of the 50-bed exclusive cancer hospital of Dhanbad. The hospital to be made by Asharfi Hospital Limited at a cost of Rs 80 crore will come up at Renguni Mouza of Baghmara block for which the consent to operate has been granted by the Jharkhand State Pollution Control Board (JSPCB) on Saturday.
Notably, the hospital will provide treatment facilities of Surgical Oncology, Radiation Oncology and Chemotherapy and will be a second of its kind exclusive cancer hospital in the state after Ranchi. Renowned doctors from outside the state will be deputed.
The hospital besides catering to Dhanbad patients will also be useful for people from several adjoining districts like, Bokaro, Giridih, Jamtara, Dumka, Godda, Sabeganj, Pakur, Chatra, Hazaribagh, Deoghar who earlier used to visit Tata Cancer Hospital in Mumbai far away from here," said Harendra Singh, the CEO of the company.
"We are very thankful to Amitesh Sahay, president of Jharkhand Industries and Trade Association (JITA), who is also the president of the Trade and Commerce wing of JMM and a childhood friend of Chief Minister Hemant Soren. He personally took up our problems with the Chief Minister following which the CM instructed JSPCB to accelerate the process of issuing consent to operate and we finally secured the consent to operate on Saturday, he said.
Praduman Choubey
Wanted Maoist and supporters take on security forces Jamshedpur: Police and paramilitary forces on Saturday surrounded PLFI (People Liberation Front of India) commander Dinesh Gope and his squad at a hilly area comprising Sonua and Goelkera thanas of the West Singhbhum after the rebel leader had fled the adjoining Gudri thana area following an encounter with the police on Friday.
Acting on a tip-off that Gope and his squad had taken refuge in a hilly terrain under Sonua thana area, over 500 paramilitary forces surrounded a sprawling hill bordering Goelkera thana area since 10 am on Saturday. "While over 500 paramilitary forces have surrounded the hilly terrain, 200 forces are carrying out a search operation inside the surrounded area for the PLFI commander," said West Singhbhum SP, Ajay Linda while talking to The Telegraph Online.
Speaking about the ongoing operation, the SP said that jawans of CRPF's 60 battalions led by police started a search operation for Gope in Gudri jungle on Friday afternoon. The paramilitary forces were rained with shots fired by the PLFI activists from a hill near Banamuli village, causing the former to retaliate. Sensing trouble, Gope and squad had given a retreat. But the police had continued the search operation for the rebel leader. Ultimately, this morning we could know about his presence in Sonua jungle," said the police officer.
Linda said while fleeing Banamuli, the PLFI activists had left behind haversacks and other materials which the police have seized. He pointed out rebels had sneaked into Sonua where they have been surrounded on Saturday.
The SP said Gope who leads a squad of 12 activists of the outlawed PLFI carries a bounty of Rs 25 lakh on his head.
Meanwhile, the outlawed outfit CPI-Maoist on Saturday resorted to large scale poster campaigns in Kiriburu, Goelkera and Gua thana areas of the West Singhbhum district urging young men and women to join it.
Kumud Jenamani
Time for budding technocrats to showcase their creative sides Dhanbad: Budding technocrats of lone state-owned engineering of state BIT Sindri have embarked on a mission to script their emotions through poems and essays. This is part of a process to bring out the annual edition of the literary magazine of the institute Sarjana.
Talking to The Telegraph Online, Abhijeet Bhagat, a B Tech Final Year (Chemical Engineering) student of the institute who is also the editor-in-chief of Sarjana said, "Besides publishing the annual magazine we also organised a host of literary and cultural events in the institute including the literary fest, poet's meet and others all of which were lying suspended since over 20 months due to pandemic and closure of the institute. As the institute opened up for final year students about a fortnight ago we decided to bring all kinds of activities including literary and cultural back on track."
"We will try to publish the magazine within two months, later than the normal schedule of publication in October-November as the institute opened for only final year students recently and the process of contribution is likely to accelerate with the arrival of more students," said Shambhu Sahu another B Tech (Chemical Engineering) final year student who is also the deputy editor in chief of the Sarjana.
Praduman Choubey
31st Jharkhand Senior Federation Cup Throwball Championship begins Dhanbad: The 3-day event of 31st Jharkhand Senior Federation Cup Throwball Championship began at DAV Model School CFRI, Digwadih on Saturday.
In the inaugural encounter of men's section, Delhi defeated Chhattisgarh in three rounds by 3-1. In the first round, Delhi won by 15-4 while in the second round Chhattishgarh won by 15-9 and in the third round Delhi defeated Chhattisgarh by 15-6.
In the first match of women's section, Tamil Nadu defeated Andhra Pradesh in two rounds by the score of 15-8 each.
Director of Central Institute of Mining and Fuel Research, PK Singh, who was present during the occasion as chief guest, exhorted the players to work hard to bring laurels for the country.
Altogether 10 teams are participating in the championship – Jharkhand, New Delhi, Andhra Pradesh, Tamil Nadu, Haryana, Karnataka, Uttar Pradesh, Arunachal Pradesh, Chhattisgarh and West Bengal.
Secretary of Jharkhand Throwball Association, Santosh Singh said, "The championship will continue for three days and with the sport activities coming back gradually to track. more events will be held regularly."
Praduman Choubey