Jharkhand Digest: BHEL engineers attacked at power plant gate
Elsewhere in the state: Jamshedpur gets taste of Bigbasket
---
Published 26.11.21, 07:19 PM
|
---
Chatra: A team of engineers of Bharat Heavy Electricals Limited  engineers (BHEL) who reached the under construction power plant in Tandwa for maintenance work were attacked by agitators leading cops to arrest the main accused Tileshwar Sahu. The incident took place on Wednesday evening with police arresting Sahu within few hours of the incident.
Sources said that from November15, raiyats under the banner of Visthapit Vikas Sangharsh Samiti (VVSS) have been on an agitation demanding more compensation for their acquired lands. They have blocked the entrance to 1980-North Karanpura thermal power plant owned by NTPC bringing the construction work to a standstill.
A bus carrying 40-enigneers reached power plant gate. Agitators of VVSS blocked their path and started raising slogans. Engineers came down from the bus and tried to convince them but an argument started. Before anyone could have any clue, few raiyats led by Sahu attacked the engineers. They hit them and forced them to get inside the bus and leave the spot in hurry. The team reached Tandwa police station where they lodged a complaint and also gave a video of the incident recorded by one of them.
Tandwa police conducted raids arresting Sahu at 11 in the night. Efforts are on to catch the others going on. Sahu is the president of VVSS. Following his arrest, a large number of raiyats gathered at the power plant gate raising slogans against NTPC demanding his release.
Vishvendu Jaipuriar
Bigbasket facility inaugurated in Jamshedpur
Jamshedpur: Residents of the steel city can now avail of Bigbasket, an Indian online grocery delivery service. The company primarily delivers grocery goods found in convenience stores, home essentials and food supplies to its customers.
The Bigbasket Facility comprising a warehouse was inaugurated at Sonari on Friday. CEO and co-founder of Bigbasket, Hari Menon was the chief guest at the function. Tata Steel managing director T V Narendran and vice-president (Corporate Services), Tata Steel Chanakya Choudhury were also present on the occasion.
Bigbasket was launched in December 2011 in Bengaluru by a team of five – V S Sudhakar, Hari Menon, Vipul Parekh, V S Ramesh and Abhinay Choudhari.
The team has both offline and online retail experience, as they had earlier set up India's first e-commerce site FabMart.com in 1999, and then established the Fabmall - Trinethra chain of more than 200 grocery supermarket stores in southern India. Servicing over 20 million registered customers, Bigbasket has emerged as India's largest online supermarket with over 40,000 products from over 1000 brands and presence in over 30 cities across the country.
The Jamshedpur Bigbasket facility will have fresh fruits and vegetables, grocery and staples, beverages, bakery and dairy, branded foods, meat, eggs, personal care, home care and household products.
The company now has its presence in Calcutta,Jamshedpur,Patna, Muzaffarpur, Cuttack and Bhubaneswar.
Post Jamshedpur, the company is planning to add Ranchi and other cities of Jharkhand in due course of time.
Menon said, "Bigbasket is trusted by consumers for its quality, prompt service, and safe delivery of products. This trust has only increased in the post-pandemic scenario as evidenced by the numbers."
The brand has also shifted to cashless payments for ensuring the safety of both customers and delivery executives, he added.
Pinaki Majumdar
Latehar: 100 students take training in tourism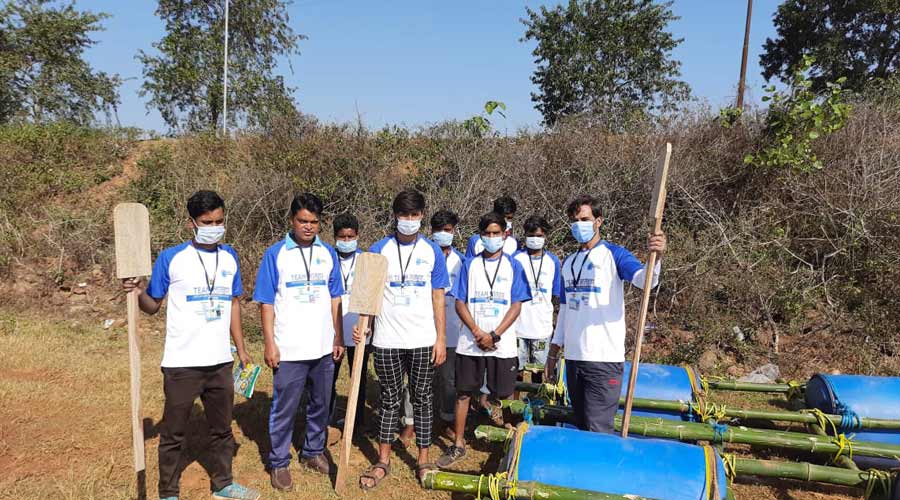 Daltonganj: Around hundred boys and girls mostly tribal are exploring a career in tourism in Netarhat in Latehar district. Deputy commissioner Latehar Abu Imran told this correspondent that district tourism has roped in a Mumbai-based company called Perfect Film Advertising and Creative Tourism to impart training to 100 boys and girls to enable them chart out a career in the field of tourism and hospitality sector.
The creative head of this Mumbai based company Rajeev Gupta who is based in Ranchi said the training is of 30 days. It started on November 22 and will conclude on December 21.
Most of the students are not graduates. The training is being imparted free. However for this 30-day training, the Latehar tourism department will pay Rs 22.50 lakh to the company, said district tourism officer Shivender Singh.
He agreed that all the trained 100 will not be any luckier for a job, nevertheless they will have the satisfaction of having undergone training. Gardening is now catching up big time in this Covid time and these students can earn a modest fortune, Gupta added.
Our Correspondent