Jharkhand's Xmas message: Let love in
Christmas trees, fairy lights, balloons and ribbons are in place to greet the faithful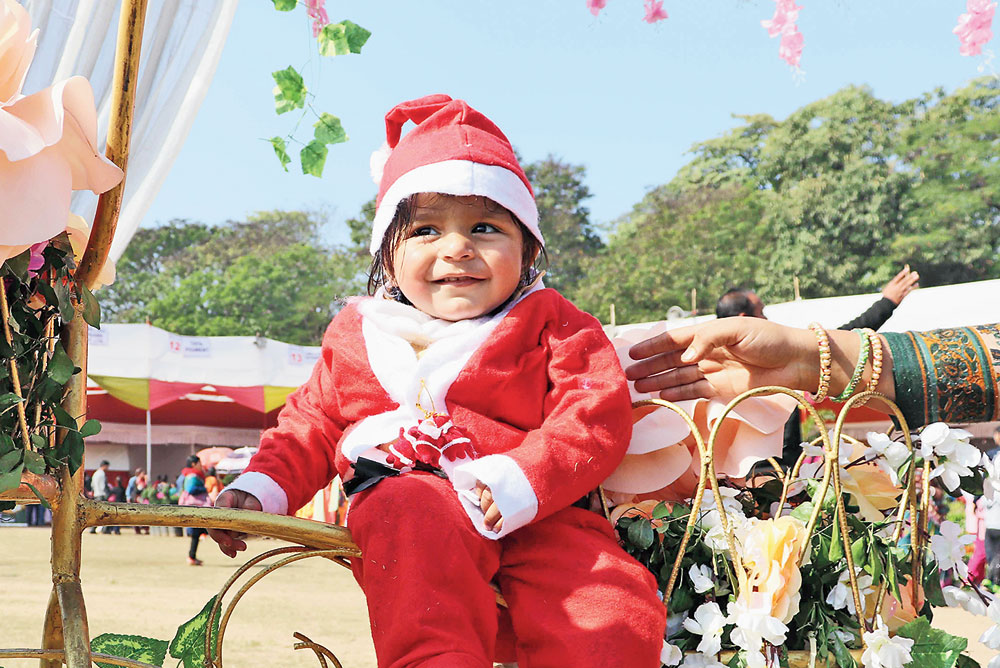 Li'l Santa: A toddler at Gopal Maidan in Bistupur, Jamshedpur, on Monday.
Picture by Bhola Prasad
---
Ranchi/Jamshedpur
|
Published 24.12.18, 07:21 PM
|
---
Yuletide spirit has gripped both the capital and the steel city that are all decked up to celebrate the birth of Christ.
Churches in both cities are busy making last-minute preparations. Christmas trees, fairy lights, balloons and ribbons are in place to greet the faithful on the holy occasion.
Artists are giving final touches to the Nativity scene.
Archbishop of Ranchi diocese Felix Toppo, who delivered the Christmas message at the Ranchi Cathedral in Camil Bulcke Path on Monday, emphasised on the spiritual truth of Christmas.
"It is written in The Holy Bible that God loved the world so much that he gave his only Son so that everyone who believes in him may have eternal life. In the context of Christmas, it is time for us to reflect over the following expressions: God, world, love, faith and eternal life," the Archbishop said. The Archbishop said the divine son of God, Jesus Christ was born as a human being to bring salvation to mankind.
"Christmas is the mystery of God's love and the beginning of our salvation. Therefore, it is appropriate for us to gratefully celebrate the occasion both outwardly and inwardly. We should remember the Lord's immense love for us. Punishment by crucifixion is synonymous with utmost insult and cruelty," Toppo said.
He also stressed the virtues of giving and sharing.
At St Paul's Cathedral at Bahu Bazaar in Ranchi, Bishop of Chotanagpur diocese of Church of North India B.B. Baskey gave the Christmas message. GEL Church at Bahu Bazaar had Rev Johnson Lakra delivering the message that dwelled on the importance of God sacrificing his only son to bring salvation to the sinful mankind.
Christmas eve programmes and carol singing were held at over 36 churches across Ranchi.
All 24 churches in Jamshedpur, belonging to denominations like Catholic, Baptist and Church of North India, held Christmas-eve prayers and underscored the importance of loving mankind and following the teachings of Jesus Christ, the "light of the world".
Parish priest of St George's Church (the oldest in East Singhbhum) Reverend Deepak Anil Jojo delivered the sermon at the church while Jamshedpur diocese administrator Father Augustine Topno gave away the Christmas eve message at St Joseph Cathedral in Golmuri.
At St Mary's Church in Bistupur, Father David Vincent addressed the gathering.
Pastor Azar Paricha and Pastor Manoj Charan gave away Christmas messages at Emmanuel Baptist Church and Beldih Baptist Church.