Jharkhand News Digest: Repair work begins for Dhanbad's Gaya Bridge
Elsewhere in the state: Jamshedpur to lock horns with Odisha FC in an important ISL match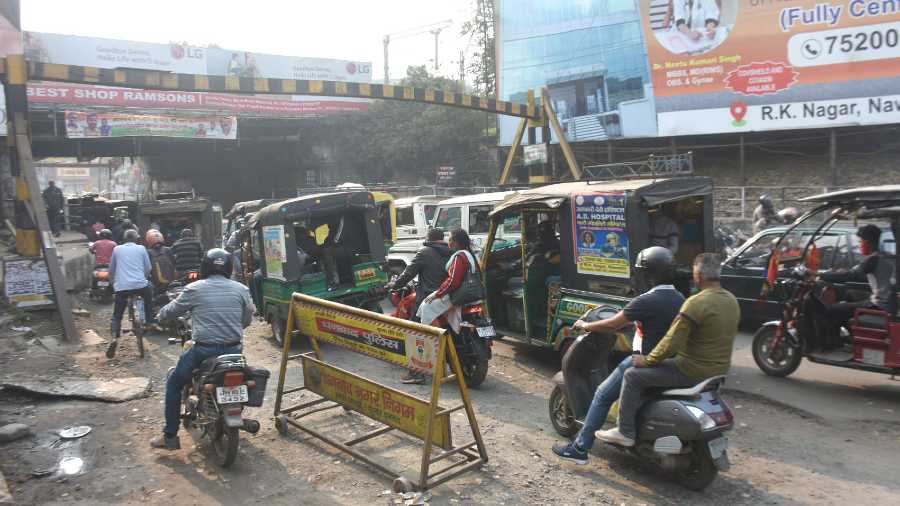 The Gaya Bridge in Dhanbad on Monday.
Gautam Dey
---
Published 14.12.21, 09:19 AM
|
---
Dhanbad: Repair work has begun for Gaya Pul, one of the  most crucial railway underpasses near the Dhanbad Railway Station. It connects Dhanbad town with other suburban areas. It faces perennial jams.
Lying beneath the Dhanbad Gaya Railway line, the underpass faces traffic jams due potholes and water logging due to slowing down of vehicles on it.
Talking to The Telegraph Online today, Dinesh  Prasad, Executive  Engineer of state  Road Construction Department who  also accompanied a team of railway consultant, Rail India Technical and Economic  Service Limited  (RITES) which surveyed the underpass today said, "We are concentrating both on long term and short term measures  to solve the issue of traffic jam on the underpass.
"As part of short term measures we have launched the repair of the existing underpass which was lying in bad shape due to neglect" said Prasad.
"As it is prone to damage and water logging we are using Dense Bituminous Macadam, a binder that is used for the roads that have heavy commercial vehicles plying on it," he added.
Notably, Prashant Kumar, former deputy commissioner during his tenure in 2013-14 initiated a host of measures to solve the traffic jam issue near the underpass. 
Divulging more detail, Prasad said, "An additional underpass has been proposed in addition to the existing one. RITES has already submitted a feasibility report."
"After working on the Railway suggestion, RITES will make changes in the report. The updated report will be given NOC by the railway and then DPR will make preparations for the bridge's repair work," said Singh.
Praduman Choubey
ISL: Jamshedpur to lock horns with Odisha FC Jamshedpur: After conceding their first defeat in a dogged fight versus Mumbai City FC, Jamshedpur FC will be taking on a strong and in-form Odisha FC in an important India Super League (ISL) match which will be played at Tilak Maidan Stadium in Goa on Tuesday.
Jamshedpur lost to Mumbai 2-3 after conceding 3 goals in the first-half but made a strong comeback in the second half. Now Jamshedpur squares up against Odisha who are placed second on the points table.
Head coach Owen Coyle said, "It is going to be a tough game, with a good side who have signed some good players who are in good form. But what we have to do is to get back to our best form. We obviously have to cut out the individual errors we have made because we showed what a wonderful team we can be, the spirit, the heart and we've shown a lot of positives. The bottom line is we are very hurt from the defeat against Mumbai because we were punished very severely for our errors."
Peter Hartley, Len Doungel, Jordan Murray and Nerijus Valskis are injured, Owen said, "Peter had a strain and he's been receiving treatment. We'll give him (Peter) till the last minute to see if he's available for the game. Len has managed to train today and we are hoping he will be available. Jordan is now joining us and is doing all the training and what he needs now is more minutes as he is slowly building up and up from his injury. Nerijus (Nerka) obviously wasn't able to start the game as well. "
On their approach for the match against Odisha FC, he said, "We recognise the qualities of the opposition. But we don't change our game plan according to the team we're facing. The opposition understands what they're about but we have our own state of play and we have a way of playing at a high intensity. We see our plan being utilized with the results we bring when we're at our best."
Jamshedpur are placed fourth on the table with 8 points in 5 matches (2 wins, 2 draws and 1 loss) while Odisha atand second with 9 points in 4 matches (3 wins and 1 loss).
Jayesh Thaker