Jharkhand news digest: PSA oxygen plant inaugurated in Jamshedpur hospital
Elsewhere in state: Rare bird spotted in Hazaribagh hill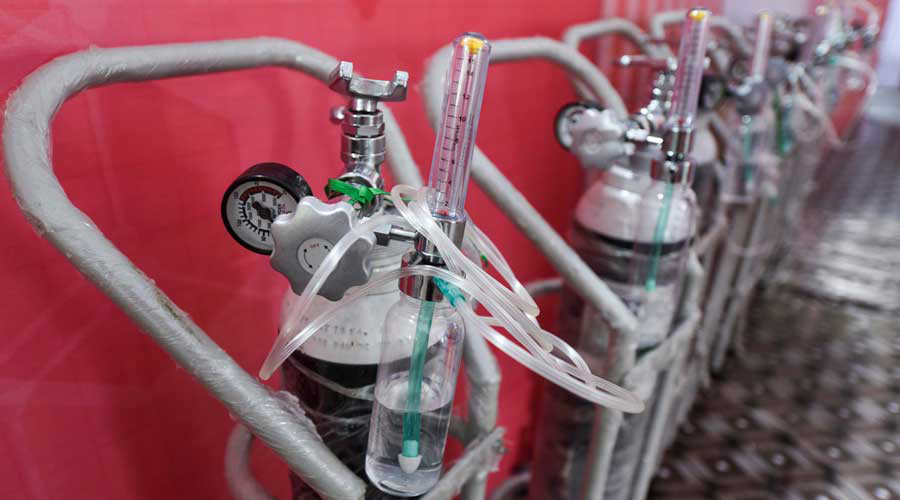 With a production capacity of 1,000 litres per minute, the oxygen plant was inaugurated online by Prime Minister Narendra Modi
File picture
---
Jamshdepur, Hazaribagh
|
Published 07.10.21, 08:19 PM
|
---
Jamshedpur: A PSA oxygen plant was inaugurated at Sadar Hospital in Khasmahal locality of the steel city on Thursday, giving a boost in this government-run health hub. 
With a production capacity of 1,000 litres per minute, the oxygen plant was inaugurated online by Prime Minister Narendra Modi at 11 am today in presence of Jamshedpur MP, Vidyut Varan Mahto, East Singhbhum deputy commissioner, Suraj Kumar, district civil surgeon, AK Lal and doctors fraternity of the Sadar Hospital. 
"The oxygen plant that was inaugurated today is the first in its kind across Jharkhand. Work is on for another PSA oxygen to on the premises of the Sadar Hospital and it will also start functioning by the ending of October, " said Kumar. 
He pointed to apart from this, three PSA oxygen plants, capacity of 250 litres each are being set up at Ghatsila sub-divisional Hospital, at Chakulia, both in the rural belt and one at Mercy Hospital in Baridih. 
(Kumud Jenamani) Rare bird sighted at Canary Hill in Hazaribagh
Hazaribagh: A rare bird sighted twice at Palamu Tiger Reserve before now spotted at picturesque Canary Hill in town through the lens of a young photographer and wild life enthusiast Amit Jain.
The migratory bird which is identified as the chestnut winged cuckoo was the first rare bird spotted in the hill known for its abundance of butterflies and moths.
State coordinator of the Indian Bird Conservation Network(IBCN), Satya Prakash confirmed the bird as chestnut winged cuckoo, and said this bird found is in southeast Asia and during winter migrates from Kerela to Sri Lanka.
Canary always surprise researchers by having a variety of birds, moths and butterflies. This hill is a place for the world's most beautiful butterfly named peacock pansy. Independent researcher Mritunjay Sharma had discovered India's tallest anthill here getting place in Limca book.
IBCN activist Murari Singh said the sighting of such birds confirm that Hazaribagh is a favourite place for migratory birds.