Jamshedpur: After a clinical performance against FC Goa in the last outing, a spirited Jamshedpur FC is determined to come up with a similar show when they square up against Hyderabad FC in an Indian Super League 2021-22 match at Athletic Stadium in Goa on Thursday.
Jamshedpur posted a 3-1 win over Goa in the last match while the Nizams are also fresh from a similar victory against Mumbai City. Jamshedpur has 4 points from 2 matches whereas Hyderabad has 3 from as many outings.
Jamshedpur head coach Owen Coyle, said, "To be in the league, one has to play different styles of football and I won't say that they play the same as FC Goa, but they can come up with other sorts of problems as their forward and midfield line-up is very pleasing along with the full-backs that join in on the attack. So they do have some really threatening attackers and we will be very respectful of that, but we have to equally make sure that we are imposing our game on them to bring out our best qualities. If we manage to do that, we will cause problems for the opposition as well."
On how interesting this clash would be, considering the teams came back stronger in their second fixture after a disappointing first game of the season, the Scotland-norn Coyle said: "Both are very good teams. I take issue with our disappointing first game, but Hyderabad played really well in their first game."
He further said, "It's going to be a tough game for both the teams, but we feel it's a game that we can win," Coyle said.
Jayesh Thaker
Dhanbad and Jamshedpur shine in the inaugural day of JSCA under 16 Cricket Tournament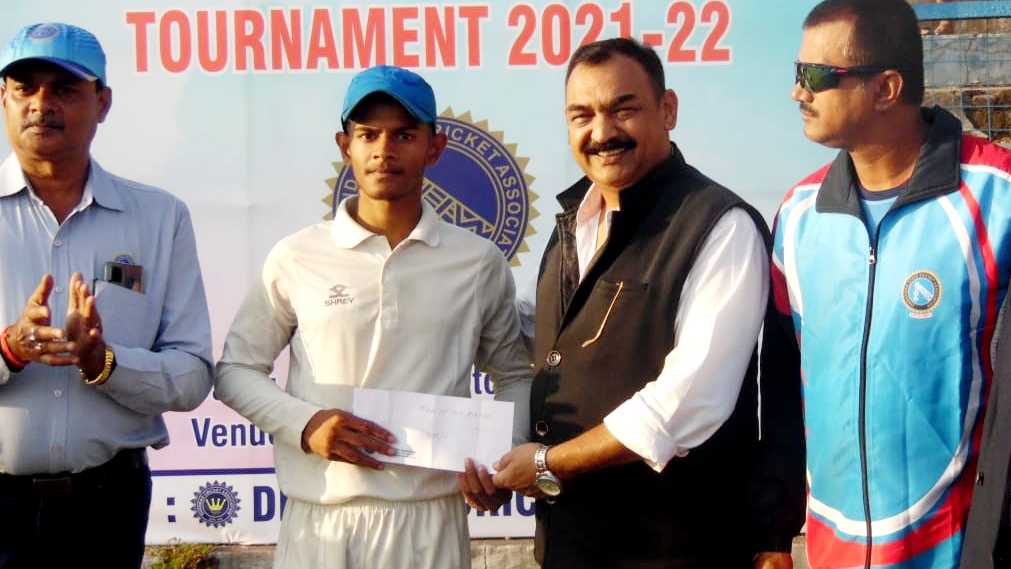 Prem Kumar of Dhanbad team receiving Man of the Match award of the Dhanbad and Saraikela Kharsawan match in the JSCA Inter District Under-16 Cricket Tournament at Tata Digwadih Stadium in Dhanbad Gautam Dey
Dhanbad: On the inaugural day of Jharkhand State Cricket Association Under 16 Inter District Cricket Tournament, Dhanbad and Jamshedpur emerged winners, by defeating Saraikela Kharsawan and Garha respectively.
Dhanbad defeated Saraikela Kharsawan by three wickets in the Group C encounter, at Tata Digwadih stadium while Jamshedpur won against Garhwa in the group D encounter at Jawaharlal Nehru Stadium Jealgora by five wickets.
Dhanbad elected to field after winning the toss. Saraikela Kharsawan scored 158 runs at the loss of five wickets in 50 overs with the score of 60 runs of Soumyadip and 64 not out of Abhinav Kumar.
Chasing the victory target Dhanbad scored 159 runs in 43.3 overs at the loss of seven wickets to win the match by three wickets.
For Jamshedpur Durgesh took maximum three wickets by giving 11 runs while Tanish Chaudhary and Prince Mishra took two wickets each by giving 19 and 38 runs respectively.
Chasing the victory target Jamshedpur comfortably won the match in 32.5 overs at the loss of five wickets.
Praduman Choubey
Palamu: Census of tigers and other predators flagged off
Daltonganj: Palamu Tiger Reserve kick started its census for tigers and other predators on Wednesday December 1.
Deputy director South division of the Palamu tiger reserve, Mukesh Kumar said, "This census or the estimation of tiger, co predators and prey base is a protocol of 8 days beginning today."
This is the fifth time that an all India estimation of tigers and other predators is being done. Last time that a similar census for predators was conducted was in 2018.
"About 300 trackers have been drawn jointly from both the divisions of the Palamau tiger reserve South and North for 8-day exercise," said Kumar.
The first three days of survey is dedicated to estimation of carnivores and the mega herbivores like bison etc.
"For the sign survey pug marks, scat, scratch, dump of the poop of the carnivore and mega herbivores etc is noted by the trail method," said the South division deputy director.
The other three days are dedicated to surveying trees, herbs and shrubs. The seventh day is the buffer day. While on the last day of the census avians are surveyed.
Palamau tiger reserve has around 300 trap cameras. Field director and chief conservator of forest Palamau tiger reserve, Kumar Ashutosh said, "One of the rangers had a direct sighting of a male tiger and he is sanguine; there will be few more in the tiger reserve here."
Our Correspondent