Jharkhand news digest: IIT (ISM) Dhanbad's Physics dept develops advanced luminescent material
Elsewhere in the state: Nine fresh cases of Covid-19 reported in Jamshedpur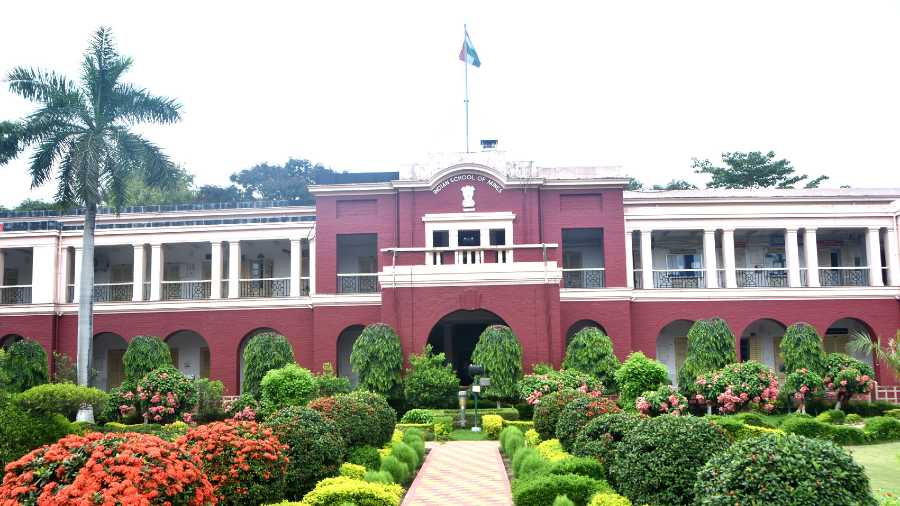 IIT(ISM), Dhanbad on Sunday.
Gautam Dey
---
Published 03.10.21, 11:09 PM
|
---
Dhanbad: A research group comprising Prof J Manam, Prof S K Sharma and Dr. Sourav Das of IIT (ISM)'s Department of Physics, has developed advanced luminescent materials for defence and security applications.
The Rs 37 lakh project, which has been on for three years has resulted in the development of a substance that can be used for tagging, tracking and locating defence applications.
This material exhibits – 'Long persistent luminescence', a phenomenon in which material exhibits light after being exposed to solar light for a long time.
The IIT (ISM) during the first 2 ½ years of research which began on from March 2019 developed long persistent phosphor material which gives emission to the Near Infrared Region (NIR)
The material can be excited by the solar radiation during the day time and NIR radiation can be observed by night vision monocular for 24 hours.
Talking to The Telegraph Online today, Sourav Das said, "We began the project during March last year and have already prepared the material at the laboratory level and its application has also been made for which publication has already been made in a reputed journal."
He added, "This material has been developed for the first time in India. It took us 2 ½ years of the allotted three years to develop this material. Despite the institute remaining closed due to the pandemic, we have been able to meet the target." This material is akin to the material used in the glowing duck, a toy for the kids.
Praduman Choubey
Stricter Covid protocol for Jamshedpur, as 9 positive cases are detected
Jamshedpur: Nine fresh Covid positive cases have been reported during the past 24 hours in steel city. The sudden surge has sent the district health department machinery into a tizzy.
With the Puja round the corner, the sudden spurt in Covid-19 cases, the health department and local administration have not only intensified Coronavirus sample tests, but have also re-imposed strict Covid-19 measures from Monday.
Dhalbhum sub-divisional officer, Sandeep Kumar Meena confirmed the news. "From Monday, the administration will conduct random checking at the markets where unmasked people will be penalised. Not more than five persons will be allowed in a shop irrespective of whether people are in for Puja-shopping or not," said Meena while talking to The Telegraph Online.
The SDO maintained that the administration has also increased the Coronavirus sample tests besides intensifying the vaccination drive in and around the steel city.
Meena pointed out that about 85 percent of people in the steel city have received a single dose of Covid jab. According to him, a door to door survey would be conducted to get everyone vaccinated in the next 10 days.
Kumud Jenamani