Jharkhand News Digest: BJP workers burn Hemant Soren's effigy in Dhanbad
Elsewhere in state: Double murder rocks Bokaro; while retired civic body employees protest in Dhanbad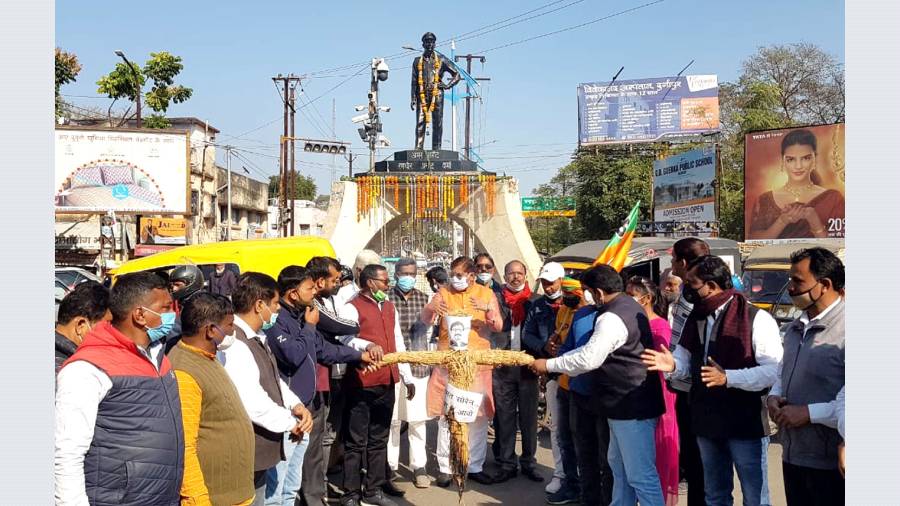 BJP activists of Dhanbad led by Dhanbad BJP MLA, Raj Sinha (in orange kurta) burn the effigy of CM Hemant Soren at Randhir Verma Chowk in Dhanbad
Gautam Dey
---
Published 05.01.22, 08:22 PM
|
---
Dhanbad: BJP workers led by Dhanbad MLA Raj Sinha burnt an effigy of Chief Minister Hemant Soren near the district headquarters of Dhanbad, for the deteriorating law and order situation in state. This comes in the wake of an attack on former Manoharpur MLA, Gurucharan Nayak.
Over 30 protestors assembled at Randhir Verma Chowk under the leadership of Sinha at around 12 noon. They also accused the government of being unable to provide employment to 5 lakh youth as per its pre-poll assurance. They even alleged that the present government was resorting to divisive politics for political gain. They even chanted slogans like Hemant Soren Murdabad, Jharkhand Sarkar Hai Hai etc.
Sinha said, "This effigy burning is a protest against the misrule of the JMM led-alliance government. "The attack on a former MLA is a grim example of the pitiable state of affairs of law and order in the state."
Praduman Choubey
Double murder rocks Bokaro Dhanbad: A PDS shop owner Arun Mahtha and his staff were hacked to death in Bijulia village of Bokaro during the wee hours, today.
When Mahtha's wife (60) reached the shop she found him lying in a pool of blood along with his staff Fatik Dhiwar.
On raising an alarm, local residents who reached the spot informed the police, following a team led by sub-divisional police officer Chas Puroshottam Singh, reached at the site and investigated the scene of crime.
Forensic evidence was also collected from the spot. A dog squad has also been involved to solve the case. The bodies have been sent for autopsy at Chas Sadar Hospital.
Talking to media, Singh said, "We are investigating into the incident and exploring all angles behind the murder."
"Prima facie it seems that the murder has been carried out by criminals who entered the shop with the aim of looting as cash was missing from the shop," he said.
Chandankiyari's BJP MLA of BJP, Amar Bauri, consoled the family members of the deceased. He has assured of extending support to them. He also took the opportunity to accuse the alliance government of deteriorating law and order situation in the state.
Praduman Choubey
Retired civic body employees protest in Dhanbad Dhanbad: Over 67 retired employees of Jharkhand Mineral Area Development Authority (JMADA), the oldest civic body of the coal town claimed that they are facing penury due to non-clearance of their pending salary even after retirement, till date. They have decided to take legal recourse to claim their rights.
The aggrieved employees who had retired in 2015, claimed that their pending salary has been deducted by JMADA administration on the pretext of salary hike and promotions that they got.
Talking to The Telegraph Online Uday Kumar, a fourth grade employee, who also retired in 2015 and has been deprived of 13 months salary even after his retirement. Kumar said, "Due to poor financial condition of the Civic body, salary delay started for around 15 years back in JMADA. Every year, we were paid a salary for eight to 10 months only. This led to salary accumulation, which is yet to be cleared."
"Later some officials of JMADA during the tenure of Sashidhar Mandal as the managing director of JMADA claimed that we got salary hikes and promotions, which we didn't deserve and hence the pending salary was denied to us," said Kumar.
Praduman Choubey