Jharkhand News Digest: BIT Sindri alumni bag National Metallurgy Award
Elsewhere in state: Police in Koderma stalls minor girl's wedding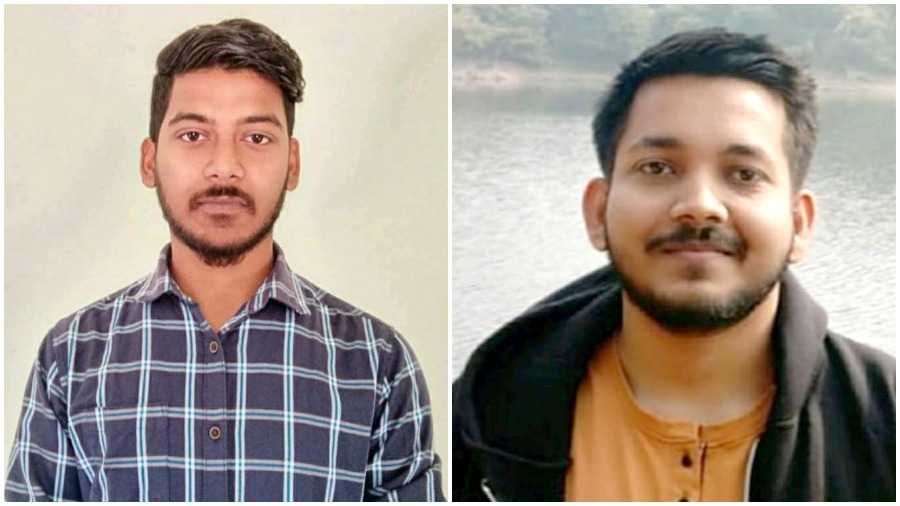 Nilesh Kumar Sharma and Amit Kumar Sharma
Gautam Dey
---
Published 21.12.21, 11:48 PM
|
---
Dhanbad: Two Alumus of Department of Metallurgical Engineering of  BIT Sindri including  Amit Kumar Sharma ( 2019 pass out) and Nilesh Kumar (2020 Pass out)have brought laurels to their alma-mater by bagging winner and and runner up award  in eBTTD2021, an event organized by  Behind the Techer's Desk (BTTD), a forum of students and teachers for discussion on Metallurgical and Material Engineering.
The duo won the award in the category of New product developments, Characterization & Failure analysis. Amit Sharma who won the winner prize of Rs 8,000 teamed up with  Sapan Kumar Nayak of IIT Kharagpur while Nilesh Kumar of BIT Sindri who bagged up runners up prize of Rs 5000 teamed up with Adarsha Ranjan Mishra of IIT Kharagpur.
The event was jointly organized by the Jamshedpur Chapter of the Indian Institution of Metals (IIM), National Institute of Technology Jamshedpur, Tata Steel Limited and CSIR-National Metallurgical Laboratory of India.
Giving details, Ghanshyam Rai, Training and Placement Officer  of BIT Sindri, said, "The field of materials and metallurgical engineering is projected to be of enormous importance for the progress and growth of the society. Young practitioners of this field, therefore, require to be imparted with better skill-sets."
Rai further added, "In order to fulfill this objective, Jamshedpur Chapter of the Indian Institution of Metals (IIM), National Institute of Technology Jamshedpur, Tata Steel Limited and CSIR-National Metallurgical Laboratory of India have been working together to nurture and mentor young metallurgists and inspire them to transform into dedicated professionals."
The event was organized in the form of a seminar with its objective to provide a common platform for promising and aspiring metallurgists to interact with the pool of experts from industries, R&D centers and academic institutes.
The student participants of this event got an  opportunity to update their current knowledgebase, and share their academic achievements, innovative thoughts and new ideas in the field of metallurgy and materials technology.
Since its inception in the year 2012, the seminar "Behind the Teacher's Desk (BTTD) has blossomed into one of the most sought-after event among the student fraternity.
The event provides a launch pad to the students for showcasing their novel ideas/ innovations and interacting with scientists, eminent metallurgists, engineers and entrepreneurs so as to develop new skills in the field of metallurgy and material technology.
Like last year, this year the event was held in a virtual platform as the theme of eBTTD202i was "METALLURGY for new Technologies and Innovations" which was broadly classified under four topics including minerals to metals, related to mining and raw materials processing; processes improvements/ material processing; new product developments, characterization and failure analysis; sustainable material processing/ startup business ideas/ digital integration.
Praduman Choubey
Koderma Police stalls minor girl's wedding Hazaribagh : Koderma Police stepped in at the right time to stall the wedding of a 16-year-old girl with a 40-year-man named Rakesh Yadav. The police has been arrested the three individuals who are being interrogated. "The girl's brother-in-law Hulas Turi went to Gaziabad for the treatment of his son where he came in contact with Yadav. Turi put forward the proposal for the minor girl's wedding. Yadav, agreed to pay Rs.50,000 for all wedding arrangements. But as Yadav and his friend Mukesh reached to Nawalshahi, villagers informed them about the wedding, following which members of the district child helpline reached the spot and dissuaded her parents to not get her married before she attained the correct age.
Vishvendu Jaipuriar