Jharkhand land bill faces opposition
Three different organisations, including BJP and an alliance MLA, jointly demonstrated at 22 revenue circles across Ranchi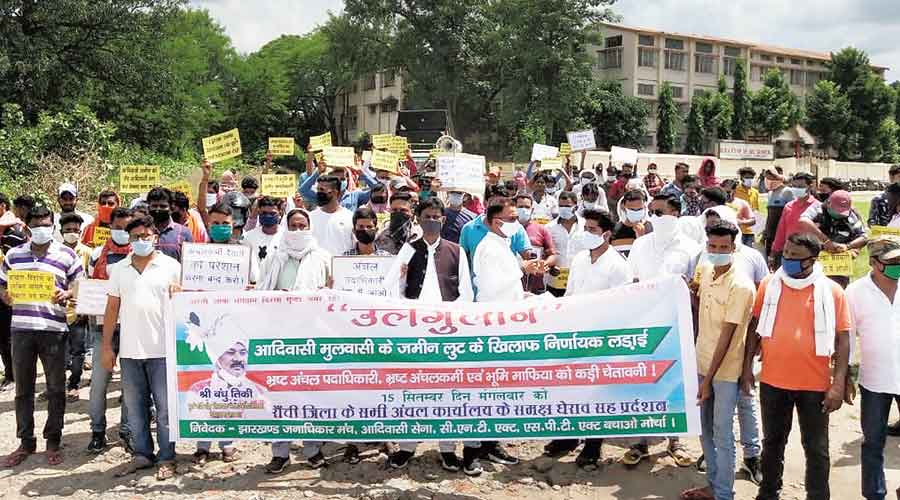 ---
|
Ranchi
|
Published 16.09.20, 01:25 AM
---
At least three different organisations jointly demonstrated at 22 revenue circles across Ranchi districts on Tuesday to lodge their protest against the Jharkhand Mutation Bill 2020 that was approved by the state cabinet on September 8.
The bill aimed at providing online facility for jamabandi or entries regarding ownership, cultivation and other rights and changes as noticed by the revenue agencies is facing opposition, not only from BJP but also from an alliance MLA.
Bandhu Tirkey who won the Mandar assembly seat as a JVM-P (then headed by Babulal Marandi who later merged his party with the BJP) candidate and later joined Congress mobilised those organisations that protested against the bill at 22 circles — 4 in Ranchi city and 18 in rural areas — of the district on Tuesday.
The protestors belonged to the organisations like Jharkhand Janadhikar Manch
(not Mahasabha as another organisation is known), Adivasi Sena and CNT Act Bachao Morcha.
"Land mafia has grabbed large parcels of land in connivance with the revenue officials of the state and the bill is trying to give them immunity," Tirkey told this newspaper when asked about their grievances.
The records are full of errors in names etc that made it very difficult for the owners to prove their rights over land legally, he further said, adding the system needs to be revamped and reports of surveys made from time to time should be published.
Babulal Marandi, the leader of BJP legislature party in the state Assembly, also protested against the bill and threatened agitation if the government went ahead with the bill.
Terming it as a "black bill" at a press conference on September 13, he also alleged that gair mazrua land (a type of land vested in government) were illegally transferred in the name of many people in connivance with revenue department officials, adding Section 22 of the bill gave protection to such officials as that section of the bill said no civil or criminal proceeding can be initiated against them.
In a hurriedly called press conference on Monday, state's revenue, registration and land reforms secretary K.K. Soan wanted to clarify the government stand.
"The government has no intention to give immunity to any revenue official who does something with bad intention," the secretary said.
Though section 22 of the bill said about certain protection given to revenue officials, it also has a sub-section that has provision for initiating suitable action against erring officials with prior approval from competent authorities of both state and central governments, he clarified.
But Tirkey was not convinced.
"Does the secretary has any parameter for measuring bad intentions?" he asked and went ahead with the protest on Tuesday.