Jharkhand misses Covid jab deadline
The progress in vaccination work was just 11 per cent in the past one month since December 15 (2021)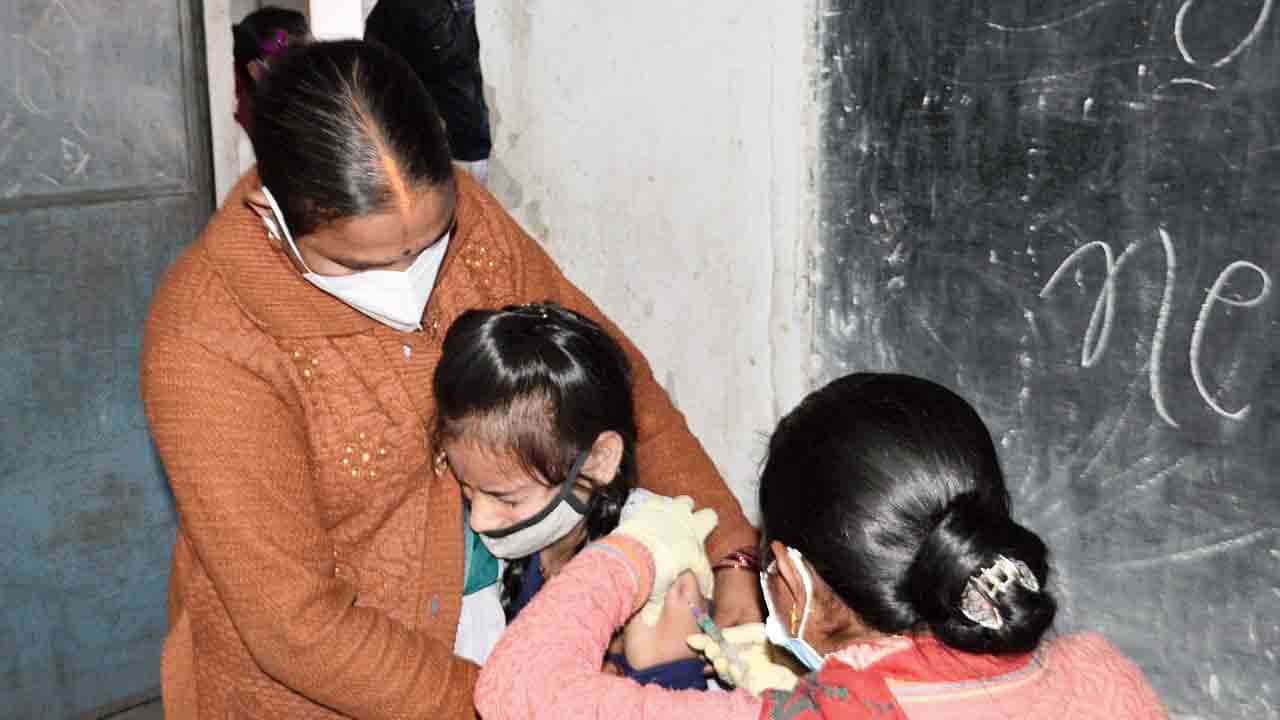 A teenager is being administered the first dose of a Covid vaccine in Dhanbad
Shabbir Hussain
---
Ranchi
|
Published 17.01.22, 12:25 AM
|
---
Jharkhand missed its Covid-19 vaccination deadline.
Though Jharkhand chief minister Hemant Soren had fixed the target of fully vaccinating estimated 2.41 crore adult population of the state by January 15, the data released by the state health department revealed that only 50 per cent achievement was recorded till that date. 
The progress in vaccination work was just 11 per cent in the past one month since December 15 (2021) when 39 per cent of the targeted adult population was fully vaccinated while the new Covid-19 cases increased manifold during the period.
Jharkhand also took up vaccination of estimated 23.98 lakh teenagers aged between 15 and 17 and administered the first dose to 3.69 lakh of them who accounted for one-fourth of the target group.
The state also started giving precaution or booster dose to health and frontline workers and comorbid senior citizens and covered 4.09 per cent of them till Saturday. 
But the active case load of the state that was just 127 on December 15 (2021) increased 260.5 times to 33,089 within a month on Saturday, ostensibly due to infection caused by omicron variant and the positivity rate also went up from 0.03 per cent to 5.71 per cent during the period. 
For want of genome sequencing faculty, the state was not sure of the presence of omicron in December until it was confirmed on Saturday that there were 14 cases of infection by the variant. 
"We had sent 87 samples collected during the second half of December to the Institute of Life Sciences, Bhubaneswar for genome sequencing and 14 of those were confirmed as infected by omicron variant," Dr Manoj Kumar, the head of microbiology department of Ranchi's Rajendra Institute of Medical Sciences told The Telegraph, adding they would be sending another set of samples collected during the first half of January on Monday. 
"All those samples were collected from Covid-19 patients in Ranchi alone," Dr Kumar further informed, giving a clue as to why Ranchi continued to have maximum active cases among the districts. 
JMM supremo and Rajya Sabha member Shibu Soren has been found to be Covid positive. Describing him as "the guardian of us all", state health minister Banna Gupta,  in a tweet in Hindi on Sunday, informed it, adding the septuagenarian leader and father of the chief minister had isolated himself at home. 
Senior Soren who celebrated his 78th birthday last Tuesday was also infected during the first wave and had to be shifted to Delhi in August 2020 for better treatment.
Though chief minister Hemant had tested negative a few days ago, other members of his family were not so lucky. While his wife and two sons were found to be infected then, his father has been found to be Covid positive now.