Jharkhand labourers trapped in Malaysia after demanding repatriation
They urge state govt to bail them out of the crisis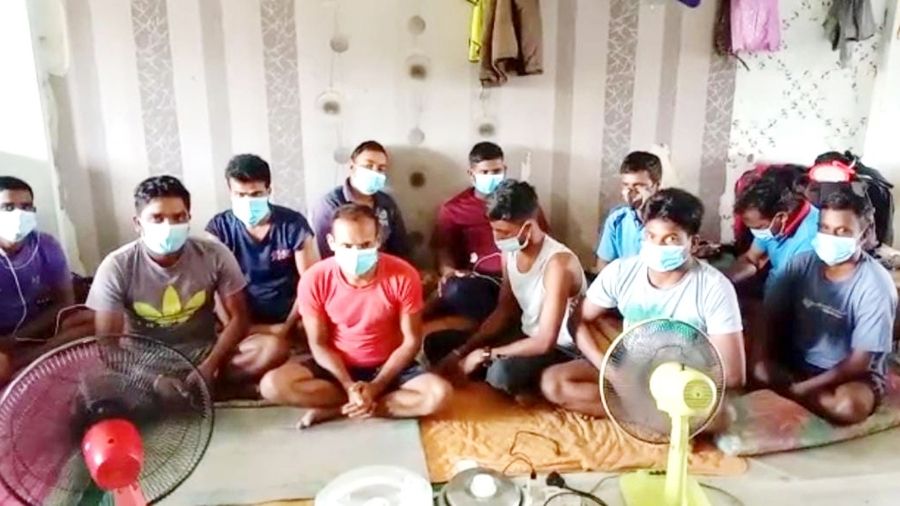 The trapped labourers of Jharkhand in Malaysia
Picture arranged by Gautam Dey
---
Dhanbad
|
Published 22.03.22, 05:18 PM
|
---
Altogether 30 laborers of different districts of Jharkhand, including Giridih, Hazaribagh and Bokaro stranded in Kuala Lumpur in Malaysia after the expiration of their three-year agreement demand expatraition. They are survung in extreme hardship. 
The labourers also deprived of last three months of salary sent their videos to the local people's representative of their respective area through a social activist of Giridih, Sikandar Ali.
They claimed that their repeated demand to the state government as well as the government of India and Indian embassy since the last two months is yet to elicit any concrete result complicating their stay in the foreign land due to expiry of Visa etc.
One of the stranded labourers in a video sent to Ali said, "Our three-year contract which began in January 2019 ended in January this year but the contractor is elusive since then. We have also contacted the Indian Embassy officials but despite repeated assurances we are lying stuck up in a room with uncertainties looming large over our future"
Talking to The Telegraph Online, Sikandar Ali, a migrant labourer activist who had earlier on January 17 also prominently raised the issue of difficulties faced by 33 labourers of Jharkhand trapped in West African country Mali, leading to their repatriation back of India as per the initiative taken by labour minister, Sayanand Bhoka said, "We have earlier on February 12 also raised the issue of 30 labourers stuck in Malaysia including, 11 labourers of Bishugarh block of Hazaribagh, nine of Gomia  block of Bokaro, four labourers of Bagodar block of Giridih and three labourers each of Nawadih block of Bokaro and Dumri block of Giridih before the state government but the state government is yet to take any concrete step for their repatriation back of to India>
"The state government must take lead in this regard ensuring the safe return of all the labourers who went to foreign land due to lack of job opportunities here," , Ali further said.