Jharkhand jubilant as marks rain on schools
Three ICSE examinees score 99%, two ISC counterparts get a whopping 99.75%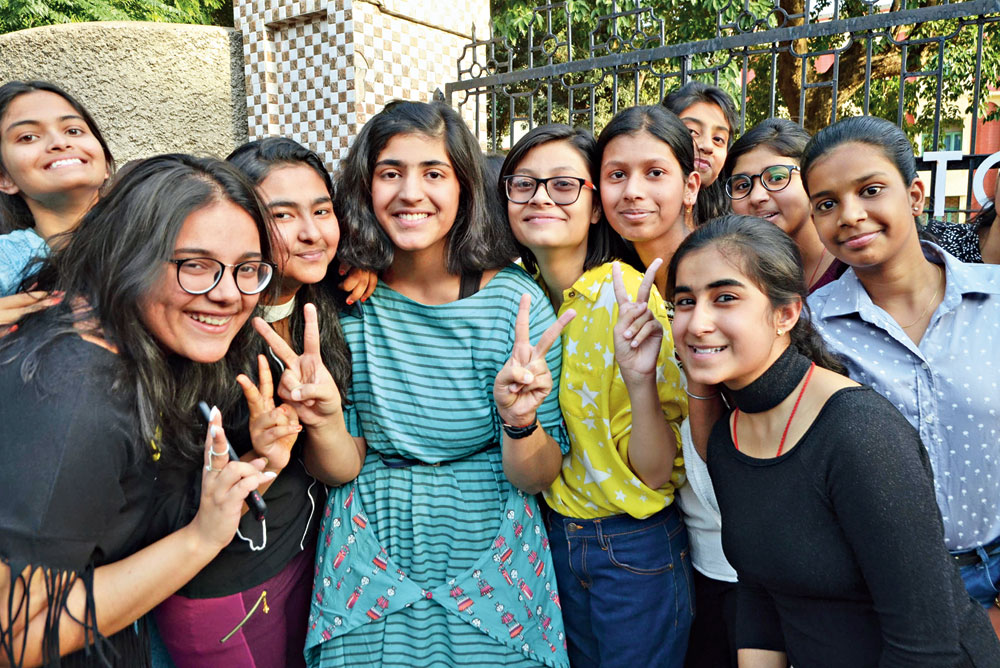 We did it! Nandani Choudhary with other students flash the victory sign at Loreto Convent in Ranchi after Class X results were declared on Tuesday.
Picture by Prashant Mitra
---
Jamshedpur
|
Published 07.05.19, 06:43 PM
|
---
Three students bagged 99 per cent marks to top the ICSE exam in the state on Tuesday. The ISC results were even better — two Jharkhand teens scored a whopping 99.75 per cent, just a shade below the two national toppers who didn't give away even a fraction.
Sarthak Singh from St. Francis School, Jasidih, Vedika Chandra from Gulmohur High School, Jamshedpur, and Sounak Banerjee from Kerala Samajam Model School, Jamshedpur, were the joint ICSE state toppers, while Shavi Goyal, a commerce student from Carmel School, Digwadih, and Srishti Vaidya, an arts student from Loyola School, Jamshedpur, topped the Class XII finals in the state.
Nandini Choudhary from Loreto Convent, Ranchi, and Navneet Raj from St. Thomas School, Ranchi, came second with 98.80 per cent in the Class X final. Ayush Singh from Little Flower School, Jamshedpur, Shubhangi Singh from Sacred Heart Convent School, Jamshedpur, and Alisha from St. Thomas School, Dhurwa, Ranchi, bagged the third spot scoring 98.60 per cent.
In ISC, Gaurangi Chopra (commerce) from Loyola School came second with 99.50 per cent while Marshneil Prasad (science) from Sacred Heart Convent School, Jamshedpur, Rishav Kumar (science) from Motilal Nehru Public School, Jamshedpur, and Ishika Jain (commerce) from Narbheram Hansraj English School, Jamshedpur, bagged the third spot with 99 per cent.
Like previous years, girls outshone boys in both the exams. While girls achieved a pass percentage of 99.05 in the Class X exam against 98.12 per cent by boys, the pass percentage achieved by girls in the Class XII exam was 97.84 compared to 95.40 of boys.
In Jharkhand, 11,968 Class X students from 105 schools and 4,824 Class XII students from 48 cradles appeared for the ICSE and ISC exams, respectively.
The ICSE pass percentage in the state was 98.55 while for ISC it was 95.98 per cent. The girls' pass percentage in the Class X final was 99 compared to 98.14 among boys. In ISC, 97.12 per cent girls cleared the exam compared to 94.88 by boys.
"We expected Vedika to become the city topper, but being No. 1 in the state topper came as a bonus for all of us. We knew she would make us proud. We are elated," said Priti Sinha, principal of Gulmohur High School.
The ICSE exams were conducted between February 22 and March 25. The ISC (theory) exams started from
February 15 and concluded on April 4.
"I scored 98 per cent in ICSE. My relatives, friends and even the person at the photocopy shop advised me to opt for science. But I want to pursue economics honours from University of Delhi, and thankfully, my parents are supporting me," said Srishti Vaidya, who wants to become an IAS officer and admires Tina Dabi, who stood first in the 2017 UPSC exam.