Jharkhand High Court bins Maoist tag on union
The HC recorded its displeasure at the way the matter has been prosecuted by the state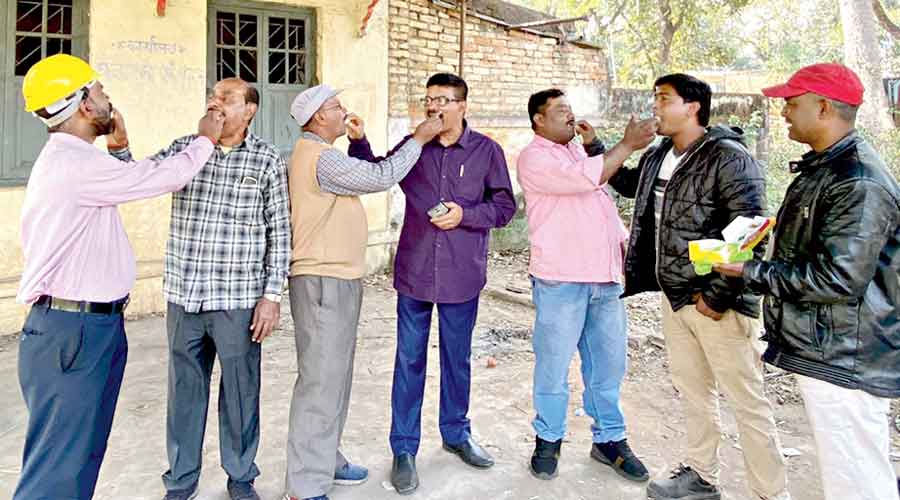 MSS members celebrate in Bokaro after the verdict.
Shabbir Hussain
---
Jamshedpur
|
Published 25.02.22, 04:21 AM
|
---
Jharkhand High Court has quashed a notification issued by the then BJP government in 2017 banning the Mazdoor Sangathan Samiti (MSS) and rejected the claim that the labour outfit was a frontal organisation of the proscribed CPI (Maoist).
"No material has been produced by the state respondents to suggest that the notification under Section 16 of the Criminal Law Amendment Law was issued on the basis of sufficient evidence against the Samiti that it is a frontal organisation of CPI (Maowadi) involved in extremist activities and propagating the cause of Naxalites," Justice Shree Chandrashekhar said earlier this month.
The court was dealing with a petition filed by the Bokaro-based secretary of the MSS, Bachchha Babu Singh, against the notification issued by the then Raghubar Das-led government banning the outfit.
The high court quashed the notification dated December 22, 2017.
The MSS had petitioned the high court that no material had been placed before the competent authority to establish that it was a frontal organisation of the CPI (Maoist), nor was any complaint ever lodged against the Samiti alleging that it was involved in any extremist activity.
The high court also recorded its displeasure at the way the matter has been prosecuted by the state. The court noted that the state government had not mentioned complete facts in its affidavits, nor had the sworn documents been filed on time in spite of opportunities granted, affidavits. On some occasions affidavits were not submitted at all, the court said.
On behalf of the government, the high court was told that other organisations of the MSS such as the Krantikari Kisan Committee, Nari Mukti Sangh, Jharkhand Group and the Krantikari Cultural Manch were also involved in illegal activities.
The erstwhile BJP-led Jharkhand government had sealed all offices of the MSS and confiscated documents. The trade union had suspended its social and cultural work across the state and decided to wait for the court's verdict.
Advocate Deepnarayan Bhattacharya, the legal adviser of the Samiti, said the "fascist BJP government" had banned the organisation without any proof, violating Section 10 of the Trade Union Act.
"We had faith in the judiciary and after the ruling we are happy," Bhattacharya said.
The MSS, which claims to be an apolitical outfit, had been protesting the exploitation of workers and displacement of the poor in Dhanbad and Bokaro and also had branches in Bihar and Bengal.