Hemant Soren claims credit for no starvation death
CM says Jharkhand government is focused on reaching out to last mile with welfare schemes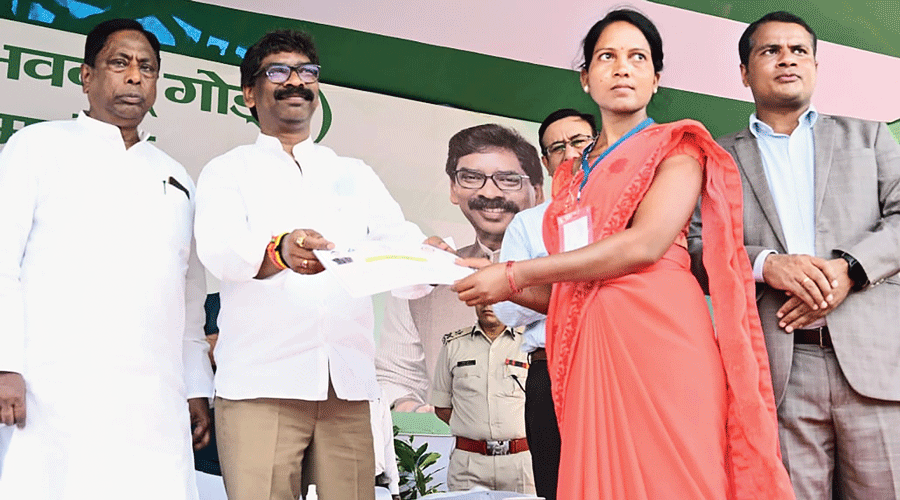 Jharkhand chief minister Hemant Soren hands over an appointment letter to a worker at Godda on Wednesday.
Bhola Prasad
---
Jamshedpur
|
Published 09.07.22, 01:10 AM
|
---
Jharkhand chief minister Hemant Soren reminded people of the starvation deaths during the erstwhile BJP-led government and patted his own government as nobody died of hunger even during the Covid lockdown.
Addressing a gathering at Godda on Wednesday evening, Soren said the development works done during the "double engine" government (a term used by his predecessor Raghubar Das to describe BJP government at Centre and state) was only on paper.
"We still remember the starvation deaths during the previous government as the development works were done only on paper. Our government is doing door-to-door work to benefit the people by making schemes suiting the interest of the local. Even during the Covid lockdowns in the last two years our government did not allow a single person to die of hunger and provided food through sahiya didis and sevikas to the poor," said Soren.
A survey done by Right to Food Campaign between 2017 and 2020 had alleged that there were around 30 deaths due to starvation in different parts of Jharkhand during that period.
Soren added that the government is focused on reaching out to the last mile with the welfare schemes.
"We have ensured that people from the administration visit blocks and panchayats and link people with welfare schemes and also redress their grievances," said Soren.
Admitting loss of education for poor students in government schools during Covid lockdown, Soren announced that the government has already started construction of model schools in each district with facilities at par with private schools and in the next phase such model schools will be constructed at block and panchayat level.
Laying emphasis on government's focus towards the farming sector, Soren said his government has broken the paddy procurement record of the last two decades and has also focused on developing rice mills so that farmers get proper amount for paddy.
Listening to the shouts of sahiyas (lady workers who work in anganbari centres and health schemes), demanding regularisation and increase of their wages, Soren said that their government has already solved the longstanding problem of contractual para-teachers and would solve the problem of sahiyas too.
"It is your government and your interest will be safeguarded. Your demands have reached the government and we are trying to find a solution," said Soren.
The chief minister inaugurated a new collectorate building, constructed at a cost of Rs 3.8 crore and also laid the foundation stone of Godda Police Line to be constructed at a cost of Rs 5.8 crore. In the programme, a total of 17 schemes worth Rs 5.1 crore were inaugurated and foundation stone of 251 schemes worth Rs 15.3 crore were laid on the occasion.
Chief minister also distributed cheques amounting to Rs 1.3 crore under various public welfare schemes of the government among 1,345 beneficiaries.