Jharkhand hails IAF strike as a tribute to its fallen CRPF men
This shouldn't be the last strike, says Carmella Soreng, who lost her husband in the Pulwama attack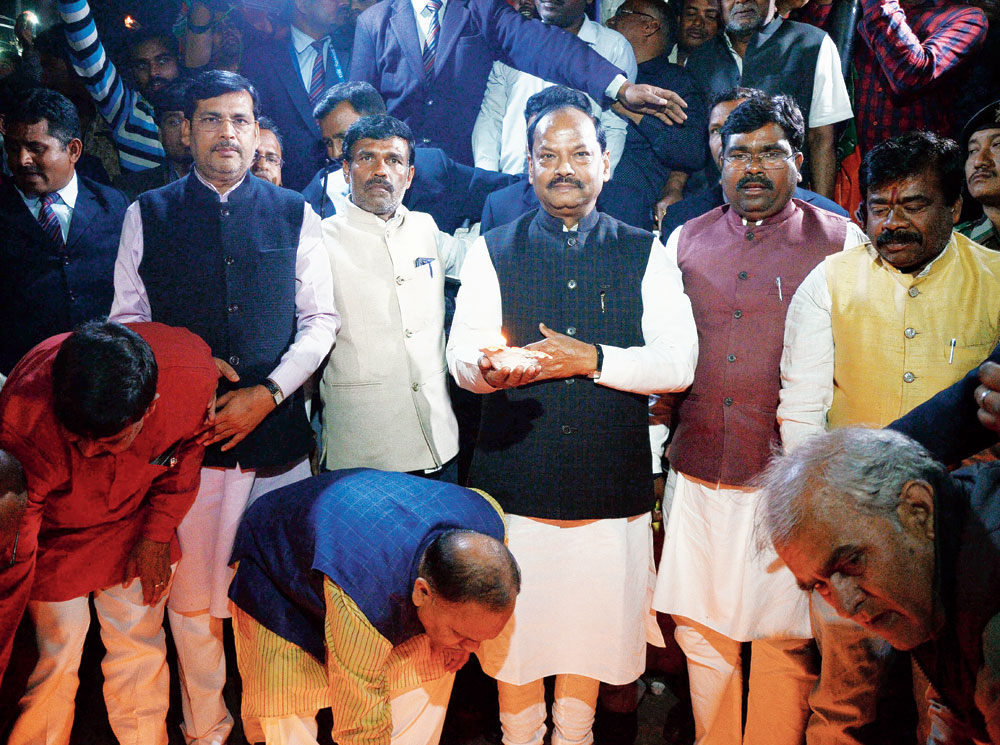 Chief minister Raghubar Das (clockwise from top) lights a diya at Albert Ekka Chowk in Ranchi on Tuesday in support of the airstrike.
Picture by Manob Chowdhary
---
Ranchi
|
Published 26.02.19, 06:39 PM
|
---
Carmella Soreng, who was busy performing certain rituals for her husband Vijay killed in the Pulwama fidayeen attack, cried when she heard of Tuesday's surgical strikes against terror camps in Pakistan. Those were tears of rage.
"Now I can die in peace. Had not the government taken revenge, we the widows of CRPF soldiers would have lived the rest of our lives in pain, knowing that the terrorists who killed my husband and others are roaming freely," Carmella told The Telegraph over telephone from her in-laws home at Kumhari Farsawan village of Basia in Gumla district.
When neighbours rushed in and told her about the strikes in the morning, she did not believe it. So she switched on the television to check if India had indeed responded.
"This is a befitting tribute to my husband and his colleagues," she said.
Vijay (45) was a head constable in CRPF's 82nd battalion. When news of his death in the February 14 suicide attack reached Kumhari Farsawan, the entire village mourned the loss of their son. But Vijay's martyrdom, Carmella believes, has given them a sense of pride.
"Today (Tuesday) villagers celebrated the news of the Indian Air Force striking terror camps in Pakistan," said Carmella, a Jharkhand police constable.
"But this should not be the last strike. If Prime Minister Narendra Modi has respect for the widows of martyrs he should carry out more strikes and kill all terrorists. I have full faith in our army and PM," she said.
Carmella's son, Arun (26), who studies at a college in Khunti, recalled how she was furious when she heard about the Pulwama attack. "She refused to have her meals, saying she would not rest till the government punished the terrorists. Thanks to God she smiled today," he said.
Arun said he had spoken to his father two days before the Pulwama attack. "Cowards killed my father. My younger sister and brother and me lost our father forever. My grandfather, Birish Soreng, is a former army man. It was he who consoled us," he said.
At Ranchi's Sarnatoli in Kokar, the Sorengs keep a house on rent. No one was there on Tuesday, but local residents celebrated the air strikes. Their neighbour's son, Rahul Topno, said he was still reeling from the shock of Vijay's death.
"I felt as though I had lost a blood relative. Everybody in the neighbourhood was waiting to see when the government would react. We are very sad about his death but happy that our forces were able to strike at a terrorist camp," said the Class X student.