Jharkhand govt wrong-footed on poor matric results
Govt says CCTVs in exam centres improved quality of education, but pass percentage fell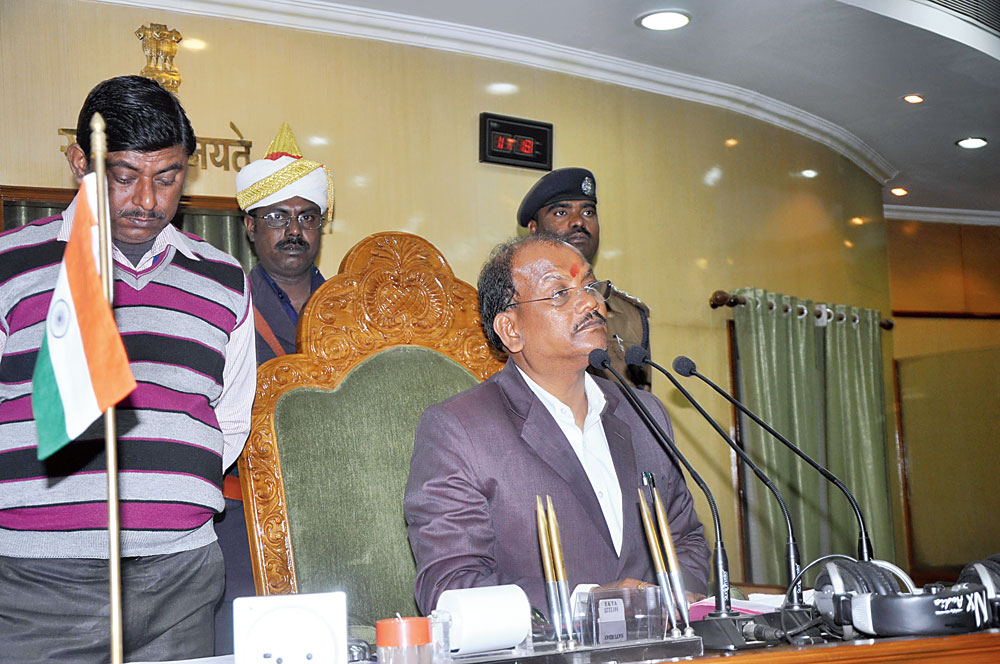 ---
|
Ranchi
|
Published 29.01.19, 06:36 PM
---
The state government got caught in a bind in the Assembly on Tuesday by claiming that tighter vigil by the use of CCTV cameras at exam centres contributed to the poor matriculation results while trying to argue that the state board results had, in fact, improved last year.
It was Congress's Sukhdeo Yadav who sought a reply on the poor matriculation results in the state, pointing out with statistics that while state government was claiming quality of school education had improved, the results did not reflect that trend.
He said in 2014, the pass percentage was 75.30 and the next year, it was 71.20. The corresponding figures of the next three years were 67.54, 57.91 and 59.48 per cent, he added to bolster his claim that standards were, in fact, falling.
Bhagat also said that there were four lakh intermediate seats across colleges and plus-two schools in Jharkhand. But a majority of the seats remained vacant due to poor results.
State social welfare department minister Louise Marandi, who replied on behalf of HRD minister Neera Yadav, however, claimed that there was a slight improvement in the results last year. But the explanation seemed to suggest the contrary.
The minister quoted five year figures of matric pass percentages. "In comparison with 2017, the results of last year improved. The 2018 examinations were conducted under CCTV surveillance," she said.
A surprised Bhagat immediately shot back. "Does the minister want to say that poor results is because of the fear of CCTV. This means previous examinations were not fair. It contradicts the claim of the government that quality of school education in Jharkhand has improved," he said
Marandi then tried her best to make amends. "In the past, there were reports of malpractices and anti-social elements creating disturbances at several examination centres. Hence, it was decided to conduct examinations under CCTV (surveillance)," she said.
State parliamentary affairs minister Neelkanth Singh Munda intervened and saved the day by adding shortage of teachers was a factor and that the quality of education was gradually improving as the government had started taking several steps, including recruiting more teachers.
In reply to a question by JVM's Pradeep Yadav, land and revenue minister Amar Kumar Bauri told the Assembly that the state government would plant 37 lakh saplings in Latehar and Garhwa to make up for the 3.44 lakh trees that would need to be felled for the renovation of Mandal dam in Palamau.
Bauri said the water resources department would fund the tree-panting exercise.
Yadav expressed concern that chopping of trees for the Mandal dam would create environmental imbalance, claiming that in the last 18 years around one crore trees had been cut to make way for infrastructure and mining projects.
"As per the reports compiled, in the last 18 years 5.63 lakh trees were chopped but against this the government planted 9.92 crore saplings. Our forest cover has also increased," the minister said, adding that under compensatory afforestation fund, Rs 2,250 crore had been deposited, and as per the rule of the Union government, 10 per cent of that could be spent annually for forestation.
MCC's Arup Chatterjee raised the issue of 400 para teachers who were still waiting to be appointed as regular teachers even though they had qualified in the teachers' recruitment examinations of 2015-16. He claimed that despite a Jharkhand High Court order, which issued a four-month deadline, the state government was yet to start the process of their appointment.
While social welfare minister Marandi said the process was underway, Speaker Dinesh Oraon intervened and asked the government to complete the process latest by March 21.
The issue of misuse of District Mineral Foundation Fund was also raised. Originally, the question was posed by Congress's Geeta Koda. But in her absence on Tuesday, Bhagat represented her.
Bhagat said that cases of misuse had been detected in West Singhbhum. At Badajamda, he claimed, as many as 20 new toilets had been constructed in a government school that already had 13 well-maintained toilets. Urban development minister C.P. Singh promised to hold an inquiry in the matter.