Jharkhand govt should include Hindi in job tests: Raghubar Das
The former chief minister said the new recruitment policy of the Hemant government is not only unconstitutional but also against the interest of the local people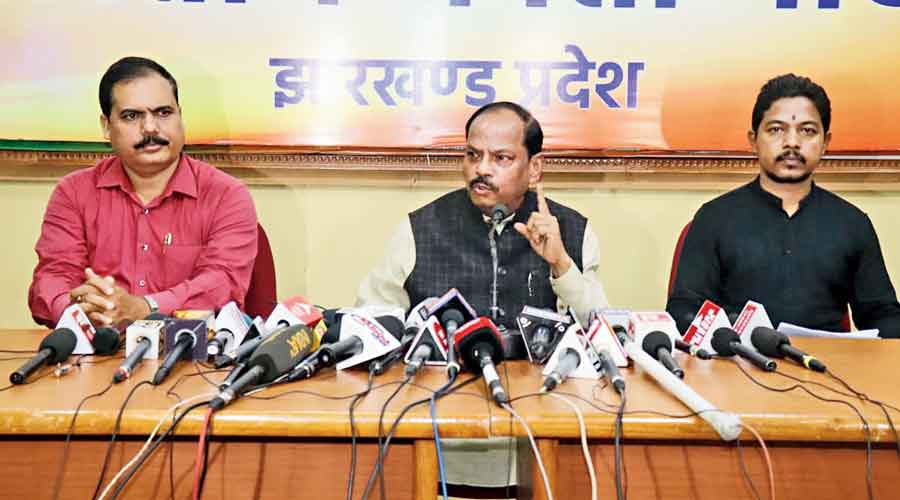 ---
Ranchi
|
Published 09.08.21, 12:42 AM
|
---
The Jharkhand government should immediately include Hindi in the paper for state staff selection commission examinations, failing which the BJP would consider seeking legal action.
Former chief minister Raghubar Das told this in Ranchi on Sunday, adding the new recruitment policy of "the Hemant government is not only unconstitutional but also against the interest of the local people who will be actually deprived of employment by this policy".
"Most of the students study in Hindi medium but the government removed it from papers the candidates seeking group III and IV jobs will be required to clear for the purpose," he said at a press meet at BJP state headquarters, adding such a recruitment policy would actually deprive many from bagging jobs.
"We favour tribal and regional languages and even welcome inclusion of Bangla and Odiya but not removal of Hindi," Das further said, referring to the policy that required candidates to clear any one of a dozen tribal and regional languages — Santhali, Mundari, Kurukh, Ho, Kharia, Nagpuri, Kurmali, Panchpargania and Khorta, besides Bengali, Odiya and Urdu.
"I advise the state government to amend the policy failing which someone from BJP would surely seek legal action for getting it rectified," Das further said.
The outsiders can also become eligible for local jobs if they clear examinations of Classes X and XII in Jharkhand, he further said.
"The recruitment policy my government had formulated in 2016 made only those eligible for such jobs who were born and also studied in this state," he further said to emphasise their policy was better.
When contacted, JMM general secretary Supriyo Bhattacharya, however, trashed the claims made by former chief minister Das.
"One can surely come here and clear exams for Classes X and XII but can't learn a tribal and local language so easily," he told The Telegraph, adding Hindi was not neglected at all. "Candidates can write the recruitment examinations in Hindi," he clarified, adding Hindi was excluded in the language and literature paper only and that would rather facilitate entry of local candidates in state government jobs.