Jharkhand government expands foreign scholarships
Number has also been increased from last year's 10 to 25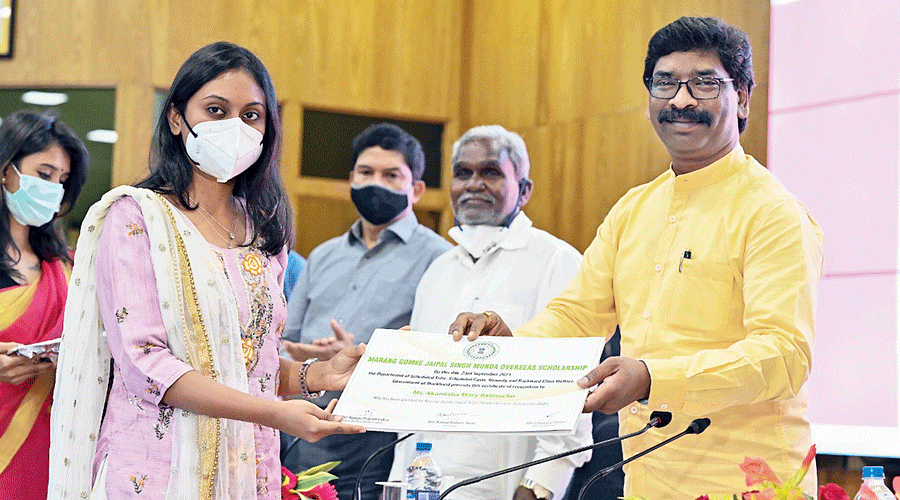 Hemant Soren hands over a scholarship to a student in September last year at Ranchi.
Manob Chowdhury
---
Ranchi
|
Published 06.06.22, 01:26 AM
|
---
The Jharkhand government has expanded the overseas scholarship scheme to include students from Scheduled Castes, minorities and OBCs along with STs to help them pursue higher education in the United Kingdom.
The number has also been increased from last year's 10 to 25. The state government has also increased the allocated budget for the scholarship to Rs 16 crore per year from Rs 10 crore last year, which is subject to increase if necessary.
Significantly, the Jharkhand government had in September last year launched the Marang Gomke Jaipal Singh Munda overseas scholarship scheme for selected tribal students to pursue higher studies in premier institutions in the UK and Northern Ireland.
A communique issued by the Jharkhand government on Saturday afternoon said the state government will be partnering with the UK government's FCDO (Foreign and Commonwealth and Development Office) to jointly fund the Chevening-Marang Gomke Jaipal Singh Munda Scholarship to provide opportunities to students of Jharkhand belonging to SC, ST, OBC and other minorities in the next three academic years starting September 2023. A formal MoU for three years duration would be inked soon.
"The expanded version now allows for the provision of fully funded scholarships to upto 25 students every year, to pursue a one year master's or two year MPhil programme across 31 disciplines in top universities in the UK and Northern Ireland.
"Candidates up to 35 years are eligible to apply for the scholarship. The scholarship aims to strengthen diversity and equality in education and pushes for the mainstreaming of marginalised communities through building the next generation of leaders, decision-makers and opinion-makers to contribute to the economic and social development of Jharkhand and India," the release added.
Chief minister Hemant Soren had during last year's scholarship launching ceremony announced an increase in the amount and the number of students and also expanding the scheme to include other communities as beneficiary.
"Jharkhand is taking the lead and setting a glorious example for other states in the country to follow. We are committed to provide best of opportunities for students belonging to marginalised communities in our state," said Soren.
Last year, 7 students were provided with scholarships under the scheme who are currently pursuing their higher education at Loughborough University, University of Warwick, University of Sussex, University College in different disciplines. The awardees of the scholarship are entitled to a complete cover of tuition fees along with living and other miscellaneous expenses. Students will be selected from those residing in Jharkhand.