Jharkhand government bid to reduce ration weight complaints
State will make it mandatory for ration shop dealers to use electronic weighing machines linked to electronic point of sale devices (ePoS)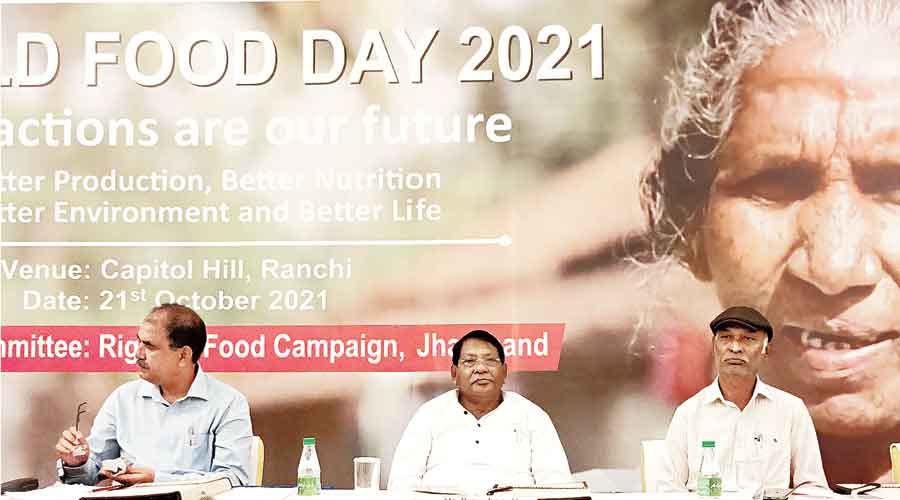 ---
Jamshedpur
|
Published 22.10.21, 12:20 AM
|
---
The Jharkhand government is planning to make it mandatory for ration shop dealers to use electronic weighing machines linked to electronic point of sale devices (ePoS) in a bid to reduce complaints of beneficiaries allegedly being cheated by some dealers.
Addressing a workshop organised by civil society organisations and the state chapter of Right to Food Campaign on Thursday, minister for food, consumer affairs and public distribution Rameshwar Oraon said the step is part of an effort to make Jharkhand a "zero hunger state".
"We do get complaints of PDS (public distribution system) dealers giving less quantity of food grains to illiterate rural beneficiaries while noting down correct entries in the ePoS machines.
"The department has already given its proposal for the integration of ePoS devices with electronic weighing machines. The proposal will get a nod from the state cabinet soon. We hope to make it functional across all PDS shops before December-end," said Oraon, a retired IPS officer who had also served as chairman of the National Commission for Scheduled Tribes.
Oraon, a Congress leader, further said that this would bring transparency in the distribution of food grains.
"We do get records of sales registered in ePoS machines. If there is any attempt by a PDS dealer to distribute less amount of food grains by weighing less, it would be recorded immediately in the ePoS machines and will expose the ration dealers to punitive action," said Oraon.
The Union government had in June this year had asked states to promote the use of electronic weighing machines and their integration with ePoS devices.
Under the National Food Security Act (NFSA), the Centre provides 5kg of wheat and rice (food grains) per month per person to around 80 crore people at a subsidised rate of Rs 2-3 per kg.
"The department of food and public distribution issued a notification in June 2021 to ensure right quantity to beneficiaries in distribution of subsidised food grains as per their entitlement under the NFSA 2013," a state government official said.
"While distribution through ePoS devices ensures that subsidised food grains are provided to the rightful beneficiary through biometric authentication, integration of such devices with electronic weighing scales would ensure that the beneficiary is given the right quantity of food grains by the fair price shop dealer as per his/her entitlement," the official added.
Oraon told The Telegraph that to tide over mobile network problems cropping up in shadow areas, the base transmission station (BTS) in such places are being upgraded to 4G standard so that ePoS devices function properly.
"Apart from up-gradation of mobile network, we also have plans to install boosters for those PDS shops having problems which would enable proper coverage.
"The government will not shy away from technological intervention to ensure seamless and transparent distribution of food grains for all beneficiaries," said Oraon.
According to the NFSA 2013 data, there are over 2.64 crore beneficiaries in Jharkhand while the state government under its own green card scheme has set a target of reaching out to 15 lakh people. There are nearly 25,500 PDS dealers across the state.
"We have covered over 12 lakh beneficiaries as part of the state government green ration card schemes," said an official in the food and consumer affairs department.
Balram Jo from the Right to Food campaign suggested the opening of public service centres at all blocks, opening of a training centre for ICDS personnel and increasing coverage of food security schemes in the state.
Johnson Topno, the regional programme head of Phia Foundation, delivered the welcome address.
Jharkhand State Food Commission chairman Himanshu Shekhar delved on the importance of government departments working in tandem with it and civil society organisations to ensure that beneficiaries get proper food grains.
There were presentations on the status of various government initiatives to improve food and nutrition security in Jharkhand, the status of women and child nutrition in the state and the promotion and preservation of the local food system.