Jharkhand DGP seeks report on alleged human rights violation
The letter mentions beating of 11 tribals by the CRPF in the Khuntpani block of West Singhbhum district allegedly for being Maoist supporters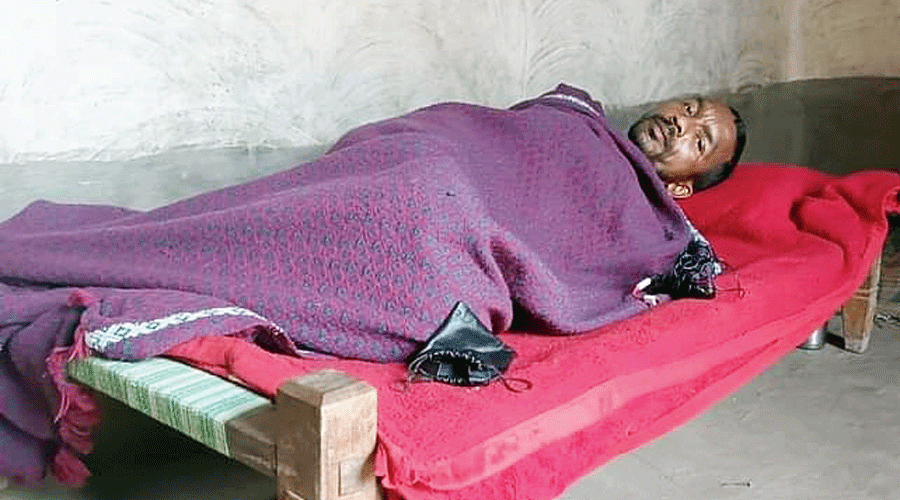 Anil Kumar Singh at his home in Latehar district, Jharkhand.
Bhola Prasad
---
Jamshedpur
|
Published 22.04.22, 01:07 AM
|
---
Jharkhand police inspector general (human rights) on behalf of the Jharkhand Director General of Police has directed police superintendents of five districts to submit action reports on alleged human rights violation in a week.
The letter issued on Thursday (a copy of which is with The Telegraph) informs the superintendent of police of Latehar, Bokaro, Hazaribagh, West Singhbhum and Dumka that there have been allegation of human rights violations labelled by the Jharkhand Janadhikar Mahasabha (a coalition of rights outfits of Jharkhand) in their districts and further directs the police heads to submit an action taken report on those alleged cases of human rights violation within a week of receipt of the letter.
Significantly, a delegation of the Jharkhand Janadhikar Mahasabha had submitted a letter addressed to Jharkhand DGP Niraj Sinha through IG human rights Akhilesh Jha for prompt action on alleged human rights violations by police in these districts with specific instances.
"It is unfortunate that even after change in government (since 2019) there have been cases of police torture on tribals and Dalits by the police and in most of the cases the victims are not even paid proper compensation and neither action has been initiated against the accused cops.
"There have been cases of police torture on innocent tribals in the garb of Maoist operations and also incidents of custodial torture have come to the fore," the letter by the mahasabha alleges.
The letter cites instances of custodial torture by Garu thana official in Latehar district on a tribal Anil Kumar Singh allegedly inside the police station on charges of Maoist sympathisers on February 23, 2022 and later released the next day from the police station after the police claimed that he was picked by mistake.
"Even an FIR has not been lodged against the cop while the victim is unable to work due to pain suffered during custodial torture," the letter alleges.
The letter cites the case of a 50-year-old tribal Sanjay Majhi allegedly being implicated in the Gomia police station  in Bokaro district on false charges of being involved in Maoist incident in 2014.
He was alleged by the police of carrying a cash award of Rs 1 lakh and threatened of attachment of property.
The letter also cites the cases of killing of Brahmadev Singh, a tribal in Piri thana area of Latehar district, allegedly in a false encounter by police on suspicion of being Maoist supporter and the death of a Dalit, Chakkan Bhuiyan allegedly due to beating by police on April 2021 in Chouparan in Hazaribagh district.
The letter mentions beating of 11 tribals by the CRPF in the Khuntpani block of West Singhbhum district allegedly for being Maoist supporters and still now no action has been initiated against the CRPF officials.
The letter also mentions problems in education because of setting up of the CRPF camps in schools in remote areas and rampant misuse of the UAPA and sedition laws against tribals and claims that "86 UAPA cases were lodged in 2020" even after change in government in the state.