Co-WIN data update issue, says health official
Jharkhand counters vaccine wastage numbers, points to data update lag
Centre report that state figures are highest is untrue, says health department officer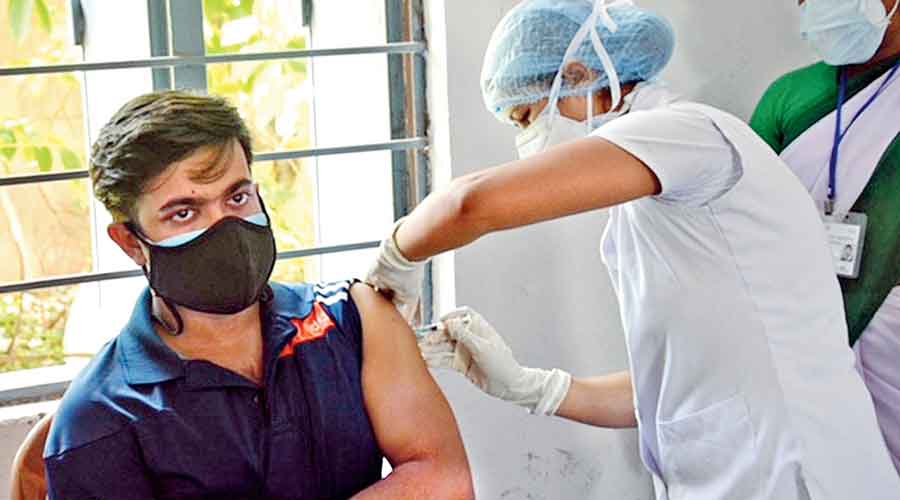 ---
|
Ranchi
|
Published 10.06.21, 09:58 PM
---
Jharkhand is said to have recorded the maximum wastage of Covid-19 vaccines at 33.95 per cent, according to Union government data, a claim that the Hemant Soren government vehemently denied on Thursday, saying the figures were wrong since real-time data was yet to be updated on the Co-WIN portal.
"The reports are untrue. It's a matter about data reconciliation," said health department's IEC nodal in-charge Siddharth Tiwary. He was reacting to Thursday's PTI report from New Delhi that cited government records to say that while Kerala and West Bengal recorded negative wastage of vaccines, Jharkhand topped the list of states on vaccine wastage.
The report said that Kerala reported -6.37 per cent and West Bengal recorded -5.48 per cent vaccine wastage. Chhattisgarh reported 15.79 per cent vaccine wastage while Madhya Pradesh reported 7.35 per cent, the report said.
The national average of vaccine wastage is around 6.3 per cent.
A Jharkhand health department official said as on June 9, the state's wastage stood at 3.6 per cent. Sharing details of the wastage, he said, "Till now, Jharkhand has been allocated 56,72,450 vaccine doses of which 47,29,484 have been used. As of June 9, we had 7,66,680 vaccine doses available with all districts. The number of utilised doses may have reduced by now as today's (Thursday) data is yet to arrive from all the districts."
He added that some Jharkhand districts had reported negative wastage. "For example, Jamtara has negative wastage of 17 per cent, Koderma -33 per cent, Ramgarh - 4.2 and Chatra - 3.8. The state has been using vaccines judiciously. In reality, Jharkhand is among the top states with less wastage," he said.
A state vaccination cell official admitted that jab numbers had not been updated. "Figures on the Co-WIN portal have not been rectified yet. We are looking into it," he said.
Jharkhand officials said a similar "misrepresentation" by the Centre occurred in the last week of May when data released by the Centre's Press Information Bureau (PIB) claimed in an official communication that there was 37.3 per cent vaccine wastage in Jharkhand. 
At the time, both chief minister Hemant Soren and state health minister Banna Gupta had issued strong rebuttals. The chief minister's office said the actual wastage was at 4.65 per cent, lesser than the national average.
 "As per total vaccine doses availability with Govt on Jharkhand till today (May 26), the current vaccine wastage proportion is only 4.65%. Vaccination data could not be fully updated to the central Co-Win Server/ Platform due to technical difficulties/glitches & the updation is in process," CM had tweeted.
The Congress, a member of the ruling JMM-led alliance government, criticised the Centre for "defaming" Jharkhand. "The latest media report is baseless. It is an attempt to defame Jharkhand. Last time too, such an attempt was made but after the state government countered with facts and the claim was taken back. In reality, our vaccine coverage and wastage is better than the national average," a senior leader said on Thursday.
Thursday's PTI report said states like Punjab, Delhi, Rajasthan, Uttar Pradesh, Gujarat and Maharashtra registered 7.08 per cent, 3.95 per cent, 3.91 per cent, 3.78 and 3.63 per cent and 3.59 per cent vaccine wastage respectively.
The data showed that a total of 790.6 lakh vaccines were supplied to states and UTs in May out of which total vaccinations were 610.6 lakh while 658.6 lakh shots were utilised and the closing balance was 212.7 lakh.
The vaccination in May was less as compared to April in which a total of 898.7 lakh vaccinations were done, 902.2 lakh vaccines were utilised and the closing balance was 80.8 lakh.
India's first dose coverage of the 45-plus population till June 7 was pegged at 38 per cent with Tripura's coverage being 92 per cent, Rajasthan and Chattisgarh 65 per cent each, Gujarat 53 per cent, Kerala 51 per cent and Delhi 49 per cent.
Tamil Nadu's first dose coverage of the 45-plus population is at a low of 19 per cent, Jharkhand and Uttar Pradesh at 24 per cent each and Bihar at 25 per cent.