Bandhu Tirkey campaigns for Congress candidates in Gujarat
I am grateful to the Congress party for reposing faith in me, says former Mandar MLA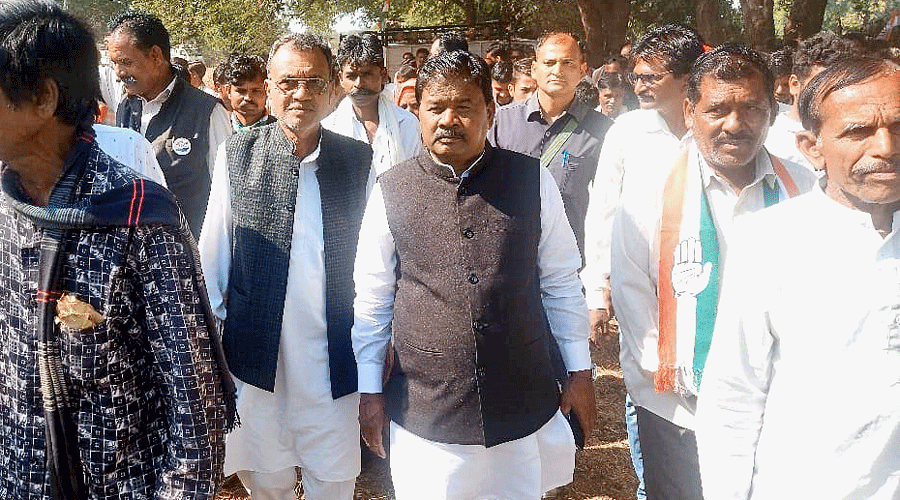 Bandhu Tirkey (centre) campaigns for the Congress candidate at Chottaudepur in Gujarat.
PTI picture
---
Jamshedpur
|
Published 27.11.22, 04:06 AM
|
---
Jharkhand Congress executive president and former Mandar MLA Bandhu Tirkey is campaigning for party candidates in the Gujarat Assembly election.
Bandhu, who represented Mandar Assembly constituency for three terms before losing his Assembly membership earlier this year after being convicted in a disproportionate assets case, has been striking a chord with the tribals (Bhils and Rathwa tribes) in the Chhotaudepur district.
"I am grateful to the Congress party for reposing faith in me. I am the only party leader from Jharkhand selected for campaigning in Gujarat in the three Assembly seats falling under Chhotaudepur district (carved out of Vadodara in 2013). The tribals here are also facing the same issues as Jharkhand. I am only trying to make them aware of their constitutional rights that have been damaged by the BJP, which has ruled the state for nearly 27 years," said Tirkey, considered close to Jharkhand chief minister Hemant Soren.
Bandhu has been raising issues such as inflation, Adivasi religion code, natural resources and tribal rights while campaigning in Chhotaudepur, Jetpur and Sankheda constituencies that will go to polls on December 5. 
"Like it happened in Jharkhand during the BJP regime, the government in Gujarat is helping capitalists by looting jal, jungle and zameen (water, forest and land) of the tribals. I am making them aware of the intention of the ruling government, which is bent on amending laws protecting tribal rights over forest land. I am also raising issues faced by the poor and common people like inflation. Constitutional rights of the tribals are being infringed upon as there have been complaints that they face lots of problems in procuring caste certificates," Tirkey added.
Chhotaudepur district has a forest area of 75,704 hectares and has deposits of dolomite, fluorite, granite and sand, all of which are mined.
Tirkey has also been harping on the Centre not including tribal religious code in the decadal census despite repeated demands from tribal groups.
"I told the people that the Jharkhand government in 2020 had sent a recommendation for inclusion of Sarna/ Adivasi code in the census to protect the identity of the tribals. But the Centre has been sitting on it. A delegation of Jharkhand leaders had also met the Union home minister. But nothing happened. There have been dharnas and agitations for more than a year. If the Congress government comes to power in Gujarat, it will also pass a resolution for the inclusion of Adivasi religious code in the census and send it to the Centre," Tirkey said.
Soren, who heads a JMMCongress-RJD government in Jharkhand, had given a call to the tribals of Gujarat to ensure that not a single of the ST reserved seats went to BJP.
JMM central general secretary and spokesperson Supriyo Bhattacharya had said they would visit all the 40 reserved Assembly constituencies  (27 ST and 13 SC seats) in Gujarat and expose the BJP's conspiracy against the tribals in Jharkhand.