Jharkhand conducting confirmatory RT PCR tests on symptomatic rural residents
Of the 2,08,556 scanned during state survey, only 981 were Covid positive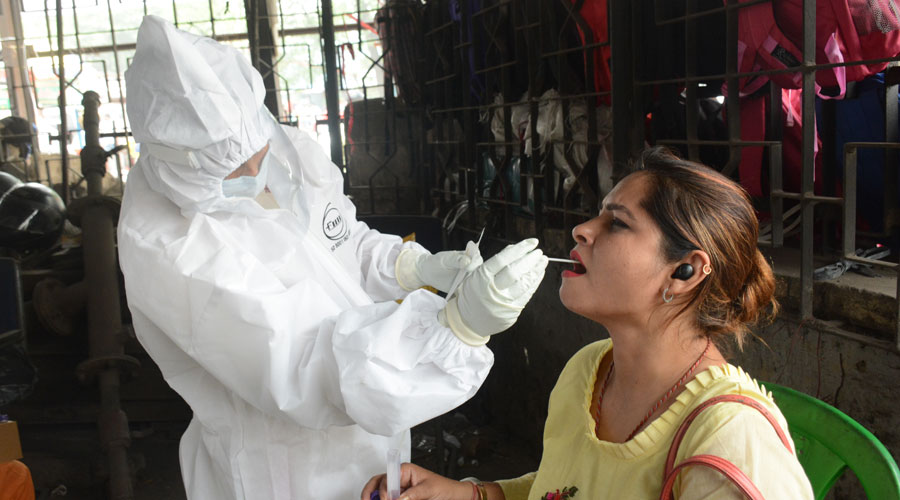 ---
|
Ranchi
|
Published 12.06.21, 05:16 PM
---
The Jharkhand government has started conducting confirmatory RT PCR tests on the  over 2 lakh rural residents who tested negative for Covid-19 in rapid tests conducted during the 10-day Intensive Public Health Survey (IPHS) from May 25 to June 5, health officials said on Saturday.
The confirmatory tests, officials said, was necessary as all the residents who underwent Rapid Antigen Test (RAT) during the survey showed symptoms of Covid-19. As per survey data, of the over 2.63 crore people surveyed during IPHS, at least 2,08,556 showed symptoms of Severe Acute Respiratory Illness (SARI) or Influenza Like Illness (ILA).
All the 2 lakh-odd residents with SARI and ILA symptoms underwent rapid tests during the survey, but only 981 of them were found infected by novel coronavirus – a finding that showed unusually low prevalence of Covid-19 in the Jharkhand hinterland. The low positivity rate among such individuals, officials said, could be attributed to the lower efficacy of rapid tests.
"We will conduct confirmatory RT PCR tests of all  rural residents who tested negative in rapid tests during the survey. The process has already begun in the panchayats, but we are yet to get data on the confirmatory tests conducted so far," said Dr Siddharth Tripathi, the nodal officer of health department's Information, Education and Communication (IEC) wing.
Tripathi admitted that the government decided to conduct rapid tests instead of RT PCR during the survey as the former gave quicker results and the health infrastructure in rural Jharkhand was not strong enough to conduct large scale RT PCR tests on the go. RAT is also done with nasal and throat swab, but it takes only one hour to show Covid test results. On the other hand, results of  RT PCR tests take at least 48 hours.
As per data compiled by the health department, the positivity rate in Rapid Antigen Test (RAT) was less than 1 per cent in Jharkhand, while that in RT PCR was 2.3 per cent. The positivity rate in TrueNat test was highest at 7 per cent.
"RT PCR tests and TrueNat certainly showed higher positivity rate and will be used for confirmation in symptomatic people who have tested negative in rapid tests," said Naman Priyesh Lakra, the nodal officer for Covid testing in Jharkhand.
The Covid positivity rate during the IPHS was only 0.47 per cent, which was lower than the cumulative positivity rate of over 3.5 per cent in Jharkhand, officials said.
During the survey, it was also found that 16,668 of those surveyed showed symptoms of tuberculosis, while 1,17,622 suffered from diabetes. As per the survey data, at least 1,19,026 rural residents suffered from hypertension. As many as 25,869 deaths were reported in rural Jharkhand from April 1 to May 31, the survey findings revealed.