Jharkhand coal mines function despite trade union strike
Most mine jobs are outsourced to private companies and their workers have no links with the central trade unions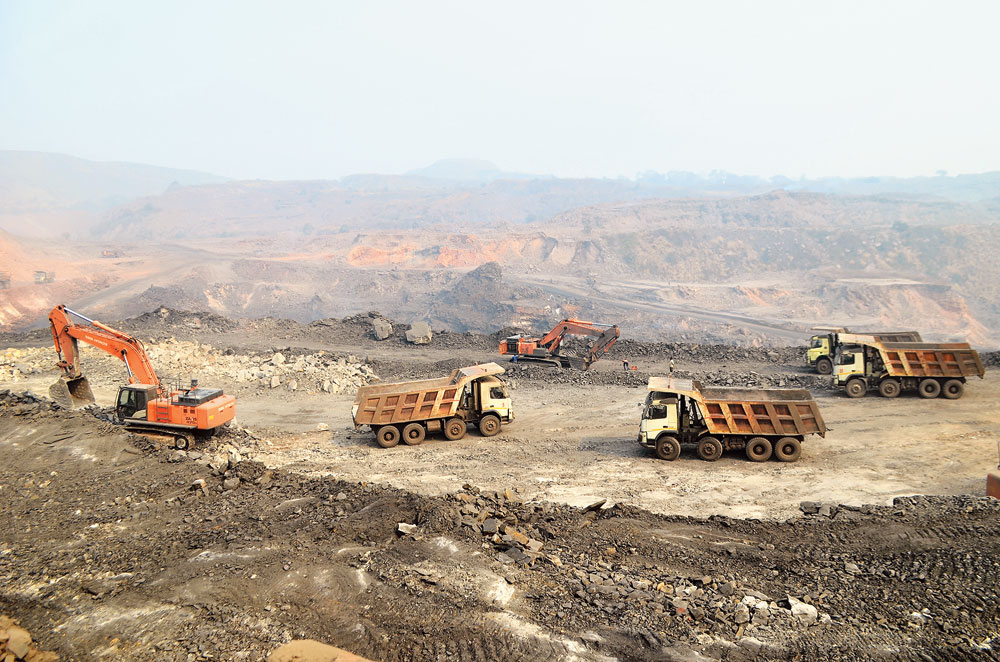 Defiant fleet: Tipper trucks ferry coal from a BCCL mine in Kusunda, Dhanbad, during the nationwide trade union strike on Tuesday.
Picture by Shabbir Hussain
---
Dhanbad
|
Published 08.01.19, 06:34 PM
|
---
Production and dispatch remained largely unaffected at all the 65 mines of Bharat Coking Coal (BCCL), Eastern Coalfields (ECL), SAIL and Tata Steel on the first day of the two-day nationwide general strike sponsored by central trade unions in protest against the Union government's alleged anti-worker policies.
The reason behind the pleasant surprise is that most mine jobs are outsourced to private companies whose workforce do not owe direct allegiance to any of the five outfits enforcing the shutdown in the state.
The strike, however, had a solid impact on the banking, telecom and postal sectors in the coal capital. More than 285 branches of various PSU banks, offices of BSNL and over a dozen post offices were closed for the day.
Speaking to this newspaper, BCCL general manager (Lodna) Kalyanji Prasad said attendance was cent per cent in the colliery on Tuesday. "All our 6,000 workers came to work. The strike had no impact," Prasad said.
Sources in BCCL said out of over 50,000 regular workers in three shifts at various collieries, only 5,000 remained absent. "The reason: more than 40,000 workers are on the payroll of over a dozen private companies that work on behalf of BCCL. They didn't need to participate in the strike," said an official. The BCCL's technical director (project and planning) N.K. Tripathi corroborated that the impact of the strike was indeed negligible. "Both production and dispatch remained almost normal. We will have actual figures only after all the three shifts end (effectively on Wednesday morning). Disciplinary action will be taken against anyone participating in the strike," he said.

On an average, the 48 BCCL mines together produce 1.5 lakh tonnes of coal every day.
Bindeshwari Prasad, state general secretary of Bharatiya Mazdoor Sangh that is not participating in the strike, said they were opposing the two-day shutdown because they believed it was politically motivated. "Outfits like Centre of Indian Trade Unions (Citu), All India Trade Union Congress (Aituc), Indian National Trade Union Congress (Intuc) and Hind Mazdoor Sabha (HMS) have lost their base among the masses," he said.
Hari Prasad Pappu, secretary of Bihar Colliery Kamgar Union that is affiliated to Central Trade Union, conceded that the strike was not successful and blamed it on the "lack of unity" among trade unions. "We remained on the field the entire day, trying to convince workers that they need to stand united, but lack of co-operation from some trade unions hampered our efforts. The impact of strike was not as per our expectations," Pappu said.
The strike though was successful at public sector banks, where more than 1,500 employees across 285 branches stayed off duty. The employees under the banner of Jharkhand Pradesh Bank Employees Association also staged a huge demonstration outside the Bank of India branch near Shastrinagar.