Jharkhand civic bodies told to buck up for sanitation survey
Focus on building and demolition waste as govt looks for green options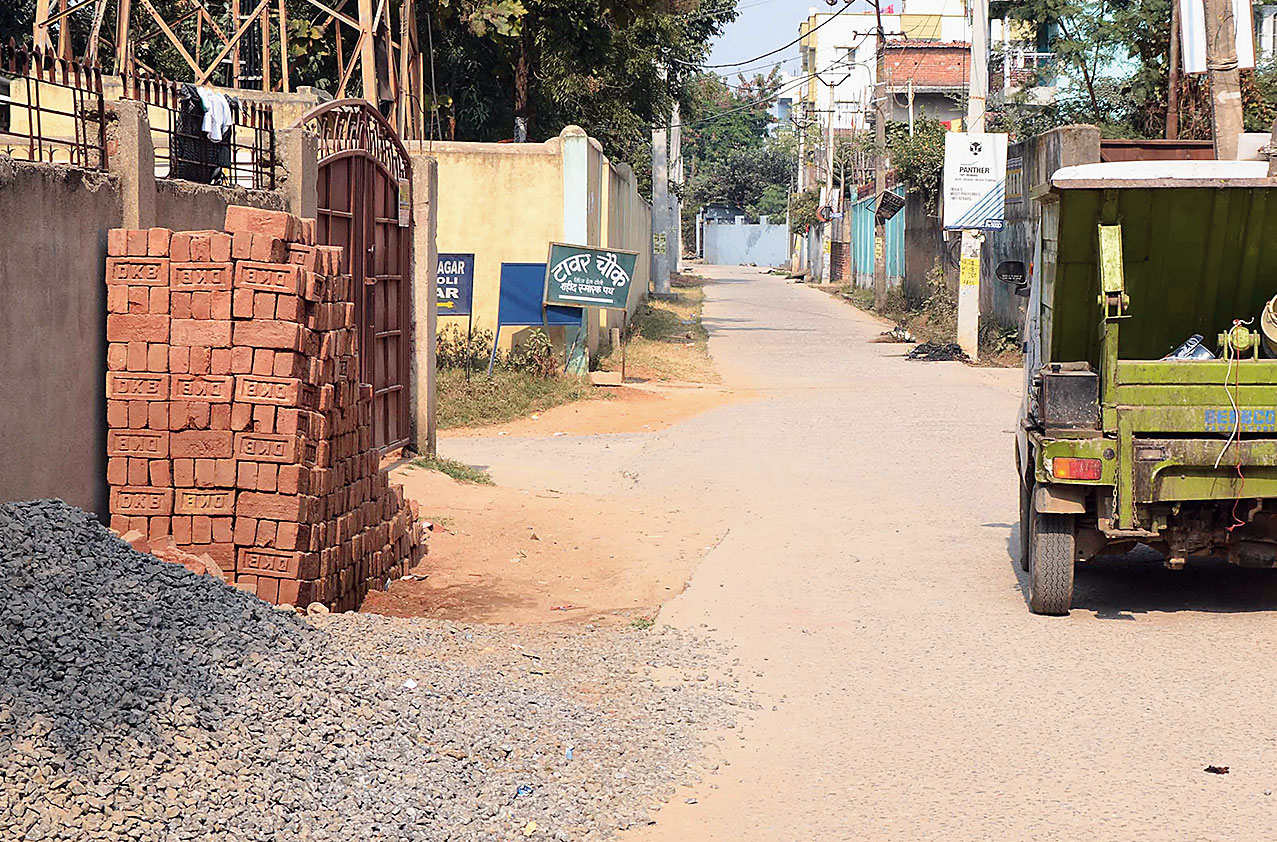 Construction material dumped at Dela Toli in Kokar, Ranchi, on Friday.
Picture by Manob Chowdhary
---
Jamshedpur
|
Published 15.12.18, 07:14 PM
|
---
Civic bodies of all major cities of Jharkhand have been asked to better manage construction, demolition and food waste in the run-up to Swachh Survekshan, the next round of a pan India sanitation survey scheduled to be held from January 4, 2019.
The directive, which was issued earlier this week by state urban development agency (SUDA) director Ameet Kumar to all 41 urban civic bodies, asked them to strictly monitor compliance of construction and demolition (C&D) waste utilisation management provisions.
It also asked them to take action against bulk waste generators, especially hotels and eateries, for not adhering to the provisions.
"We have asked all 41 civic bodies, including Ranchi Municipal Corporation, Dhanbad Municipal Corporation and Jamshedpur Notified Area Committee to maintain separate log books as part of C&D waste utilisation management. One log book would be for supply of C&D waste and the other would be for demand," Kumar said.
He explained that civic bodies had been told to issue public notices with dedicated contact numbers for generators of C&D waste (builders and real estate developers) to contact for removal. Another log book would have to be maintained to keep a tab on private and government entities that may require such waste, say, for filling up a trench or so.
The SUDA director has also asked civic bodies to explore requirements of local firms that may be interested to use C&D waste for making paver blocks.
"C&D waste can be made into paver blocks and civic bodies have been asked to explore such options. The idea is not only to clean out C&D waste, which is usually piled along roads. It is also to find a sustainable way to dispose of waste on a regular basis to improve city rankings in the annual swachh survey," Kumar said.
Civic bodies have also been told to identify bulk waste generators _ more than 100kg per day _ like eateries, restaurants and hotels, and ask them to resort to on-site composting.
"It is mandated under solid waste management rules that bulk waste generators have to undertake on-site composting through compactors. We have identified more than 400 such bulk waste generators and civic bodies have been directed to issue notices to all such generators and ask them to install composting facilities at the earliest," Kumar said.
Civic body officials said they had already initiated action on the directives.
RMC city manager for Swachh Bharat Mission (SMB) Sandeep Kumar said that they had issued notices to 56 bulk waste generators for installation of on-site composting facilities. They had also issued a dedicated number (9334142922).
"We have a separate log book for C&D waste and have a dedicated number too. We have started issuing notices to bulk waste generators (more than 14) for installing composting facilities," said JNAC city manager and SBM nodal officer Shakil Mehdi Anwar.