Jharkhand CII wing donates Covid equipment to East Singhbhum
5 oxygen concentrators of 10 litres each and 25 pulse oximeters given for treatment of patients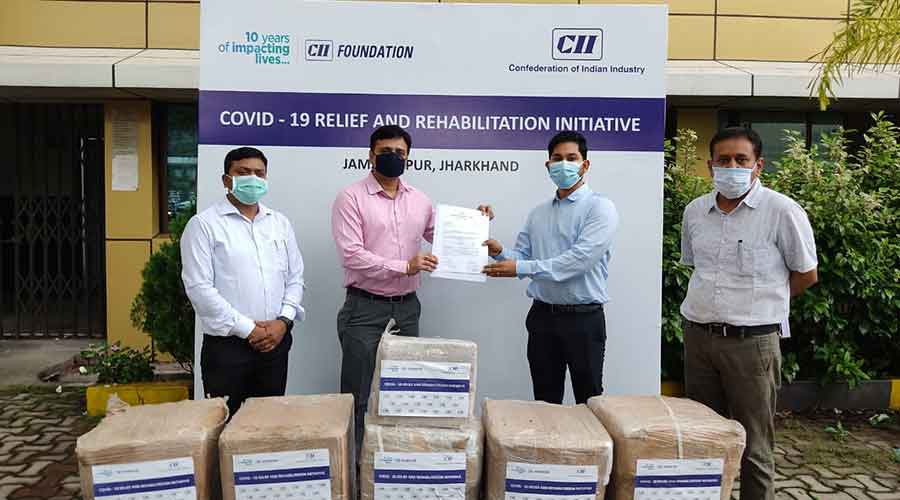 Vijay Bhuller (second from left), state head, CII Jharkhand hands over the medical equipments to Suraj Kumar ( second from right), deputy commissioner of East Singhbhum at the district collectorate in Sakchi on Wednesday.
Picture by Bhola Prasad
---
Jamshedpur
|
Published 23.06.21, 06:24 PM
|
---
The Jharkhand State Council of the Confederation of Indian Industry on Wednesday donated five oxygen concentrators of 10 litres each and 25 pulse oximeters to the East Singhbhum district administration.
An oxygen concentrator is a medical device that concentrates oxygen from ambient air. It helps in the treatment of Covid-19 patients while pulse oximeter helps in measuring the oxygen saturation level of the blood.
The medical equipment was handed over by Vijay Bhuller, state head, CII Jharkhand to deputy commissioner of East Singhbhum, Suraj Kumar.
"We need to be very cautious and follow Covid appropriate behaviour strictly as well as get vaccinated to carry on with our livelihoods and put growth back on track. Also there is an urgent need to augment the healthcare infrastructure in the state and this was the best time for CII to step in and help, "said Bhuller, the senior CII functionary.
A number of initiatives have been undertaken by CII, CII Foundation, and Young Indians (Yi), the youth wing of CII to provide relief to those impacted by the second wave of Covid-19. 
It included procurement and deployment of medical equipment such as oxygen cylinders, O2 concentrators, ventilators, etc. in hospitals.
Healthcare infrastructure support by setting up additional Covid-care centres, expanding Covid-ICUs, setting up Tele-ICUs, operationalising vaccination centres and installing oxygen pipelines.
Apart from this CII also undertook distribution of relief material such as food and ration kits, hygiene kits such as masks, sanitisers etc.
According to Bhuller, CII has also been supporting and assisting industry members to address issues arising out of various measures at the state and district level that impact their operations.
Notably, the second wave of Covid -19 has put tremendous strain on healthcare infrastructure as the number of patients rose rapidly. 
Hospital beds, oxygen cylinders, ventilators and other necessary medical equipment and facilities were in short supply and people were often travelling great distances in the hope of getting medical support. 
While the Centre and the state government was taking several steps to increase and strengthen existing healthcare infrastructure, CII, CII Foundation, and its affiliates stepped in to augment existing Covid-care facilities. 
The industry body has been proactively engaging to catalyze the private sector and industry initiative to complement and supplement the government in combating the second wave of Covid-19.