Jharkhand chapter of CII holds online industrial safety conclave
Over hundred delegates participate in event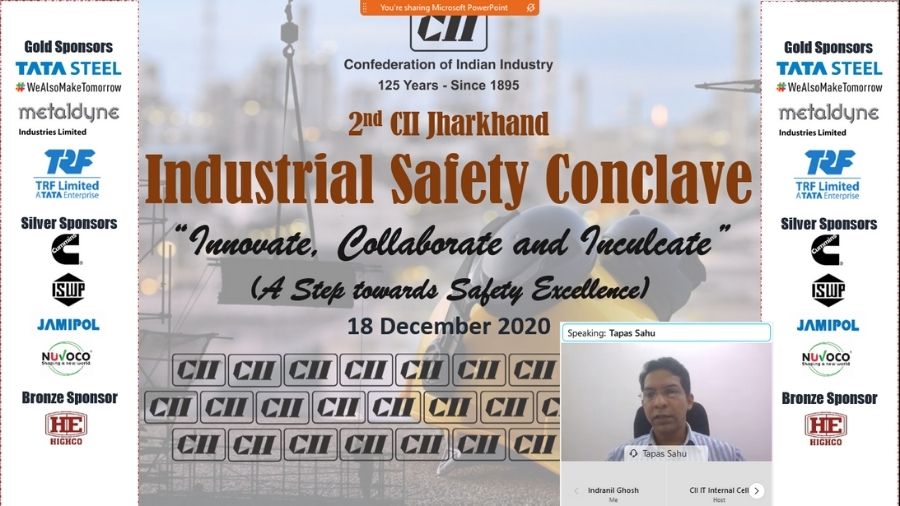 ---
Jamshdepur
|
Published 18.12.20, 04:47 PM
|
---
The Confederation of Indian Industry's ( CII) Jharkhand  State Council on Friday organised its second edition of Industrial Safety Conclave, to inspire stakeholders towards building a stronger culture of safety in their organisations. 
The conclave acted as a forum for participants to interact with the safety professionals and thought leaders to learn the best practices.
"For achieving vision zero or a zero-accident workplace, we would need more involvement and commitment of the MSMEs," said Sanjay Sabherwal, Chairman, CII Jharkhand State Council. 
"I am happy that the CII Jharkhand's safety panel has launched Project SARTHI to handhold MSMEs on better safety management practices and transform them into a better and safer workplace," Sabherwal, who is also the Managing Director of Metaldyne Industries Ltd said in his address.
Tapas Sahu, Chairman of the CII Jamshedpur zonal council and Managing Director, Highco Engineers Pvt Ltd said, "Safety is something which can never be overemphasised. Impact of being unsafe is very heavy on society. Best safety cultures are led by business leaders who integrate safety into the business."
In his address to the conclave, Vilas Gaikwad, Chief of safety at Tata Steel Long Products Ltd, said, "The commitment from the leadership towards safety is extremely critical to inculcate a true safety culture within the organisation."
Safety expert and the Head of Safety at Tata Motors Ltd, Bipin B Sharan, said that the conclave will prove to be a good learning session.
"This second edition of CII Jharkhand Industrial Safety Conclave will prove to be a good learning session with significant takeaways and would go a long way in encouraging industries to take proactive approaches for a safe workplace," he said.
Raju Ramchandran, senior Vice President of Nuvoco Vistas Corporation Ltd ( Jojobera ) said that achieving vision zero in industrial safety will require a new mindset, new beliefs, new approaches and a different kind of leadership.
The conclave deliberated on important topics of discussion including adopting safety as a culture, emerging trends and technology in industrial safety and best practices in industrial safety and maintaining a safe shop floor in the 'new normal' scenario.
he other  speakers who addressed the conclave included Prakash Sinha, general manager, Tata Motors Ltd;  Dr Abhishek Pandey, chief medical officer and  Country Health Coordinator, Nuvoco Vistas Corporation Ltd; Shikhar Kaushik, Head - Safety New Initiatives , Tata Steel Limited and  S K Bhattacherjee, chief general manager (Iron Making), Mecon Limited. 
Over a hundred delegates participated in the event online.