Jharkhand business scoffs at hubs' ranking
FJCCI and others tweet displeasure to Union minister, offer reality recce in state industrial areas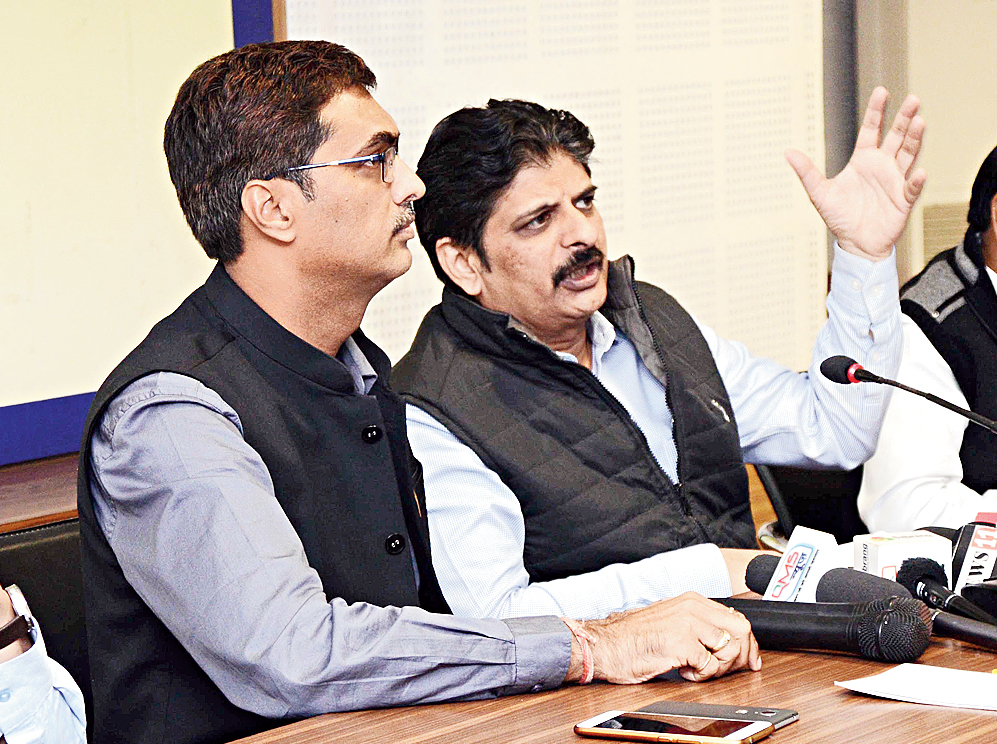 FJCCI president Deepak Maroo (left) along with industries sub-committee chairman Ajay Bhandari at Chamber Bhavan in Ranchi on Friday.
Manob Chowdhary
---
Ranchi
|
Published 23.11.18, 06:39 PM
|
---
The Federation of Jharkhand Chamber of Commerce & Industries (FJCCI) and Jharkhand Small Industries Association (JSIA) on Friday openly denounced a national survey that gave high rankings to state industrial hubs, which have glaring gaps in terms of infrastructure and business support services.
The trade outfits have already tweeted their displeasure to minister of commerce and industry Suresh Prabhu while a formal letter of dissent will be sent on Saturday. The Twitterati have mentioned a report published in The Telegraph on Thursday highlighting the real deal in the face of flattering rankings.
"Contrary to what the (national) report says, the situation in industrial areas of the state continues to be grim," FJCCI president Deepak Maroo told mediapersons at Chamber Bhavan on Friday afternoon, referring to the Industrial Park Rating System (IPRS) 2017-18 of the department of industrial policy and promotion released by Union minister Prabhu in New Delhi on Monday.
"We reviewed many industrial areas after publication of the report and the situation continues to be grim. We are ready to accompany government officials and the media if they agree to do a reality check," Maroo stressed. "I suspect the consultants who should point out shortcomings and offer solutions gave such favourable reports, and government agencies didn't bother to take stakeholders into confidence," he added.
In all, 177 industrial parks in 21 states were rated on four parameters — internal and external infrastructure, business support services and environment and safety. In the state, industrial parks in Tatisilwai (Ranchi), Kandra (Dhanbad) and Balidih (Bokaro) have scored rosy ratings.
Ranked fifth in infrastructure, Tatisilwai Industrial Area located 18km from the capital still grapples with waterlogging owing to poor drainage, besides suffering from frequent power cuts, irregular trash removal and bad roads.
Kandra Industrial Area in Govindpur has nationally been ranked first in business support services, but faces acute water crisis and erratic power supply.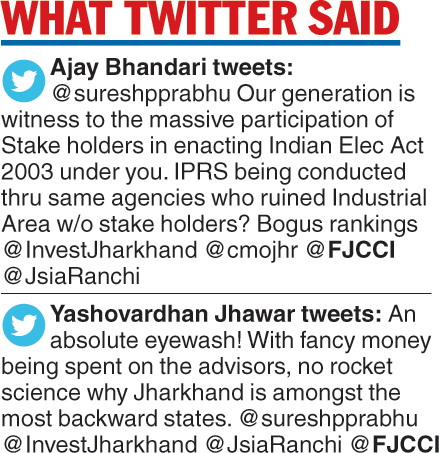 Balidih Industrial Area's second slot in external infrastructure and connectivity and environment safety is not off the mark because its location on NH-32 is at least a big advantage. But, power cuts up to 10 hours daily and scarcity of water are a bane.
"This national report on the state's industrial areas are fake, bogus and far from reality," underscored FJCCI industry sub-committee chairman Ajay Bhandari who was also present during the briefing to mediapersons.
"Behold the contrast: the state investment potential index issued by a Delhi-based think tank, National Council of Applied Economic Research, earlier this year described Bihar, Jharkhand and Uttar Pradesh as states with least infrastructure," he said.
President of JSIA Shashikant Agarwal added that they would be more than willing to rejoice good rankings for industrial hubs provided the same were true.
"We have tweeted to the Union minister, expressing our dissatisfaction over the report," FJCCI president Maroo said when asked about their course of action. "A formal letter will be sent to the minister tomorrow (Saturday)."
Ab aur jhuth nahin saha jata (We can't tolerate lies anymore), the release issued at the news meet summed up the anguish of the business fraternity.
Who do you blame for poor industrial infrastructure? Tell ttkhand@abpmail.com