BDO beats Dalit youth, villagers block office in Garhwa district
The incident happened a day after rights defenders protested before the Raj Bhavan in Ranchi against human rights violation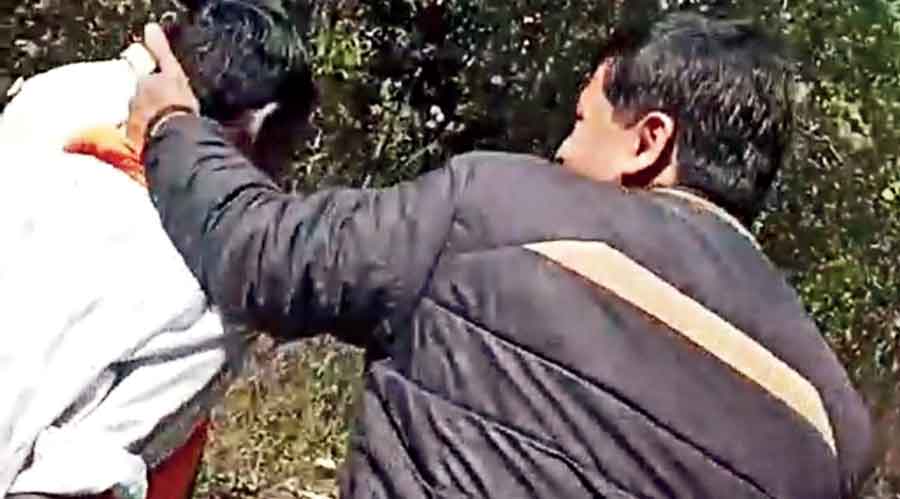 Footage shows Dhurki BDO Roushan Kumar (in black jacket) beating Ramesh Bhuiyan at Garhwa on Wednesday.
The Telegraph
---
Jamshedpur
|
Published 11.02.22, 02:15 AM
|
---
Irate villagers gheraoed the Dhurki block office in Jharkhand for nearly five hours on Wednesday to protest the beating of a Dalit villager allegedly by the block development officer, a day after rights defenders protested before the Raj Bhavan in Ranchi against human rights violation.
According to Pradeep Korwa, a native of Shakti village under Dhurki block in Garhwa district, some 270 km from capital Ranchi, Ramesh Bhuiyan, 35, a Dalit from their village had gone to the block development officer's (BDO) office on Wednesday to seek land demarcation of his ancestral land.
"We do not know what happened but the wife of Bhuiyan showed us a video which showed the BDO Roushan Kumar hurling expletives at Ramesh and beating him with hands and taking him to the Dhurki police station. This was unacceptable and the villagers unanimously decided to confront the BDO," said Korwa.
The villagers gathered at the BDO office at around 11am and continued their agitation for nearly five hours and locked the gate of the office before being pacified by former MLA and JMM leader Anant Pratap Dev and Dhurki police station officer-in-charge Sadanand Kumar who assured that proper investigation would be taken by the district administration against the errant BDO.
"The BDO seeing our agitation escaped from the backside of the office," alleged Korwa.
Incidentally, nearly 200 human rights defenders including development economist Jean Dreze under the aegis of Jharkhand Janadhikar Mahasabha had staged a protest near the Raj Bhavan at Ranchi on Tuesday and submitted a memorandum addressed to Governor Ramesh Bais alleging continuation of human rights violation even after a change of government in Jharkhand.
Dhurki BDO Roushan Kumar refuted the allegation, though it is clearly seen in the video of his slapping Bhuiyan several times.
"The allegation made against me by the youth is absolutely baseless. I was holding a meeting with the circle officer and in the meantime, the young man came in and started speaking insanely. He was told to go out," said Kumar.
Garhwa deputy commissioner Rajesh Kumar Pathak assured of a probe into the issue.
"This issue came to my knowledge and I have asked the additional collector Pankaj Kumar to investigate into the incident and submit a report. Departmental action would be taken certainly on the basis of the report of the officer," said Rajesh Kumar Pathak.