Jharkhand: Bid to help pension-hit widow
Hemant Soren has earlier said the state became the first in the country to have a universal pension scheme for elderly, widowed and differently-abled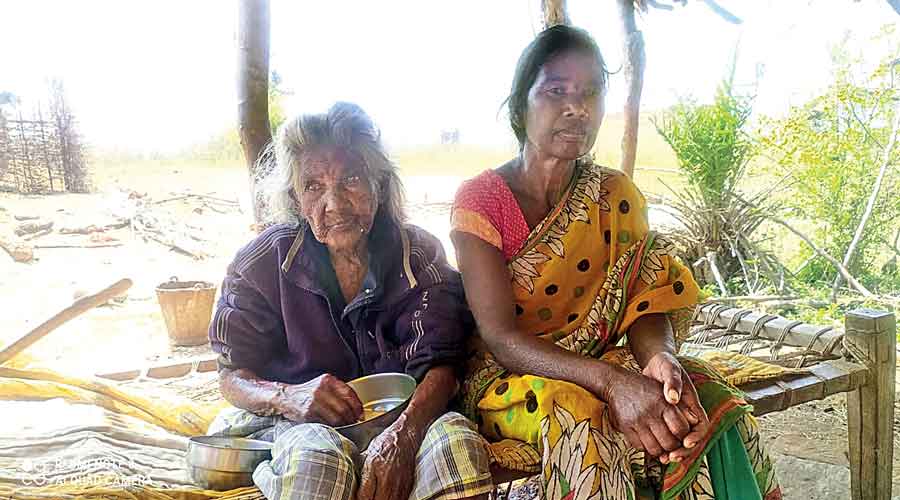 Chandu Kui Jamuda and her daughter at their house in Sonua block of West Singhbhum district.
Bhola Prasad
---
Jamshedpur
|
Published 10.03.22, 02:20 AM
|
---
An elderly tribal widow has been denied her pension benefits for not having Aadhaar card in violation of Supreme Court order in Jharkhand.
The Supreme Court had, in September 2018, directed that a person's rights could not be denied on the ground of lack of the unique ID (Aadhaar card).
Chandu Kui Jamuda, aged 88 years (age could be ascertained only on the basis of her voter card), is a resident of Birdaban village under Bari panchayat in Maoist-affected Sonua block of West Singhbhum district, 140km from the state capital Ranchi.
"We came to know about her during our survey to find out the status of tribals during the pandemic. She is barely able to speak because of malnutrition and is dependent on meagre earnings of her 61-year-old daughter, who sells forest products.
The daughter claims that her father died several decades back. They live in a thatched single-room hut," said Right to Food activist Sandeep Pradhan, who also hails from Sonua block.
Sonua comes under Manoharpur Assembly constituency which is represented by lawmaker Joba Manjhi who is also the state women, child development and social welfare minister.
"We spoke to her daughter and got to know that she had taken her mother four times for Aadhaar enrolment in last few years but could not get it done as the biometric machine was not accepting her finger prints," said Pradhan.
"They have a ration card but also desperately need a house under Ambedkar Awas Yojana," said the activist, who had tagged chief minister Hemant Soren on twitter on Tuesday.
According to an announcement made by Jharkhand chief minister Hemant Soren during the state's foundation day function on November 15 last year, the state became the first in the country to have a universal pension scheme for elderly, widowed and differently abled.
As of now, in other states, pensions are provided to elderly, widowed and physically challenged only if they fall below the poverty line (BPL) or belong to SC/ST. Social security pensions are also given to those having HIV/AIDS and falling under BPL category.
In Jharkhand, social security pensions are paid at the rate of Rs 1,000 per month, of which Rs 300 per month comes from the central government under the National Social Assistance Programme (NSAP) and the rest from the state government.
The chief minister, acting on the tweet, had on Tuesday directed the West Singhbhum deputy commissioner Ananya Mittal to probe the issue and ensure that Chandu and her family are linked to all government benefits.
"It should be all of our effort that all beneficiaries of the universal pension scheme should be linked to the benefits," the chief minister had tweeted.
West Singhbhum deputy commissioner Ananya Mittal, speaking to The Telegraph on Wednesday afternoon, said that the administrative team had visited Chandu's house.
"Our team has visited Chandu and we have started the process of her enrolment to get pensions and other benefits," said Mittal.