Jharkhand authorities accused of neglecting Kanke dam
Encroachments, sewage choking reservoir that supplies water to Ranchi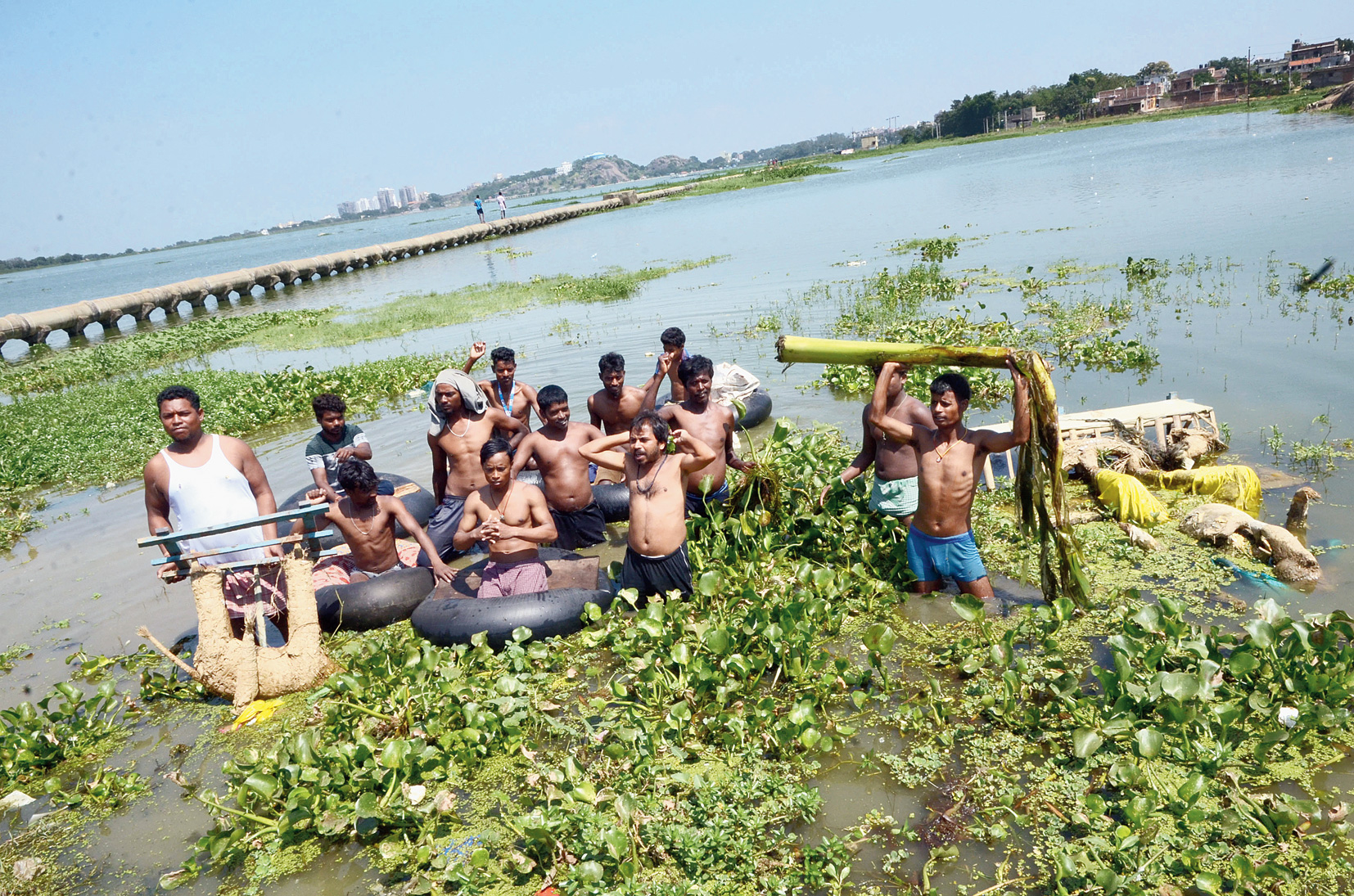 Damning damage: Protesters perform jal satyagraha at Kanke Dam in Ranchi on Saturday, hoping to draw the attention of the government to the reservoir's plight.
Prashant Mitra
---
Ranchi
|
Published 29.09.18, 06:40 PM
|
---
A group of over 50 social workers and residents on Saturday staged more than four hours of jal-satyagraha at Kanke Dam aimed to draw the attention of authorities to the terrible condition of this reservoir that is one of the main sources of water supply for over 2 lakh Ranchi residents.
Jal-satyagrahis under the banner of social outfit Rashtriya Nirman Sena said Saturday's event starting from 11am set the ball rolling for their campaign against the abuse of the 450-acre dam set up in 1950s, whose catchment area is rampantly encroached upon, and into which drain water routinely flows.
Outfit president Amritesh Pathak said a week ago many fish died here owing to lack of oxygen. "It wasn't for the first time, but nothing was done. But now, residents are complaining of a foul smell from the dam, which shows how far matters have worsened," he said.
He claimed the administration (read drinking water and sanitation department, in charge of the reservoir) had done nothing to stop sewerage from Ratu, Kanke, Pandra and adjacent areas from directly flowing into the dam. Encroachments and residential areas that cropped up over the years were blocking natural streams and flow of rundown rainwater into the reservoir.
"We have decided to launch our fight to save this dam," said Pathak. "Residents of 12 nearby villages, including Hesal, Karanjtoli, Laxmi Nagar, Nava Soso, Soso, also took part. We cleaned poly bags and jalkhumbis from the reservoir as well"
Ramadhir Singh, a resident of Soso who took part in the protest, said he did not understand why authorities did not understand that water bodies have to be saved even though the capital city would expand in leaps and bounds.
Fellow protester Sudhir Singh, another resident of Laxmi Nagar, said in the evening, people living close to the dam had now started shutting their doors and windows to avoid the foul smell.
Asked, executive engineer of Kanke dam (drinking water and sanitation department) Tapeshwar Choudhary couldn't readily tell when was the last time the dam was cleaned but claimed the administration did what they could from time to time.
"As far as death of fish here is concerned, the fisheries department could tell the reason," Choudhary said. "But during monsoon or cloudy days, oxygen level usually lowers in any water body," he said briefly.
But noted Ranchi environmentalist and geologist Nitish Priyadarshi said Kanke dam was "in ICU". "I would have loved it if the government launched a mission to clean this dam as well during the ongoing Swachhata hi Seva fortnight, instead of bigwigs heading out with brooms for photo-op drives in chosen localities. Cleaning the dam would have been a true tribute to Gandhiji's Swachh vision," he said.
Priyadarshi said dead fish indicated eutrophication. "Low oxygen in water results in nutrient deficiency in the dam. I don't recall when was the dam was last desilted or cleaned properly. From my own studies and experiences, I can tell that the dam is dying," he said.
On what could be done instantly to make a positive difference, he said, "The inflow of drainwater/untreated sewerage in the dam should be stopped immediately. Also, authorities can develop a process of natural aeration or aerification at the dam. Kankaria Lake in Ahmedabad was once virtually on its deathbed but the administration set up large fountains to aerate it and increase oxygen in it," he said.