Jharkhand: Assembly passes anti-mob lynching bill
Opposition dubs it as an attempt of appeasement politics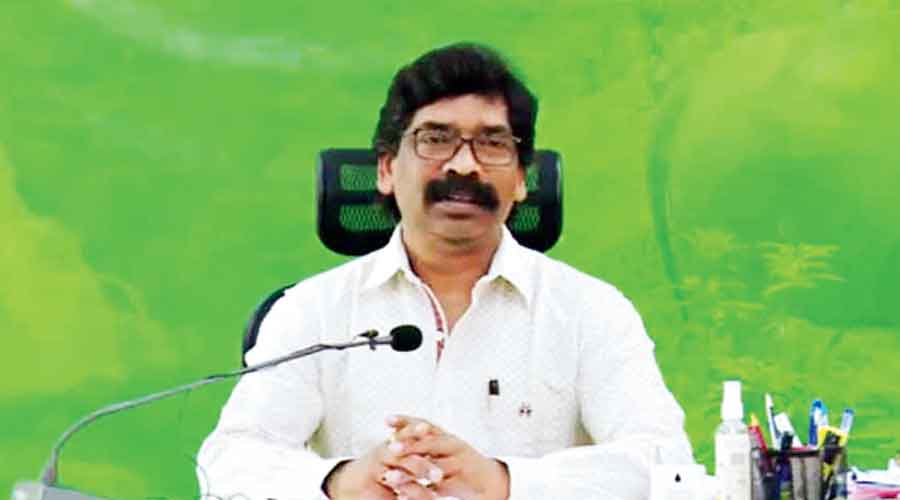 Chief Minister Hemant Soren
---
Ranchi
|
Published 21.12.21, 09:54 PM
|
---
The Jharkhand government passed the anti-mob lynching bill during the ongoing winter session of the state assembly on Tuesday within an hour after it was tabled without any debate.
The Opposition camp, mainly the BJP pressed for discussions and dubbed the bill as an attempt of appeasement politics. The bill titled Jharkhand (Prevention of Violence and Mob Lynching) Bill of 2021 was tabled in the second half of the second last day of the session and passed by voice vote in an hour. Only Bengal and Rajasthan are the states to have put in place such laws so far.
State parliamentary affairs minister Alamgir Alam tabled the bill in the House. Without specifying the dates, he said that about 53 incidents of mob lynching took place in Jharkhand out of which 33 had died. A report by the Jharkhand Janadhikar Manch, a conglomeration of rights bodies, in the past, too had said that more than 30 tribal Christians and Muslims had either been lynched or beaten up on suspicion of cow slaughter, sale and consumption of beef and religious hatred between 2016 and 2021.
Once the law is enacted, in case of lynching, the guilty will be jailed for life and have to pay a penalty of anywhere between Rs 5 lakh-25 lakh. For minor injuries of the victims, there will be three-year jail term for guilty and a fine of Rs 3 lakh.
For grievous injuries, the guilty will be imprisoned for life or up to 10 years with a fine of up to Rs 5 lakh. Those found guilty of conspiring, aiding and attempting to lynch will be treated at par with those who commit lynching. For those guilty of false propaganda through hate speeches and the likes to create toxic environment against a particular person/community, they will be jailed for three years with fine provision of up to Rs 3 lakh.
Other provisions include appointment of a state co-ordinator not below the rank of the Inspector General of Police to be called the Nodal Officer to monitor and co-ordinate prevention of lynching. The nodal officer will be appointed by the Director General of Police. The Nodal Officer, on enactment of legislation will be required to hold regular meetings, at least once a month, with local intelligence units in the Districts, so as to identify tendencies of vigilantism, mob violence or lynching in an area and take steps to prevent dissemination of offensive material through different social media platforms or any other means which could incite mob vigilantes.
The new legislation also states that every police officer, directly in charge of maintaining law and order in an area, shall take all reasonable steps to prevent any act of lynching including incitement and commission and will make all possible efforts to identify and prevent instances of dissemination of offensive material or any other means to incite or promote lynching. District magistrates too are mandated to take every possible action to curb creation of any hostile environment against a person or group of persons.
Hailing the passage of the bill, chief minister Hemant Soren talking to reporters outside the House said that the new laws are aimed at maintaining harmonious environment for people of all castes and faiths. He said, "We have seen several untoward incidents of mob attacks and deaths in our state. Now, we have stringent laws to tackle it."
Hemant's cabinet colleague Hafizul Hassan called it a historic feat stating that it exhibited their government's commitment towards safeguarding humanity. "Our government is committed to safeguarding everyone. No mob has the right to attack anyone no matter what. This law will now act as a deterrent to control such unruly mobs," he said, thanking chief minister Hemant Soren for the development.  
Opposition BJP on the other hand, demanded the bill be sent to a select committee for scrutiny stating that the bill defines mob as two or more persons but it requires to be reasonable and that the definition of mob should be classified as group of 10 persons and above. BJP's MLA from Godda Amit Mandal said, "The bill looks more of a tool for appeasement of few people as there are certain loopholes that require proper studies and has the potential to be misused."