Rahul hurls onion barb
The Congress leader said that Modi did not realise how people were suffering due to inflation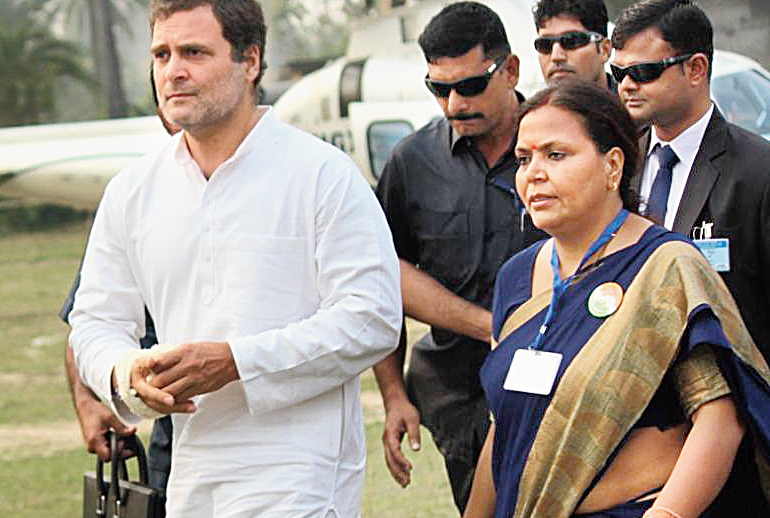 ---
|
Ranchi
|
Published 12.12.19, 06:42 PM
---
Congress leader Rahul Gandhi, in two rallies at Rajmahal and Mahagama in tribal heartland Santhal Pargana on Thursday, described Prime Minister Narendra Modi as someone who was turning India into a scared nation where people are weak and divided.
At both rallies, the crowd was nearly 9,000, which political watchers in Santhal Pargana said was a fair figure, given the geographical terrain and the organisation strength of today's Congress.
Rahul urged people to vote for Congress candidates Kutubuddin Sheikh (Rajmahal) and Deepika Pandey Singh (Mahagama), and elect the Opposition alliance of the JMM-Congress-RJD to power.
At the first rally at Charwaha grounds, Rajmahal, Rahul promised to waive off farmer loans up to Rs 2 lakh if the JMM-Congress-RJD alliance was elected to power in Jharkhand. "The Congress governments in Chhattisgarh, Rajasthan and Madhya Pradesh procure paddy at Rs 2,500 per quital. Farmers in Jharkhand will also get the same rate if we win the election," he said.
He alleged that Modi became the Prime Minister to divide the nation and people on the lines of caste and religion and that the PM did not realise how people were suffering due to inflation.
"Why doesn't he say in his speeches that the price of onions is Rs 200 per kilo," he asked. "Only the PM is unaware of inflation because he lives in some other world. Only his 15 to 20 industrialists friends like Adani are happy. Modi waives off their loans and fleeces money from people to pay them. Some five years ago he became PM and announced a fight against black money. He announced demonetisation and robbed the poor, the farmers and the masses."
After the rally at Rajmahal, Rahul flew to Mahagama where he addressed a rally at Barbadda High School grounds. Here, he raised the problem of drinking water. "Do you have a hand-pump in your village? Does it work? Do you get pure water?" he asked the crowd.
When many answered no, he said: "Can you imagine that in the 21st century you don't have even basic facilities like water? Do you know why? Modi diverts money for public welfare to the pockets of industrialists. Mobile telephone services have become costly. But before increasing the tariff of mobile phone services, Modi gave Rs 60,000 crore to telephone companies. Modi talks about the moon and rockets but he won't ensure water for you. Of course Adani enjoys mineral water," he said.
Rahul alleged the Jharkhand government had formed a land bank to grab the land of tribals and farmers. "Open any news channel and you will see Modi. You will neither find me nor Hemant Soren because media houses are owned by those Modi works for," he said.