A family battle has turned Jharia into one of the hottest seats that will vote in the fourth phase of the state elections on Monday.
Jailed Jharia MLA Sanjeev Singh's wife Ragini Singh is contesting on a BJP ticket against her sister-in-law and Congress candidate Purnima Singh, widow of Dhanbad former deputy mayor Niraj Singh who was shot dead yards from his house at Saraidhela in Dhanbad on March 21, 2017.
There is also a sense of déjà vu for more than 2.26 lakh electors of Jharia, who are compelled to live a hellish life due to irregular supply of drinking water, frequent power cuts, lack of public toilets, overflowing drains and extreme air pollution. Sanjeev Singh had won on a BJP ticket against his cousin and Congress candidate Niraj in the 2014 Assembly elections by 33,692 votes.
Both Ragini and Purnima have pulled out all the stops for the election, and both are making the rounds of nooks and corners of Jharia every day from early morning till late evening.
Defence minister Rajnath Singh, who addressed a huge rally at Jealgora Ground in Jharia in favour of Ragini on December 8, tried to allay fears of displacement from Jharia on account of the underground fires. Former Union minister Jyotiraditya Scindia, who addressed an almost equally big rally in favour of Purnima on December 10 at the same ground, accused the BJP of thrusting pollution and displacement on the residents of Jharia and allotting mines to private players who are violating all environmental norms.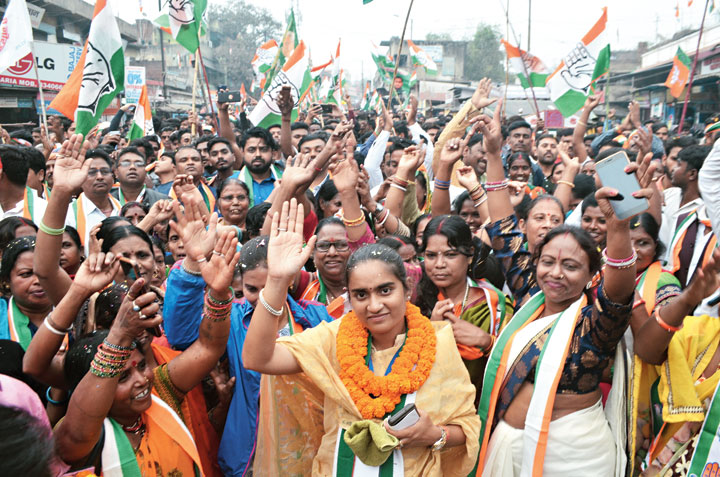 Congress candidate Purnima Singh (in yellow sari) campaigns in Dhanbad on Friday Picture by Shabbir Hussain
Both candidates are also trying to strike an emotional chord with the people.
"I am carrying the legacy of my husband of love and care for the people of Jharia," said Purnima. "They (Ragini and her family) are carrying the legacy of bloodshed, hatred and animosity."
Ragini has been claiming that her husband, languishing behind bars since April 10, 2017, has become a victim of a political conspiracy.
Rumi Singh, wife of a close confidante of Sanjeev Singh who was killed on January 29, 2017, has also campaigned in Jharia in favour of Ragini seeking justice for her husband.
"Jharia is the most backward constituency of the entire district, deprived of water, power and sanitation facilities," said Congress candidate Purnima. "Even the existing facilities like RSP College Jharia and Jharia railway line have been snatched away by the government in 2017 and 2003 respectively in name of rehabilitation which is being carried out in a piecemeal manner without any comprehensive plan. My priority will be arranging for basic facilities for the people."
BJP candidate Ragini said: "All-round infrastructure development had been carried out during the five-year tenure of my husband between 2014 and 2019; the 27km road connecting Jharia and Dhanbad has been broadened and strengthened at a cost of Rs 44.83 crore while two other roads connecting Jharia to Sindri through Bhowra and another road Connecting Jharia to Rajganj passing through Kendua have also been broadened.
"Construction of a new degree college building at Jamadoba area of Jharia is in progress while 15 acres of land have been provided to the government at Patherdih area of Jharia to shift back RSP College Jharia from Belgarhia to Jharia. Construction work on the college will begin after elections," Ragini added.
Deepak Keshri, a mosquito-net trader in Jharia, said the common voter was more concerned about their own woes. "Whoever wins, we want solution of long-pending issues as we are facing irregular water supply for the last four years and due to frequent power cuts we are compelled to live in the lantern age," Keshri said.