Identify Mir Jafars, says Shah
Shah accuses the Congress of dragging the Ayodhya temple case at a poll rally in Pakur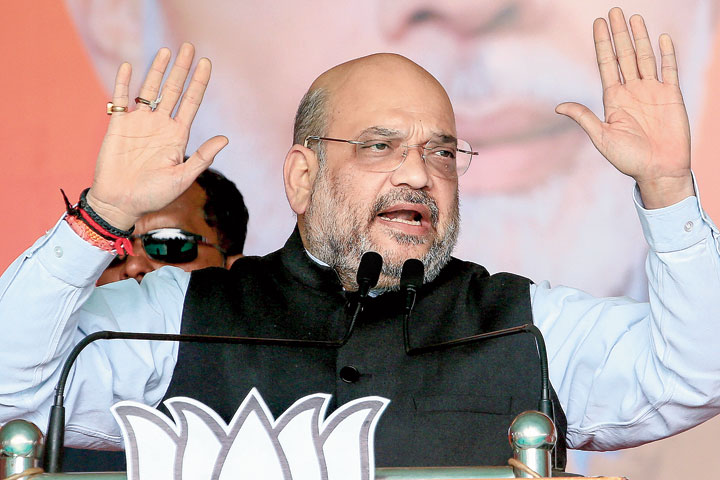 Amit Shah addresses the rally in Pakur on Monday.
(PTI)
---
Ranchi
|
Published 16.12.19, 07:15 PM
|
---
BJP president Amit Shah on Monday said at an poll rally at Pakur that a "sky-touching" Ram temple would come up in Ayodhya within four months and warned voters to identify "traitors such as Mir Jafar" who should not become representatives.
In Pakur, one of the six districts of tribal heartland Santhal Pargana that votes in the last phase of the Jharkhand Assembly polls on December 20, BJP nominee Veni Prasad Gupta is pitted against Congress MLA Alamgir Alam.
Saluting tribal freedom fighters who had launched the Santhal Hul against the British, Shah told the poll rally traitors like Mir Jafar had helped the British. "Even today I will tell (you) that identify traitors like Mir Jafar, who should not become your representatives, and vote for the lotus. Narendra Modi with the 56-inch chest can develop and protect the country," Shah said.
Mir Jafar, a powerful aide of Bengal's last independent nawab Siraj-ud-Daulah, refused to help the nawab during the Battle of Plassey in 1757.
Shah accused the Congress of dragging the Ayodhya temple case: "Congress leader and advocate Kapil Sibal sahab said, 'not now, take up the case later'. Why? Do you have a stomach ache?"
"I want to tell you that the Supreme Court verdict has come, a grand Ram temple touching the sky is going to be built in Ayodhya within four months," Shah added.
Lambasting the JMM, Shah said: "Hemantji (Soren) wants to become the chief minister sitting in the lap of the Congress. I would like to ask Hemant Soren who had opened gunfire, teargas...on the youth of Jharkhand during the statehood movement? If you don't remember, ask Guruji (Hemant's father Shibu Soren)," Shah said. "It was the Congress/RJD and Lalu Prasad who forced Jharkhand's youth to martyrdom while the BJP-led Atal Bihari Vajpayee government created Jharkhand. Now you made an alliance to become CM. You should be ashamed of stooping so low."
In Poreyahat, Godda, Shah asked students to read the Citizenship (Amendment) Act first and accused parties like the Congress, Trinamul Congress and AAP of spreading chaos.
At a rally at Meharma in Mahagama Assembly seat, Godda, Uttar Pradesh CM Yogi Adityanath brought up the Ram temple, saying: "After all, Irfan Ansari (Congress Jamtara MLA) won't make the temple."